Kids compete in Pitch, Hit & Run at Safeco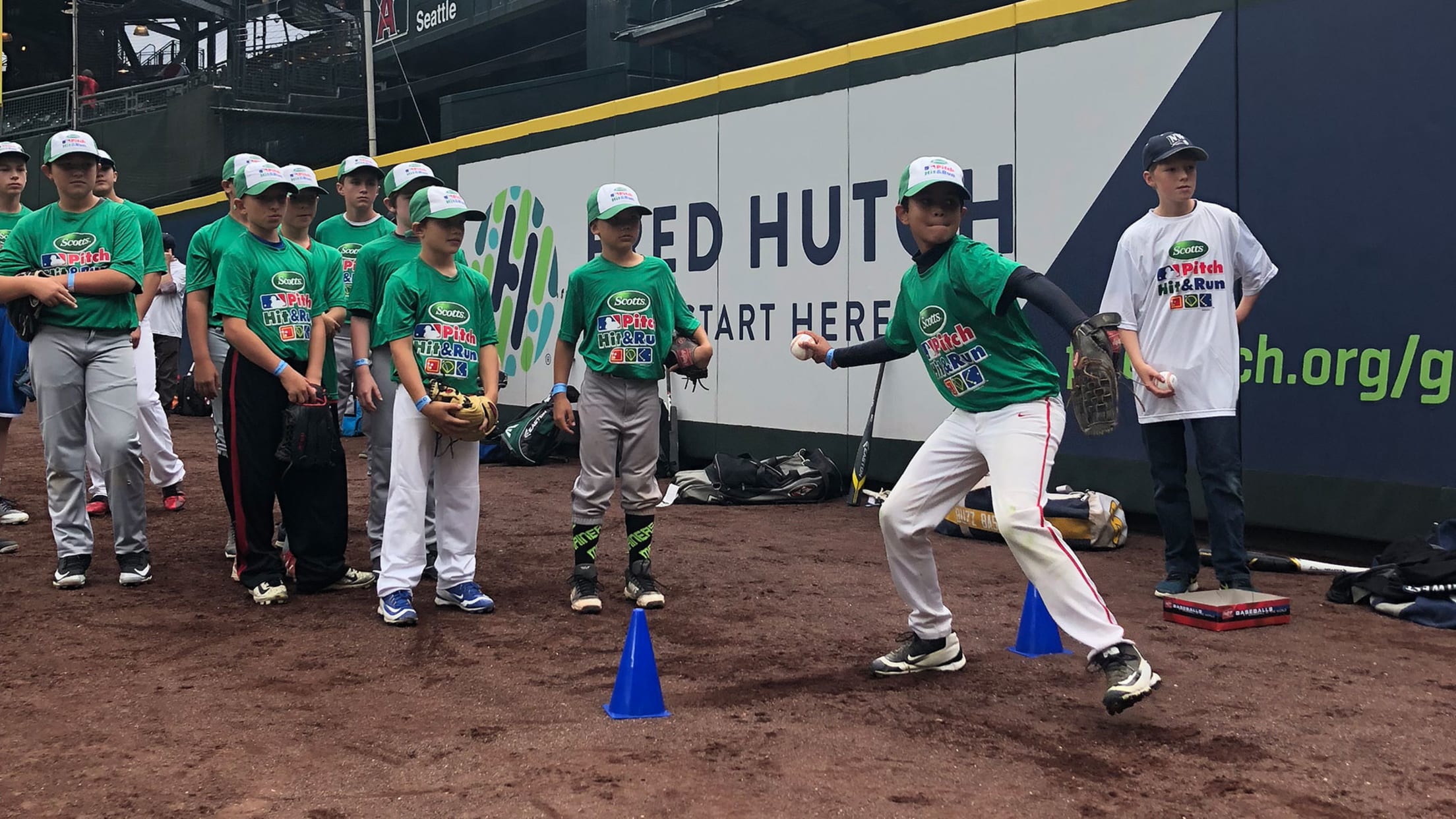 Young participants take part in the Pitch, Hit & Run competition at Safeco Field. (MLB)
SEATTLE -- Hours before first pitch, the Mariners' clubhouse can sometimes look more like a playground than a locker room.Dee Gordon and Ben Gamel are locked into a game of "around the world" on the mini basketball hoop over by the showers. Meanwhile, Felix Hernandez, Roenis Elias and Guillermo Heredia
SEATTLE -- Hours before first pitch, the Mariners' clubhouse can sometimes look more like a playground than a locker room.
Dee Gordon and Ben Gamel are locked into a game of "around the world" on the mini basketball hoop over by the showers. Meanwhile, Felix Hernandez, Roenis Elias and Guillermo Heredia are huddled around a video game system or walking around the pool table in the middle of the clubhouse, barking at one another the whole time.
"I think that's why we're playing so good right now," Gamel said. "The fact that everyone is having fun and everyone's picking each other up and playing for one another. I think it translates out onto the field pretty well."
This group of ballplayers serve as role models to the 24 kids who got a chance to play at Safeco Field for the Mariners Team Championship Competition of Pitch, Hit & Run, the official skills competition of Major League Baseball.
The Pacific Northwest's top three boys and girls in four separate age groups from 7 to 14 years old all competed for a chance to advance to the National Championship on July 16, right before the T-Mobile Home Run Derby at Nationals Park in Washington, D.C.
Competitors lined up on the warning track in left field to throw six pitches at a target and were scored for their accuracy. Then they hustled into the visitor's dugout, grabbed their bats and took swings off a tee at home plate, with volunteers measuring the distance of the ball's first landing spot. Finally, after a warmup jog around the warning track, all the boys and girls were timed on a dash from second base to home plate.
The scores from the Pacific Northwest region will be compared to those across the country, with the nation's top baseball and softball player in each age group earning a trip to All-Star weekend. Winners will be announced on MLB Network's "MLB Tonight" on Monday night.
Gordon offered some advice on how to have fun while still maintaining respect for the competition.
"You're supposed to have fun, but you never want to have too much fun," Gordon said. "It's OK to laugh and joke and have fun with your teammates, but you never want to show up the other team."
Gordon has made a habit of jumping out of the dugout and shuffling down the rail to dish out double high-fives to all his teammates following a Mariners home run this season.
Perhaps the speedy second baseman is making up for lost time with his on-field antics. Gordon didn't play a lot of baseball growing up because, as he said, girls did not come to the game.
As a Major Leaguer, it's been a different story.
"They come now, guys," Gordon said. "So go out and play."
More kids to come
On Sunday, July 8, the Mariners will once again welcome a group of kids onto Safeco Field as part of a partnership with Northwest Little League's Challenger Division, a program for developmentally and physically challenged youth. The division's two teams will start their game at 11:30 a.m. PT, right before the Mariners take on the Colorado Rockies at 1:10 p.m..
This is what it's all about.

Mariners players celebrated #PlayBall Weekend by giving Challenger Little Leaguers the full big league experience. pic.twitter.com/wgbfK9bew4

— Seattle Mariners (@Mariners) June 3, 2018
Jean Segura, Mike Zunino, Andrew Romine and Gamel each attended a similar event at Garfield High School earlier this season.
"The challenger little league, it's a blast," Gamel said. "It's what the game's all about: having fun."
David Gottlieb is a reporter for MLB.com.