Inbox: Will Bubba, Zimmer make KC's roster?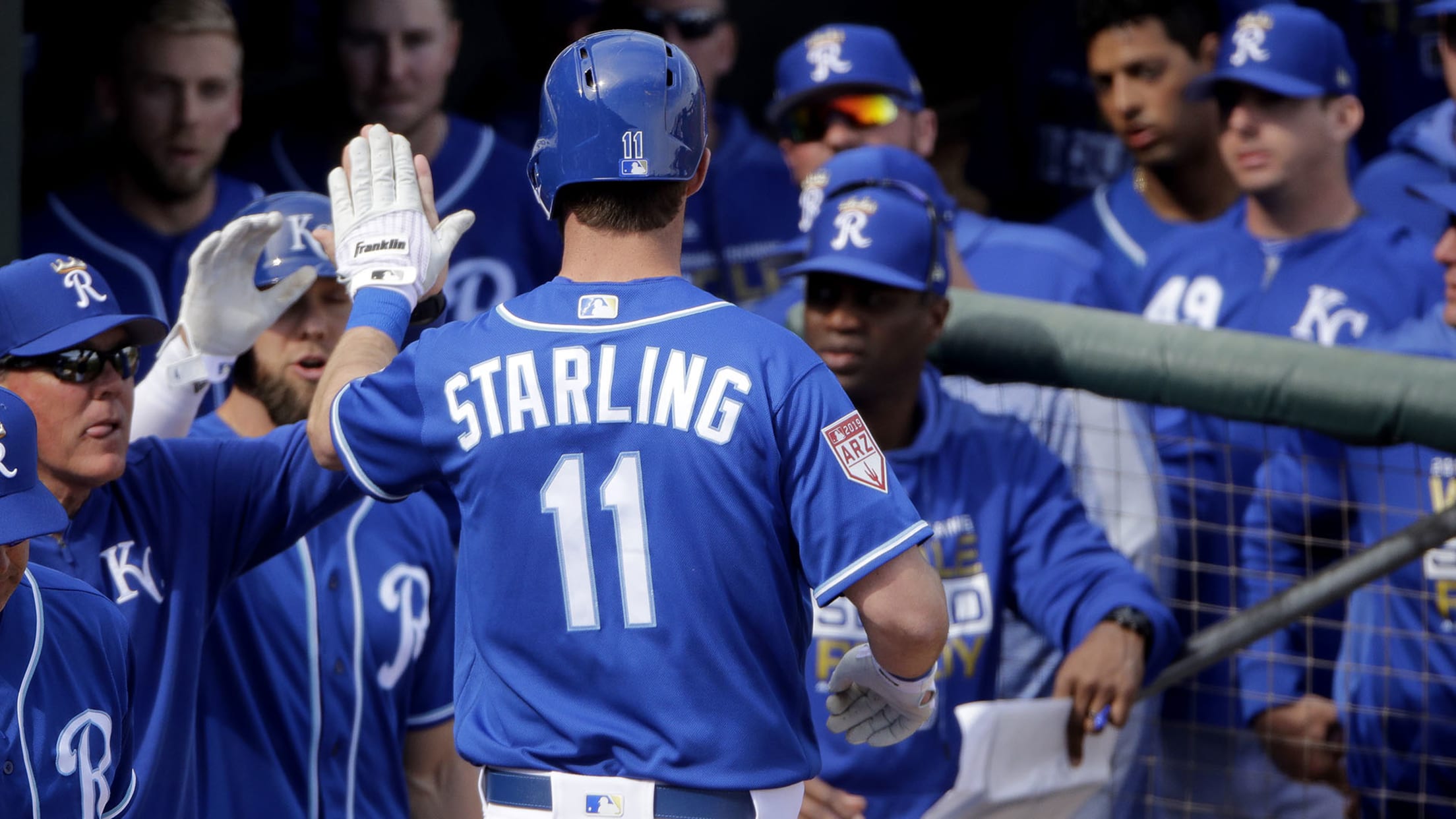 SURPRISE, Ariz. -- Manager Ned Yost and his staff continue to weigh their options not only at catcher in the wake of the news that Salvador Perez will miss the 2019 season with Tommy John surgery, but for the right-field job, the No. 5 spot in the rotation and the
SURPRISE, Ariz. -- Manager Ned Yost and his staff continue to weigh their options not only at catcher in the wake of the news that Salvador Perez will miss the 2019 season with Tommy John surgery, but for the right-field job, the No. 5 spot in the rotation and the two or three remaining bullpen spots.
With just over three weeks to go before Opening Day, let's get to your questions and concerns in our latest Royals Inbox:
Will Bubba or Kyle Zimmer make the 25 man? Or Both realistically?

— Jordan (@jordan_s6996) March 3, 2019
There's not much doubt that aside from the disturbing Perez injury news, outfielder Bubba Starling's and right-hander Kyle Zimmer's camps have been the big news. Both have had to deal with so many injuries and setbacks and hurdles that it isn't hard for Royals fans to root for them. Starling was dropped from the 40-man roster in the offseason so it is highly unlikely he could crack the Opening Day roster. The Royals very likely will carry five outfielders -- Alex Gordon, Billy Hamilton, Jorge Soler, Brian Goodwin (out of options), Terrance Gore -- which would leave Jorge Bonifacio and Brett Phillips (both of whom have options) outside of the 25, too. Zimmer, though, has a legitimate shot to make one of the final bullpen spots.
Path for getting Nicky Lopez into the MLB roster?

— ☃️ LaDonna C ☃️ (@LC_KC) March 3, 2019
Nicky Lopez, the Royals' No. 8 prospect, should have a very bright future with the Royals, it just likely won't be right away. Lopez doesn't have to go on the 40-man roster until next fall. The Royals don't want to put him on the 25-man roster until they're sure he will play regularly somewhere. But know this: Yost loves Lopez's skill set and his attitude toward learning the game at this level. Yost raves about him often.
So I asked this once before but now with the recent injury, how long will it be until Perez shifts to 1st base? Hope O'Hearn and dozier work out but we do have some good catchers coming up.

— Ivan D Thompson (@IvanDThompson18) March 3, 2019
I don't really see the transition of Perez to first base happening. He'll have two more years on his contract when he returns from Tommy John surgery in 2020. If his rehab is successful I think he'll be behind the plate for as long as he is able. He may DH more in the future to get rest. It's true that the system is loaded with catchers, but remember, too, that the Royals have Ryan O'Hearn at first base now and they have Nick Pratto advancing through the system. Early comparisons of Pratto's defense to Eric Hosmer in terms of picking bad throws and agility around the bag are true: Pratto looks like he could be a Gold Glover someday. And Pratto's hitting should steadily improve.
What are your thoughts on the bullpen so far? Any chance Ynoa makes the 25? He's looked really good so far.

— BP (@BPerryKC) March 3, 2019
As of now, and subject to change, it looks like the bullpen locks would be Wily Peralta, Jake Diekman, Brad Boxberger, and Tim Hill. The Royals would love for Drew Storen to be healthy and good enough to take a spot, too, though he could be a candidate to start the season on the injured list. After that you have Kevin McCarthy (who has options), Brian Flynn (out of options), Rule 5 Draft guys Sam McWilliams and Chris Ellis (I see them keeping one of the two), Jorge Lopez or Heath Fillmyer (whoever doesn't make the rotation) and quite possibly Zimmer. The one guy who is raising eyebrows is right-hander non-roster invite Michael Ynoa, who has thrown four scoreless innings and has been impressive. Ynoa is making an impression.
I love the move back to small ball. That's what got KC to back-to-back World Series in '14 & '15.
They are a much faster team then those glorious years, and the bullpen looks to be fixed from '18. I think they are a WC contender now.
Are you seeing that possibility in AZ? Why?

— Baseball & Bobbleheads (@JonMason76) March 4, 2019
The Royals will still have plenty of guys who can reach the seats but yes, they are trying to return the speed element to their game. And I think for that reason true Royals fans will see glimpses and reminders of the 2013-2015 Royals teams. A Wild Card? The Central Division won't be that strong this season, but after the Royals absorbed 104 losses last season, anything in the 70-plus win column would be an impressive swing.
Will @cheslorcuthbert be in the 25 roster for the opening Day?

— BigLeaguersNicas (@CharlieGnzalez) March 4, 2019
The Royals' bench, if they carry eight bullpen arms which is highly likely, will probably be Chris Owings, Gore and Meibrys Viloria. Cheslor Cuthbert isn't on the 40 anymore and there's really no spot for him. Likely ticketed for Omaha.
Who is the Royals future 3B? Is it Hunter Dozier, draft Booby Witt jr, or sign someone?#STRoyals

— Jack Caton (@JackCaton5) March 3, 2019
Hunter Dozier has the third base job for now, though you'll see Owings there plenty as well when Dozier sees time at first base. The system isn't really loaded with third basemen but Kelvin Gutierrez is exactly what scouts have billed him as: a terrific defender. If Gutierrez, 24, continues to improve offensively, keep an eye on him.
Is there a chance for MJ Melendez to be up by the end of April?
I don't think they would start his MLB time opening day.

— Kevin Caskey (@KCsFun1) March 3, 2019
We asked Dayton Moore this on Saturday and he said there was no way they would rush MJ Melendez, the team's No. 3 prospect. Melendez was at Class A Lexington last year and will move up to Class A Advanced ball in Wilmington this year. Depending how he handles that, the situation could change later in the season.
Your thoughts on if Toronto is going to keep Elvis on the 25 man roster? Hoping KC could get him back!

— Blue Dream (@truroyal15) March 3, 2019
The Royals weren't shocked when they lost right-hander Elvis Luciano to the Blue Jays in the Rule 5 Draft. But there definitely was some skepticism (optimism?) that the Jays won't be able to hang onto a 19-year-old all season, and thus have to return him to the Royals.
Mondesi final #'s for 2019??
Avg. Hr's. SB.

— Howie (@DwhowardWayne) March 4, 2019
Longtime Royals fans will recognize this former Royals shortstop's Twitter handle, whom manager Hal McRae once called one of the best athletes he'd ever been around. Anyway, Howie, here's my projection for Adalberto Mondesi: .284, 27 home runs, 58 stolen bases.