San Diego hosted second ASG in '92
Griffey led American League to 13-6 rout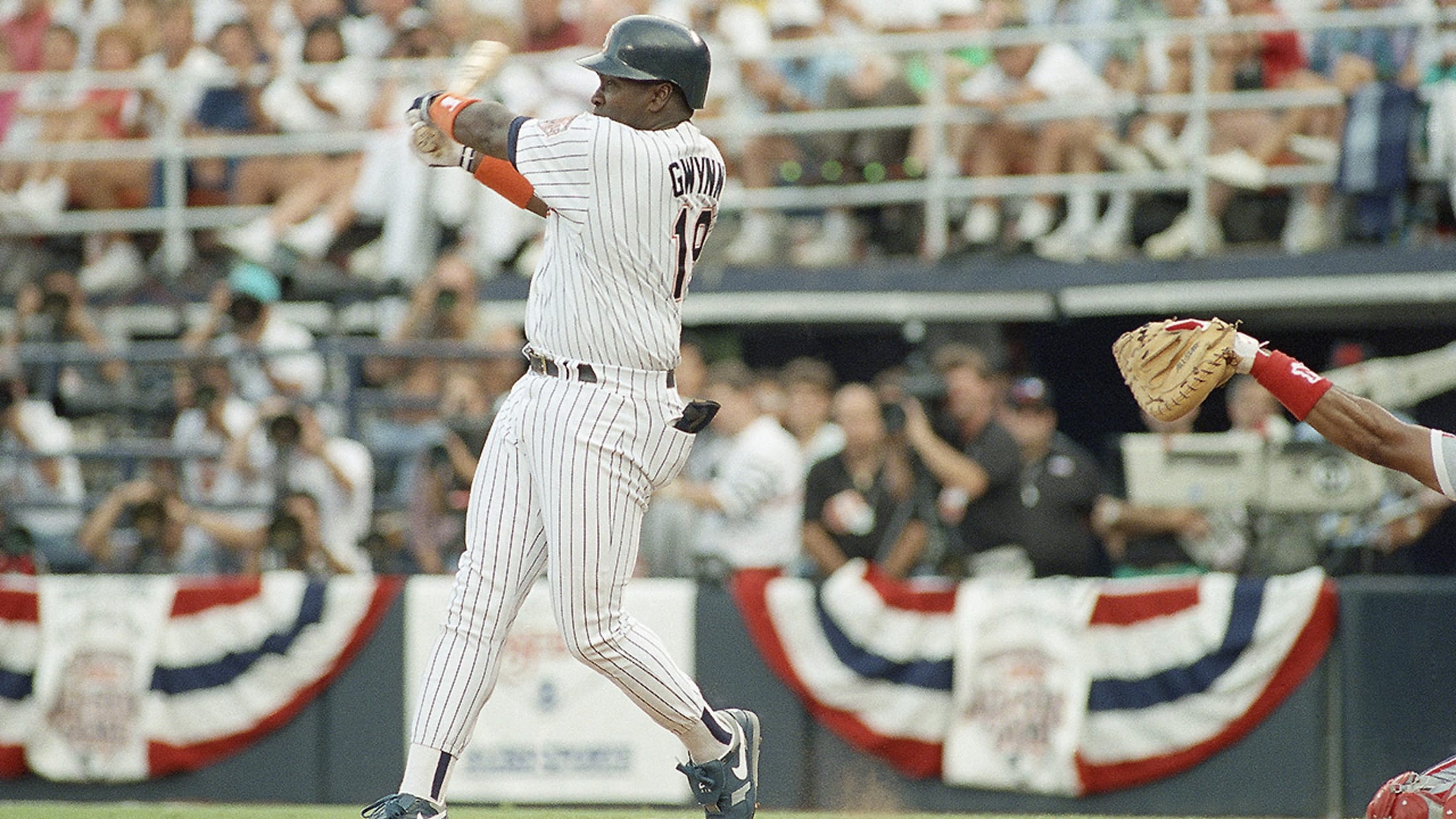 Tony Gwynn was 0-for-2 with a walk in the 1992 All-Star Game, which was held in San Diego. (AP) (Jack Smith/AP)
Bill Center, longtime sportswriter for U-T San Diego, is an employee of the Padres.The ninth-largest crowd in All-Star Game history turned out at San Diego's Jack Murphy Stadium on July 14, 1992, to see the American League's 13-6 victory in the second Midsummer Classic hosted by the Padres.Padres fans cheered
Bill Center, longtime sportswriter for U-T San Diego, is an employee of the Padres.
The ninth-largest crowd in All-Star Game history turned out at San Diego's Jack Murphy Stadium on July 14, 1992, to see the American League's 13-6 victory in the second Midsummer Classic hosted by the Padres.
Padres fans cheered their own, with the biggest ovation going to San Diego native Ted Williams as he threw out the ceremonial first pitch. Before the game, San Diego icons Williams and Tony Gwynn talked baseball during what Gwynn later recalled "as one of the more memorable and informative chats of my life."
Gwynn, first baseman Fred McGriff and catcher Benito Santiago were the Padres voted into the National League's starting lineup, and shortstop Tony Fernandez and third baseman Gary Sheffield were on the squad as reserves.
McGriff and Sheffield also competed in the Home Run Derby the day before the All-Star Game. Each hit four homers in the competition won by current Padres bench coach Mark McGwire with 12.
During the game, McGriff had two hits in three at-bats and drove in a run. Fernandez replaced former Padre Ozzie Smith and was 1-for-2 with a run scored. Gwynn was 0-for-2 with a walk. Santiago struck out in his lone at-bat. Sheffield was 0-for-2.
However, the NL was no match for the AL, which scored five runs in the first two innings off Tom Glavine. Ken Griffey Jr. won the Most Valuable Player honors, going 3-for-3 with a homer, a double, two runs scored and two RBIs.
The AL scored four runs in the first off Glavine, who gave up an All-Star Game single-inning record of seven hits -- all singles and all coming consecutively with one out.
The AL loaded the bases against Glavine with singles by Boston third baseman Wade Boggs, Minnesota left fielder Kirby Puckett and Toronto right fielder Joe Carter.
Oakland first baseman McGwire followed with a two-run single. Baltimore shortstop Cal Ripken Jr. drove in Carter with a single to right, although Ripken was thrown out rounding second. Center fielder Griffey concluded the first-inning assault with a single to center that scored McGwire.
Toronto second baseman Roberto Alomar opened the second with a single, stole second and scored on a single by teammate Carter to make it 5-0. Glavine gave up five runs on nine hits in 1 2/3 innings.
But the AL was far from done. Griffey homered off Greg Maddux of the Chicago Cubs in the third. Then his leadoff double in the sixth against Bob Tewksbury triggered a four-run rally that gave the AL a 10-0 lead. Indians second baseman Carlos Baerga and White Sox third baseman Robin Ventura followed with back-to-back run-scoring doubles ahead of a two-run homer by Rangers right fielder Ruben Sierra.
The NL got on the board in the bottom of the Sixth, when Pittsburgh left fielder Barry Bonds doubled off California's Mark Langston and scored on McGriff's single.
But the AL made it 13-1 in the top of the eighth, scoring three runs on four hits against Houston's Doug Jones. Indians pitcher Charles Nagy and Ventura opened the inning with singles. Detroit shortstop Travis Fryman hit a run-scoring single and Yankees outfielder Roberto Kelly capped the barrage with a two-run double.
Former Padres John Kruk (Philadelphia) and Bip Roberts (Cincinnati) singled in the eighth and scored on a three-run homer by San Francisco first baseman Will Clark off Minnesota's Rick Aguilera. The NL scored the final two runs in the bottom of the ninth on an error and consecutive singles by Fernandez, Kruk and Roberts off the A's Dennis Eckersley.
The AL used 10 pitchers. Glavine took the loss. There were a total of 31 hits, with 19 by the AL.
Griffey was the only player with three hits. Ventura and Carter had two hits apiece while Griffey, Kelly, Sierra and McGwire all had two RBIs. McGriff, Kruk and Roberts all had two hits, while Clark had three RBIs and Roberts two.