Gennett moves to next step of rehab process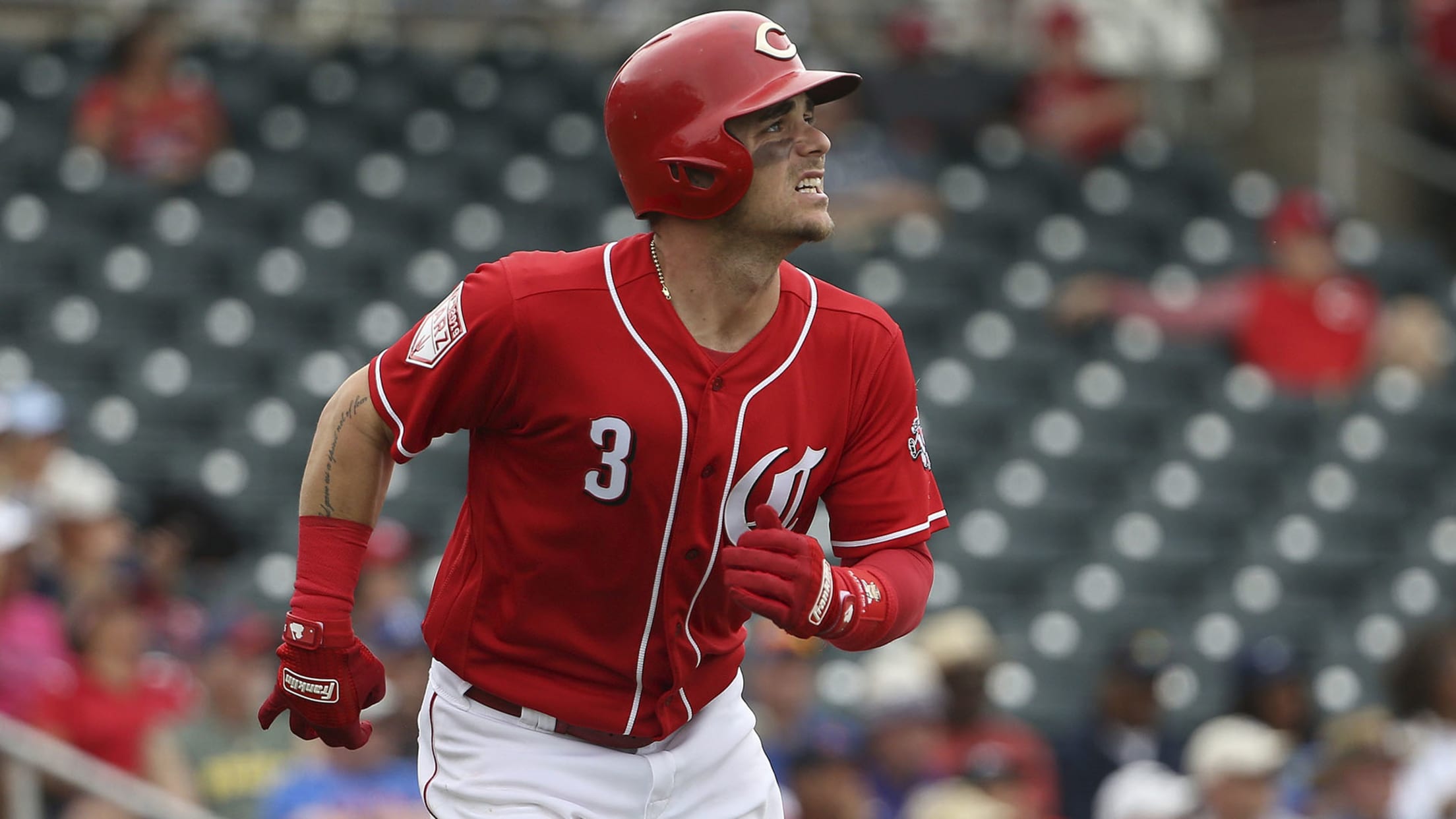 CHICAGO -- Injured Reds second baseman Scooter Gennett has been taking ground balls during batting practice the last few days in the latest advancement of his rehab from a severe right groin strain. On Saturday, Gennett took routine grounders hit to him by bench coach Freddie Benavides. So far, there
CHICAGO -- Injured Reds second baseman Scooter Gennett has been taking ground balls during batting practice the last few days in the latest advancement of his rehab from a severe right groin strain.
On Saturday, Gennett took routine grounders hit to him by bench coach Freddie Benavides. So far, there hasn't been anything too challenging that would require maximum effort or range.
"Each day the past week, we've done more and more," Gennett said on Sunday. "We're expanding the area where I'm moving for ground balls. I hit some flips yesterday in the cage. When we get back to Cincinnati, I will be hitting on the field at some point."
Currently on the 60-day injured list, Gennett was injured trying to field a ground ball on March 22 during a Spring Training game. The prognosis was that he would be out for two to three months.
Thus far, there have been no setbacks or reasons to give the Reds and Gennett pause as he gets closer to being ready.
"I'd be lying if I said I didn't feel anything. It's just more of a tightness because I wasn't supposed to walk or do anything [initially] for three or four weeks," Gennett said. "The result of that is being a little tight. It's about increasing the volume and intensity of my running and jogging to where it stretches my legs out.
"What we talk about is 'how far can we get until I feel that?' And then stop there. Three or four days later, we're getting way past that. It's about being smart instead of running as hard as you can and then something could happen or have a setback of some kind that we can't afford right now."
The Reds' medical staff continues to proceed with caution with Gennett, which has kept a timetable for any rehab assignment vague.
"If I had to throw something out there, maybe two to three weeks before he's playing in games or something like that," Cincinnati manager David Bell said.
This five-game road trip was the first Gennett has taken with the team this season. Bell plans on having him with the club until he's ready to head out to play games in the Minors.
"I think it's one of those injuries where when he's good to go, it might be best to take one more week just to be sure -- for his mind more than anything," Bell said. There's going to be certain plays, even like the play in Spring Training when he got hurt, he's going to have to get over the hump of knowing that he's healed. Taking an extra week or whatever that time is, I think it will help him be confident he's not going to re-injure it."
Puig's shoulder OK
Since missing the first two games of the series against the Brewers with a right shoulder injury stemming from a leaping catch during a game against the Dodgers on May 19, Reds right fielder Yasiel Puig has had no issues. Given a cortisone shot on Monday, Puig hit a homer in the first two games vs. the Cubs -- including a 416-foot drive that landed on Waveland Ave. during Saturday's 8-6 loss.
"It's nice to see him hit a couple of home runs. He's an important part of our offense as we all know," Bell said.
Puig had a defensive test on Saturday when Kyle Schwarber hit a high fly ball in the third that got caught in the wind blowing out to right field. Puig changed directions a couple of times before making the catch.
"That one yesterday was one of the highest balls I've ever seen," Bell said. "On a different day, that same fly ball could be a popup to the infield. That's the difference with the wind here. That was actually a great play."
Throughout the season, Puig has also appeared nonchalant when camped under routine fly balls hit his way. Sometimes, he extends his glove at the last second to make the catch. Does that ever worry his manager?
"It's just part of his style. It's part of what makes him who he is," Bell said. "As long as he's doing those other things and working at it, you don't want to take the style away. I think it's part of what makes him good."
Mark Sheldon has covered the Reds for MLB.com since 2006, and previously covered the Twins from 2001-05. Follow him on Twitter @m_sheldon and Facebook.