Gennett travels with Reds, not close to return
Duke lands on injured list; Puig held out vs. Milwaukee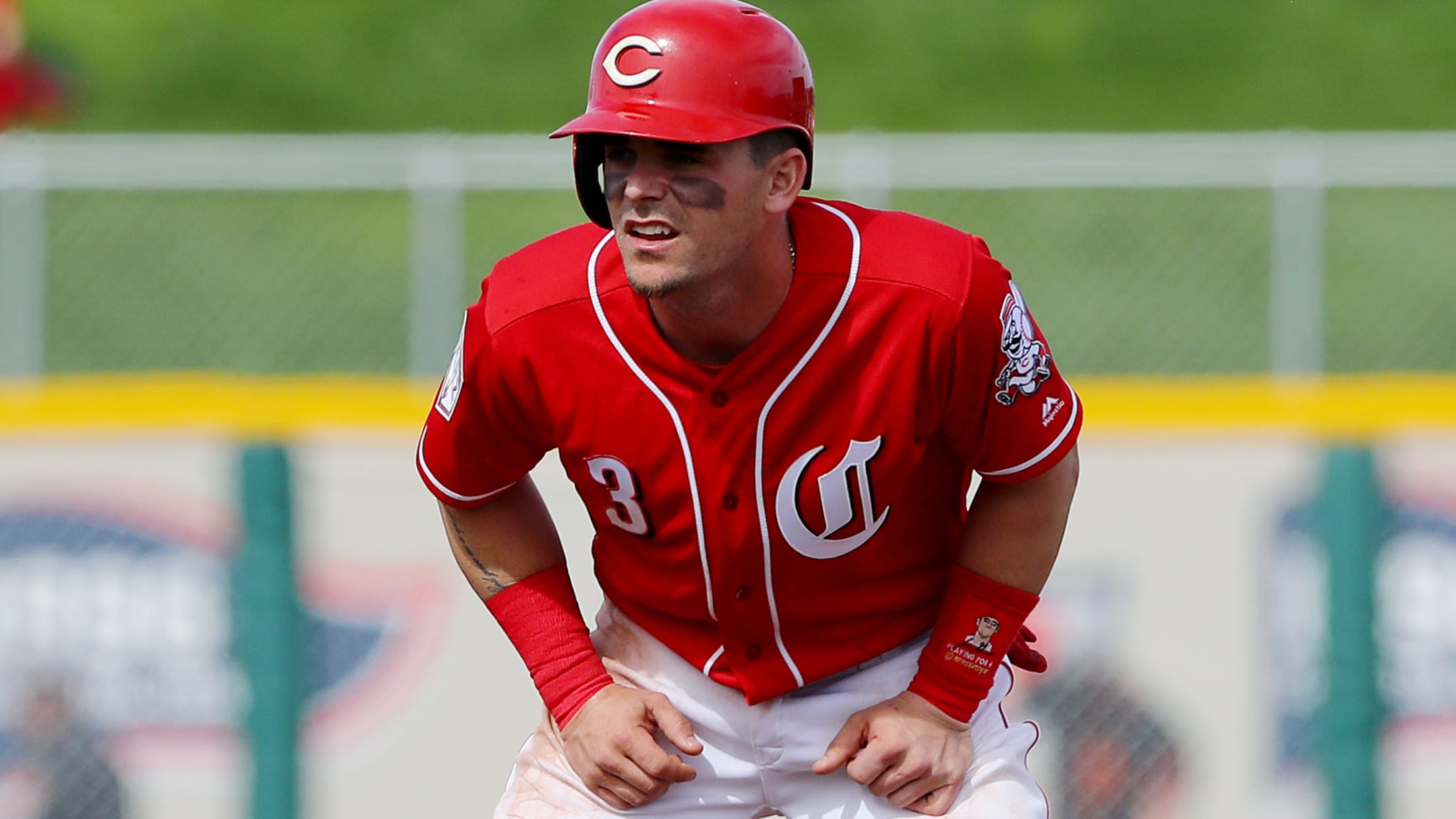 MILWAUKEE -- He still has plenty of work to do before returning to action, but just getting on the Reds' team charter and joining the team for a trip to face National League Central rivals in Milwaukee and Chicago marked a significant sign of progress for Scooter Gennett. "This is
MILWAUKEE -- He still has plenty of work to do before returning to action, but just getting on the Reds' team charter and joining the team for a trip to face National League Central rivals in Milwaukee and Chicago marked a significant sign of progress for Scooter Gennett.
"This is the fun part, being back with the team," Gennett said before Tuesday's game against the Brewers at Miller Park. "I feel like I'm part of things again as opposed to being at home and watching them play on TV. It's not very fun and it's something I haven't been through in my career, so this is definitely a nice benchmark."
The Reds second baseman hasn't seen action this season because of a right groin injury he suffered on March 22 during a Spring Training game against Milwaukee. After spending the first few weeks of the season on crutches, Gennett finally began the rehab process a few weeks ago, and on Tuesday, he hit off a tee for the first time since the injury.
"I've swung a bat and I don't feel anything," Gennett said. "I could swing as hard as I could right now and don't think I would feel anything. If it was my left groin, there might be an issue swinging the bat."
Gennett is eligible to return from injured list on Sunday, when the Reds wrap up a three-game series at Wrigley Field, but manager David Bell said the left-handed-hitting slugger will need more time.
"It's great to have him around because that means he's getting close," Bell said. "But I don't think he's quite that close."
Gennett expects to be participating in a full pregame workload in approximately two weeks, but that depends on how he's feeling along the way.
"We're slowly amping up the intensity but trying to be smart about pushing it while not pushing it in a way that would cause a setback," Gennett said. "If we're running around, trying to do stuff, and it's still tight, that timetable could get adjusted.
"But I don't plan on not feeling good, so it's going to kind of be in my court."
Duke to IL, VanMeter recalled
The Reds placed left-hander reliever Zach Duke on the injured list on Tuesday with a strained right calf.
Bell said the muscle had been a minor issue for awhile but flared up during Duke's last outing, when he walked two during a one-third of an inning against the Dodgers on Sunday.
"It's been a cumulative thing," Bell said. "He said he felt it more when he was pitching and that it was affecting his pitching. Before that, it hadn't really affected him."
Utility man Josh VanMeter was recalled from Triple-A Louisville to fill Duke's spot on the active roster.
Puig held out of lineup
VanMeter's return gives Bell some insurance while Yasiel Puig works through a sprained right shoulder.
"Our bullpen is in good shape and we have two off-days on either side of the series, so having an extra position player with Puig's situation made sense," Bell said.
Puig injured the shoulder when he made a running catch into the right-field wall at Great American Ball Park on Sunday against the Dodgers. He left the game two innings later, saying that it "tightened up" on him. Puig underwent an MRI during the club's off-day on Monday.
The scan revealed no structural damage but Bell left Puig out of his starting lineup Tuesday against the Brewers.
"He's day to day," Bell said, adding he didn't think a trip to the injured list was likely. "He banged up his shoulder pretty good. It didn't make sense to start him, but we're hoping he's available today."