Feldman falls vs. ex-club on whirlwind day
Right-hander pressed into action in 14-inning game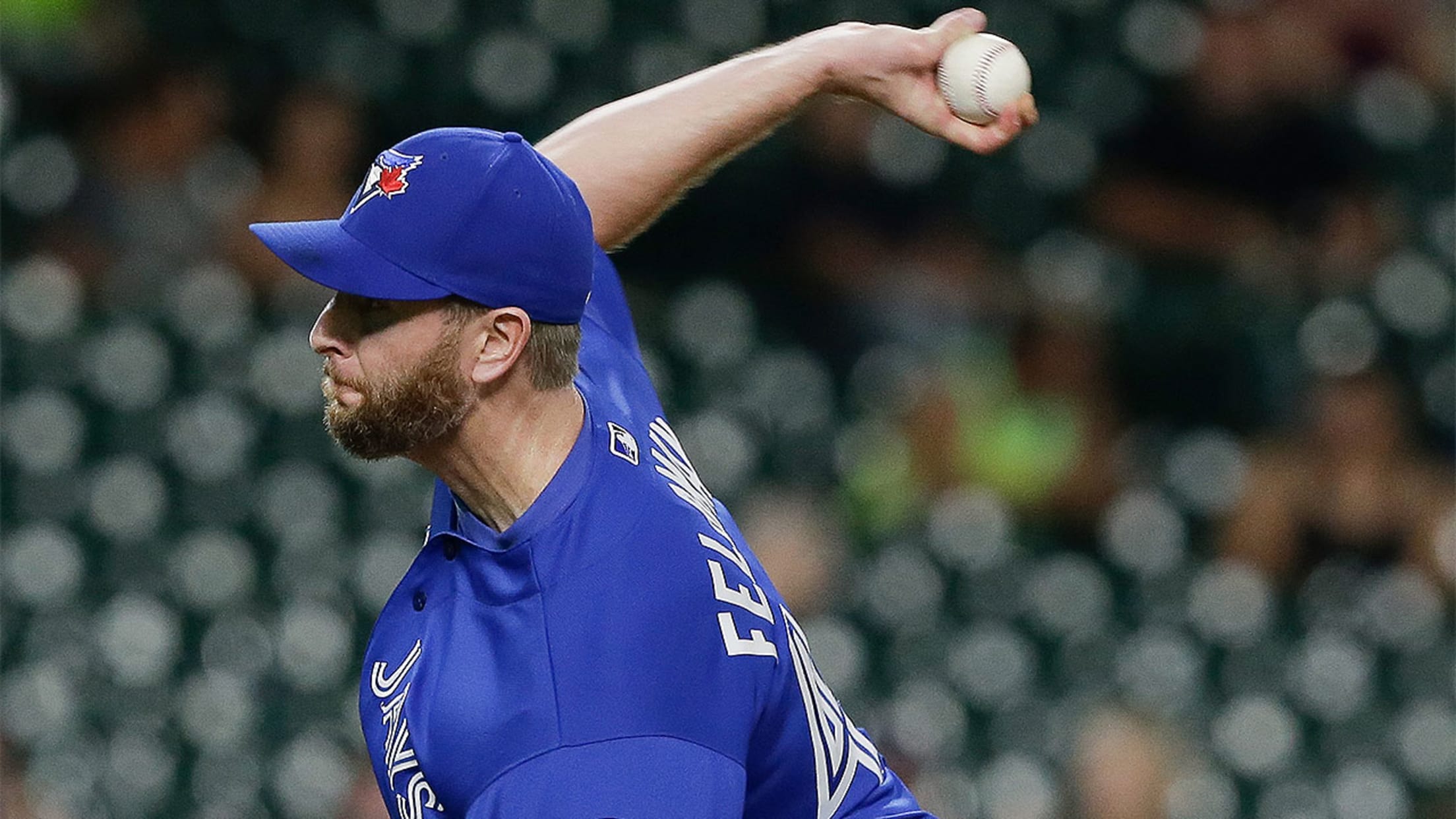 Hours after being traded from the home team to the visitors, Scott Feldman allowed the walk-off hit in his Blue Jays debut. (Getty Images)
HOUSTON -- Scott Feldman was not supposed to pitch on Monday night, but after the Blue Jays ran out of pitchers when the game went deep into extra innings, the club had no choice but to call his name.Feldman made his Blue Jays debut in a less-than-ideal situation. One day
HOUSTON -- Scott Feldman was not supposed to pitch on Monday night, but after the Blue Jays ran out of pitchers when the game went deep into extra innings, the club had no choice but to call his name.
Feldman made his Blue Jays debut in a less-than-ideal situation. One day after tossing 38 pitches for the Astros, he crossed the field, entered in the 14th inning and surrendered a walk-off double to former teammate Carlos Correa in Houston's 2-1 victory.
The Blue Jays exhausted almost every option before handing the ball to Feldman in the 14th. Jason Grilli was the only other reliever still in the bullpen, but the Blue Jays also wanted to keep from using him after he pitched in two of the previous three games.
"We were obviously a little thin down there towards the end of the game," said Feldman, who was acquired on Trade Deadline day for prospect Guadalupe Chavez. "I would rather go out there and throw myself than have one of the starters come down. R.A. [Dickey] was down there. I felt fine when I went out there, I just didn't make a good pitch."
Feldman's outing proved to be short as he surrendered a leadoff single to José Altuve and the walk-off double to right-center field by Correa. Feldman only had to throw four pitches before his night came to an end.
It was a whirlwind kind of day for Feldman, who was informed of the deal after he showed up to Minute Maid Park expecting to suit up for the Astros. Instead, he packed his bags and made the short walk to the visitors clubhouse. It was an awkward situation for all sides involved.
"It's somewhat uncomfortable," Astros manager A.J. Hinch said. "A few hours ago, he's in our clubhouse and a big part of our chemistry and our culture and then we walk him off. Obviously, as competitors, as soon as he changes uniforms, you change your affection for that guy, but I legitimately have some weird feelings about seeing him on the other side."
Toronto made a flurry of trades and roster moves on Monday afternoon, and the transactions were expected to continue after the club played its second extra-innings game in as many days. Blue Jays manager John Gibbons said his club needs to add a couple of fresh arms to the roster but may have to get creative to make that a reality.
Right-hander Bo Schultz likely will be optioned to the Minors prior to Tuesday's game to make room for another reliever. If Toronto wants to add a second, then the club might have to option infielder Ryan Goins, but that can only happen if Troy Tulowitzki is close to returning from a right thumb injury. Tulowitzki was held out of the lineup Monday but is expected to be back soon.
"We're going to have to do something," Gibbons said. "We're going to need a couple of arms because we're basically down to nothing down there. Back-to-back extra-innings games and those guys had been worked a lot before that."