Meetings a family affair for scout Hughes, sons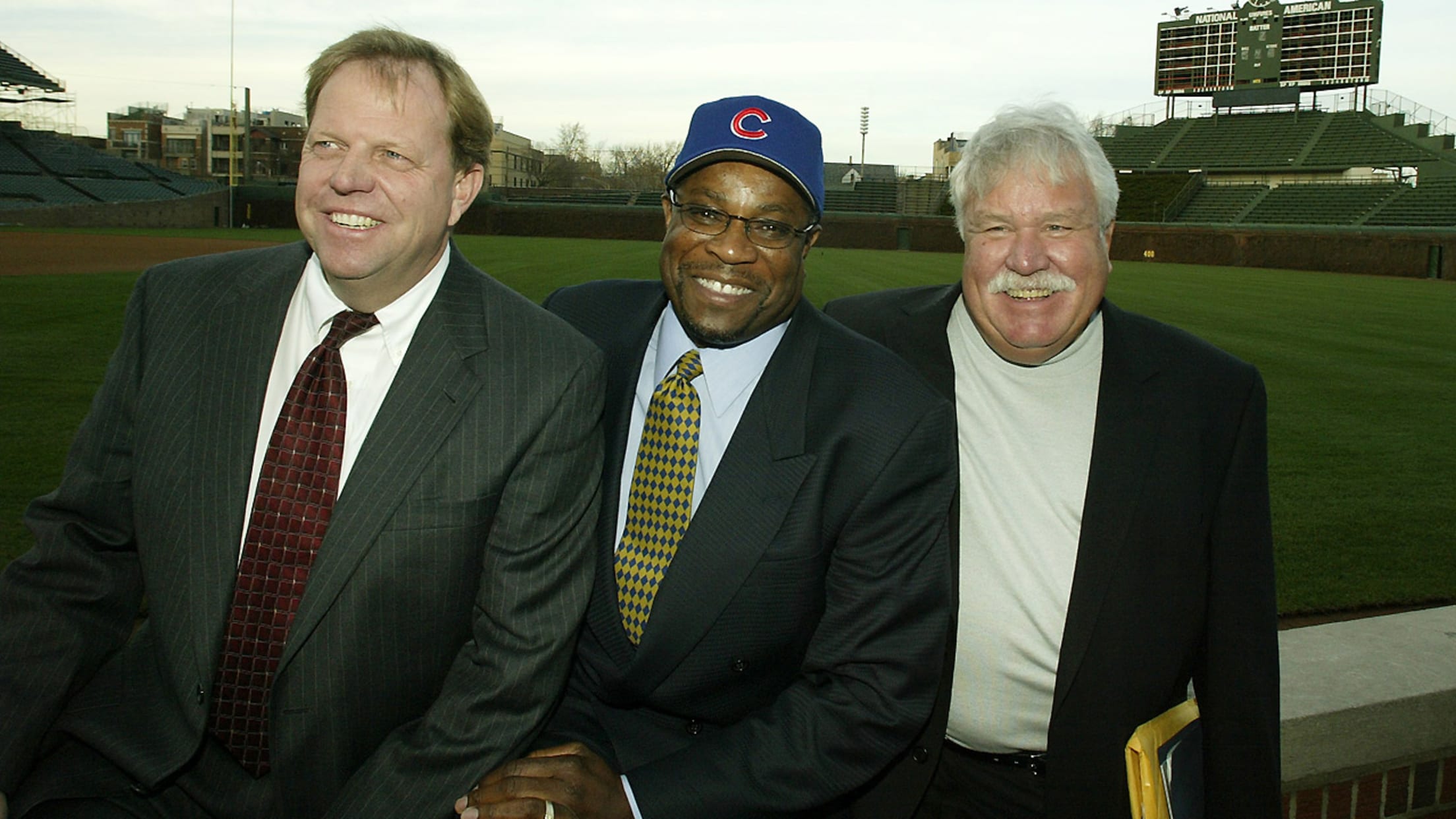 Gary Hughes (right), seen here in 2002 with Jim Hendry (left) and Dusty Baker, is in his 51st year as a baseball scout. (AP)
Veteran scout Gary Hughes walked into the lobby of the host hotel for baseball's Winter Meetings and waved across the room to his son, Sam, then turned around and smiled at his son, Michael Rock.A family reunion, of sorts."We are going to try and carve out time to catch breakfast
Veteran scout Gary Hughes walked into the lobby of the host hotel for baseball's Winter Meetings and waved across the room to his son, Sam, then turned around and smiled at his son, Michael Rock.
A family reunion, of sorts.
"We are going to try and carve out time to catch breakfast or lunch one day," said Hughes.
Emphasis on the word try.
Hughes and his sons are at the Winter Meetings for work.
Hughes, 76, is in his 51st year of scouting, currently a pro scout with the Red Sox. Sam, a former quarterback at Louisiana Tech, is in his 21st year as a scout with the Cubs, and Michael Rock is in his third decade with the Marlins, most recently as the visiting clubhouse manager.
"It is tough [to get together] because we all have different meetings to attend," said Hughes. "But it's special for us to think about all three of us at the same place, working for different organizations."
The sons have had stability in a world where change is more common, which is evident by the resume of their father.
Hughes began as a part-time scout with the Yankees and was eventually hired full-time as an area scout who signed John Elway out of Stanford, before the collegiate two-sport star wound up a Hall of Fame quarterback for the NFL's Denver Broncos. Hughes also was the scouting director of the Expos and Marlins, and a big league scout with the Rockies, Reds and Cubs before joining the Red Sox.
Sam has proven himself to be among the prime scouts in the amateur world, and Hughes is quick to point out that his son did emulate him once in that search for an athlete who excelled in another sport.
"Sam did draft Colin Kaepernick [in the 43rd round out of Nevada-Reno]," said Hughes. "He remembered him from seeing him at Turlock High School, and wanted him to sign and go out and play a summer for the Cubs, but Kaepernick wanted to get ready for his senior football season at Reno.
"He had a great arm and Sam thought it was worth a shot, but it didn't pan out."
Baseball, however, has panned out quite well for the Hughes family.
Hughes, who played on the same team at Serra High School in San Mateo, Calif., with future big league infielders Tim Cullen and Jim Fregosi, was initially a school teacher who never looked back after getting hired by the Yankees.
Hughes has never regretted his decision to dedicate himself to baseball, and he did have a small role in getting Sam and Michael Rock involved initially.
Both, however, have had to earn their keep on their own once they got in the front door.
"The fact they got their start obviously was family connections, but from there they were on their own," said Hughes. "Michael got his break by getting the job [in charge] of the umpire's room with the Marlins, and he has moved up since then. Sam got his start with the Cubs and has moved up in the scouting department."
What really speaks volumes for the two sons is that they have more than 20 years in baseball and are still working for the same organizations. They have not only survived staff overhauls but have grown in their respective organizations.
"The Marlins have a completely new group now except for a few people who know Michael," said Hughes, "but [president of baseball operations] Michael Hill has been very good to him, and he understands what Michael has done.
"With Sam's case, there has not only been changes above him, but complete chances in [scouting] philosophy. He has been able to deal with that. I told Sam, 'The reason you got [into baseball] is you had some help, but the reason you are where you are now is because of you and the way you have approached your job.'"
They both have careers that have been a far cry from their father's.
"I've been fortunate," said Hughes. "Every change I have made has been a positive one."
Not that Sam and Michael Rock have any complaints about their situation.
Tracy Ringolsby is a columnist for MLB.com.