Newcomb gets early chance to show his stuff
Injuries to starters gives lefty big opportunity -- and responsibility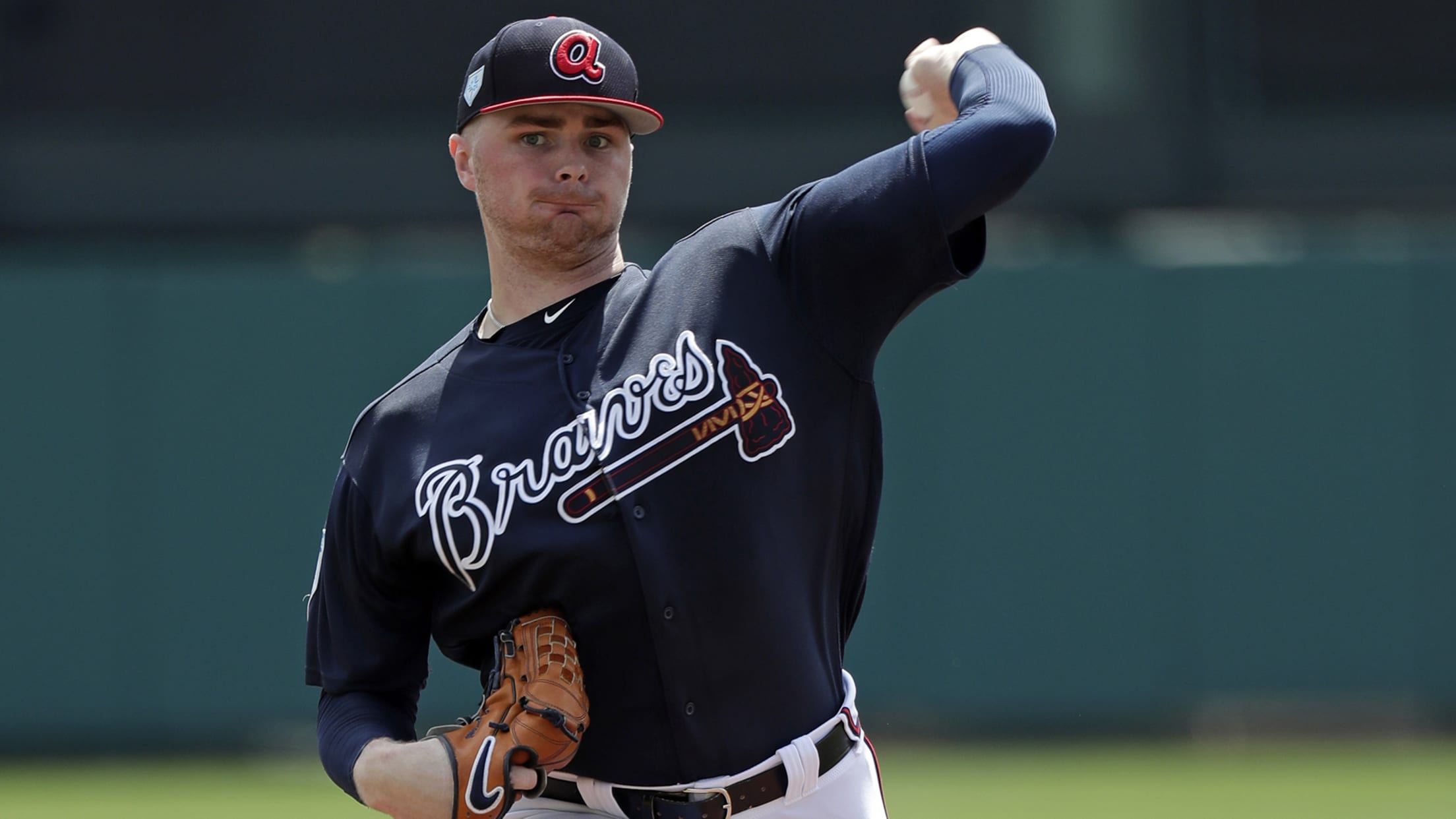 LAKE BUENA VISTA, Fla. -- Sean Newcomb has the potential to establish himself as a front-line starter or possibly find himself back at the Minor League level this year. Needless to say, 2019 is an important year for the former top prospect, who could significantly influence the Braves' bid to
LAKE BUENA VISTA, Fla. -- Sean Newcomb has the potential to establish himself as a front-line starter or possibly find himself back at the Minor League level this year. Needless to say, 2019 is an important year for the former top prospect, who could significantly influence the Braves' bid to defend their National League East division title.
"He's got one of the livest fastballs a hitter will see," Braves veteran catcher Brian McCann said after catching Newcomb for the first time. "If he pounds the strike zone, he's about as good as they come in baseball."
Newcomb's fastball, deceptive left-handed delivery and big, athletic frame helped him become one of baseball's top pitching prospects. But the 25-year-old southpaw has remained a bit suspect as he has produced a 4.06 ERA while walking 12 percent of the batters he's faced through his first 49 career starts.
With Mike Foltynewicz set to be on the injured list into April's second half and Kevin Gausman likely not available until the season's fifth game, the Braves' opening rotation candidates include Julio Teheran, Newcomb and a group of highly regarded young starters.
So needless to say, the Braves could benefit from Newcomb beginning the season well. But as the lefty has allowed 14 hits and issued 15 walks over 17 Grapefruit League innings, he has enhanced concern about his ability to live up to any lofty expectations.
Newcomb produced a 2.71 ERA through last year's first 16 starts and then started to show some fatigue. He seemed to right himself when he came within a strike of no-hitting the Dodgers on July 29 and then helped the Braves beat Max Scherzer during his next start. But the wheels fell off as he constructed a 5.50 ERA over his final 14 starts.
If Newcomb continues to trend in the wrong direction, Kyle Wright, Max Fried, Bryse Wilson, Mike Soroka and Touki Toussaint all seem capable of doing more than just sharing the rotation's fifth spot this season. Each has the potential to entrench himself within the rotation at some point this summer.
"You forget some of the layers young pitchers are peeling off," Braves manager Brian Snitker said. "They are dealing with mental challenges and mental expectations in addition to the physical challenges. But I think everything [Newcomb] went through is going to feed him well going into this year and lead to an even better 2019."
Newcomb posted a 3.91 ERA over his 30 starts last year. The average velocity (93 mph) of his four-seam fastball ranked seventh among left-handed starters who totaled at least 1,500 pitches. He found comfort with a changeup and occasionally flashed an effective curve.
But his primary issue continued to be inconsistent command. He produced baseball's second-lowest first-pitch strike rate (54 percent) and was ahead in the count just 25.5 percent of the time -- the game's ninth-lowest mark, per Statcast data.
"When you stack up everything he did over all of last year, it was pretty good," Snitker said. "He was right there with some of the elite pitchers in a lot of categories. He went through a lot and went through some really good experiences. There was a lot he went through from start to finish."
Mark Bowman has covered the Braves for MLB.com since 2001.