Romo honors his 4 children with custom cleats
Twins right-hander wears special footwear during Players' Weekend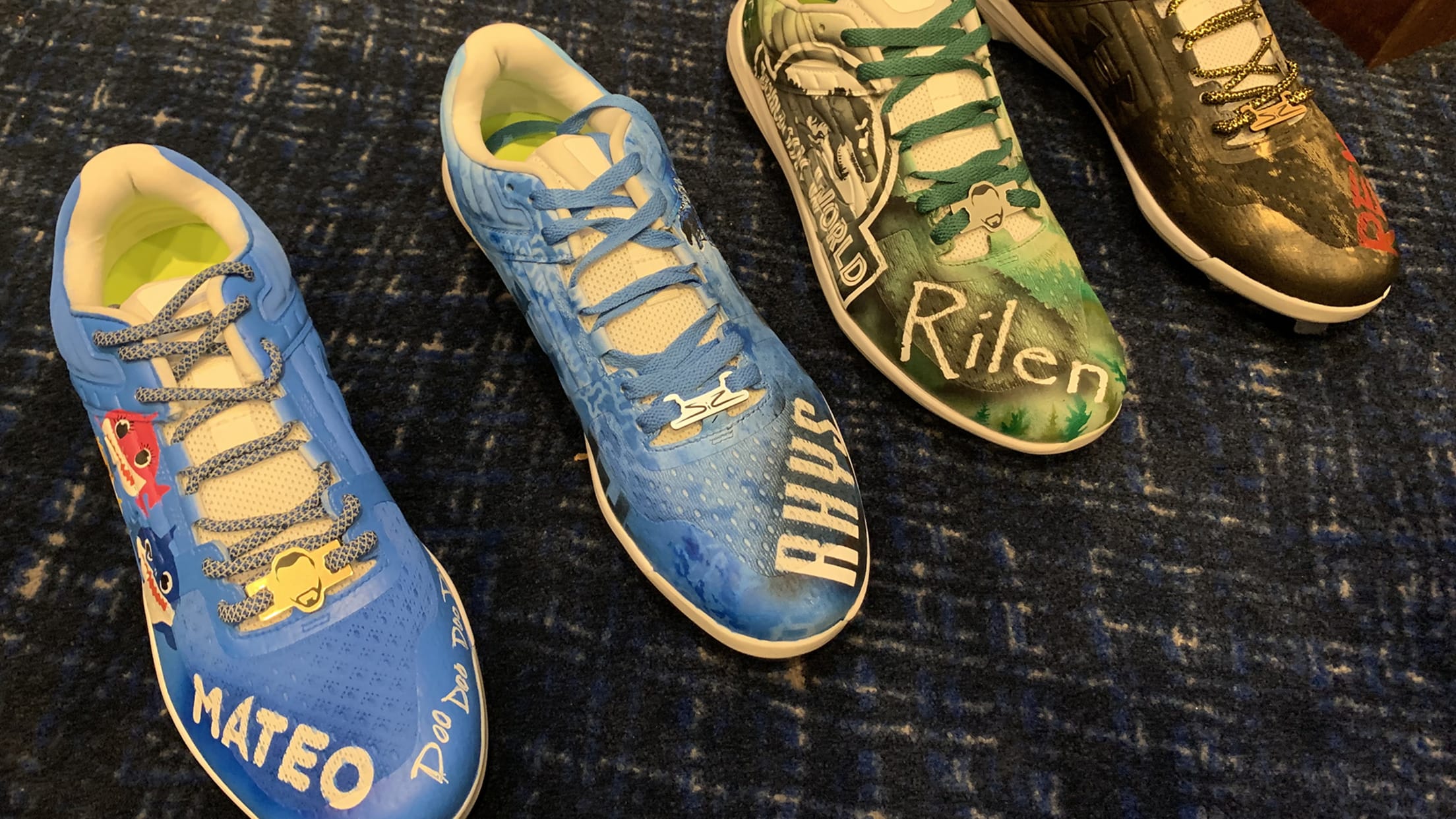 MINNEAPOLIS -- Sergio Romo was scrambling before Friday's game. First, Romo asked a member of the media for help. Outfielder Jake Cave was then summoned for his opinion. Finally, Romo called over several children that were playing cards at the table next to his locker in the Twins' clubhouse. Romo
MINNEAPOLIS -- Sergio Romo was scrambling before Friday's game.
First, Romo asked a member of the media for help. Outfielder Jake Cave was then summoned for his opinion. Finally, Romo called over several children that were playing cards at the table next to his locker in the Twins' clubhouse.
Romo was having trouble figuring out which of his customized cleats he wanted to wear for the first game of Players' Weekend. The veteran right-hander carefully unboxed the four art-adorned shoes and laid them out in front of his locker -- one for each of his four sons.
The oldest, Rilen, is a fan of dinosaurs, resulting in a right shoe painted forest green and emblazoned with the "Jurassic World" logo. The 7-year-old, Rex, loves the WWE, represented with a black left shoe boasting a WWE-style belt painted on the side. Rhys, the 4-year-old, was the inspiration for a blue left shoe showing Godzilla in front of a city skyline. And the youngest, Mateo, obviously got a "Baby Shark" right shoe.
The kicks were the handiwork of Miami-based artist Marcus Rivero, whose company, "Soles By Sir," also provided custom Father's Day cleats for Romo and Players' Weekend cleats for Twins teammate Lewis Thorpe, who boasted a left shoe with the flag of his native Australia and a bright orange right shoe covered in drawings of kangaroos.
"These are just ideas that we have, and we just tell him and all of a sudden, we'll send him a pair of shoes," Romo said. "I just sent him two pairs of all white. Everything is white underneath. They're 100 percent white, and he did the rest."
Romo eventually made up his mind, by the way. On Friday, he wore Rhys' Godzilla left shoe and Rilen's "Jurassic World" right shoe as he pitched two-thirds of an inning. On Saturday, he sported Rex's black WWE shoe on his left foot and Mateo's "Baby Shark" shoe on the right side while he threw one-third of an inning.
Romo is hoping that a time will come that he can break them out again during a game.
"I figured I'd keep them," Romo said. "Obviously, these are more of keepsakes. You never know if I have to whip them out again, too, down the road, whenever they give us permission."
Eddie Rosario update
Manager Rocco Baldelli said that left fielder Eddie Rosario could avoid a stint on the injured list for his tight right hamstring, though the Twins will continue to evaluate Rosario through Monday's off-day in Chicago to have a better idea of his recovery. Rosario exited Thursday's game as a precaution.
Baldelli said that Rosario was available on Saturday and would likely also be available on Tuesday, though he did not clarify what kinds of roles the outfielder might be able to play.
"We'll see how he's doing," Baldelli said. "We've got the off-day [on Monday], and we're not going to find out much on the off-day."
Minor League performances of note
• Right-hander Trevor Hildenberger has thrown three hitless innings with three strikeouts and a walk for Triple-A Rochester since he returned from a rehab assignment in the Gulf Coast League on Aug. 20.
• Right-hander Brusdar Graterol made his second appearance in Rochester on Saturday and allowed an inherited runner to score on an RBI single and also gave up a leadoff double in the next frame, but he was not charged with a run in 1 1/3 innings. He has struck out four with a walk in 3 1/3 innings since his promotion from Double-A Pensacola.
• Right-hander Jorge Alcala has not allowed a hit in two Triple-A appearances spanning 2 1/3 innings. He has recorded two strikeouts and a walk in two games since he was promoted with Graterol.
• Catcher/utility man Willians Astudillo is 13-for-36 with two homers, two doubles and seven RBIs in nine games on his rehab assignment with Double-A Pensacola and Triple-A Rochester.
• Outfielder Luke Raley is 3-for-10 with a solo homer in a rehab assignment with the GCL Twins.
• Outfielder Byron Buxton started at designated hitter and went 1-for-2 with a double and a walk in the first game of his rehab assignment with Class A Cedar Rapids. He was removed from the game after striking out in the fifth inning and is expected to play in the field on Monday.