Mets place Lugo on IL with shoulder tendinitis
Gagnon will slot into high-leverage situations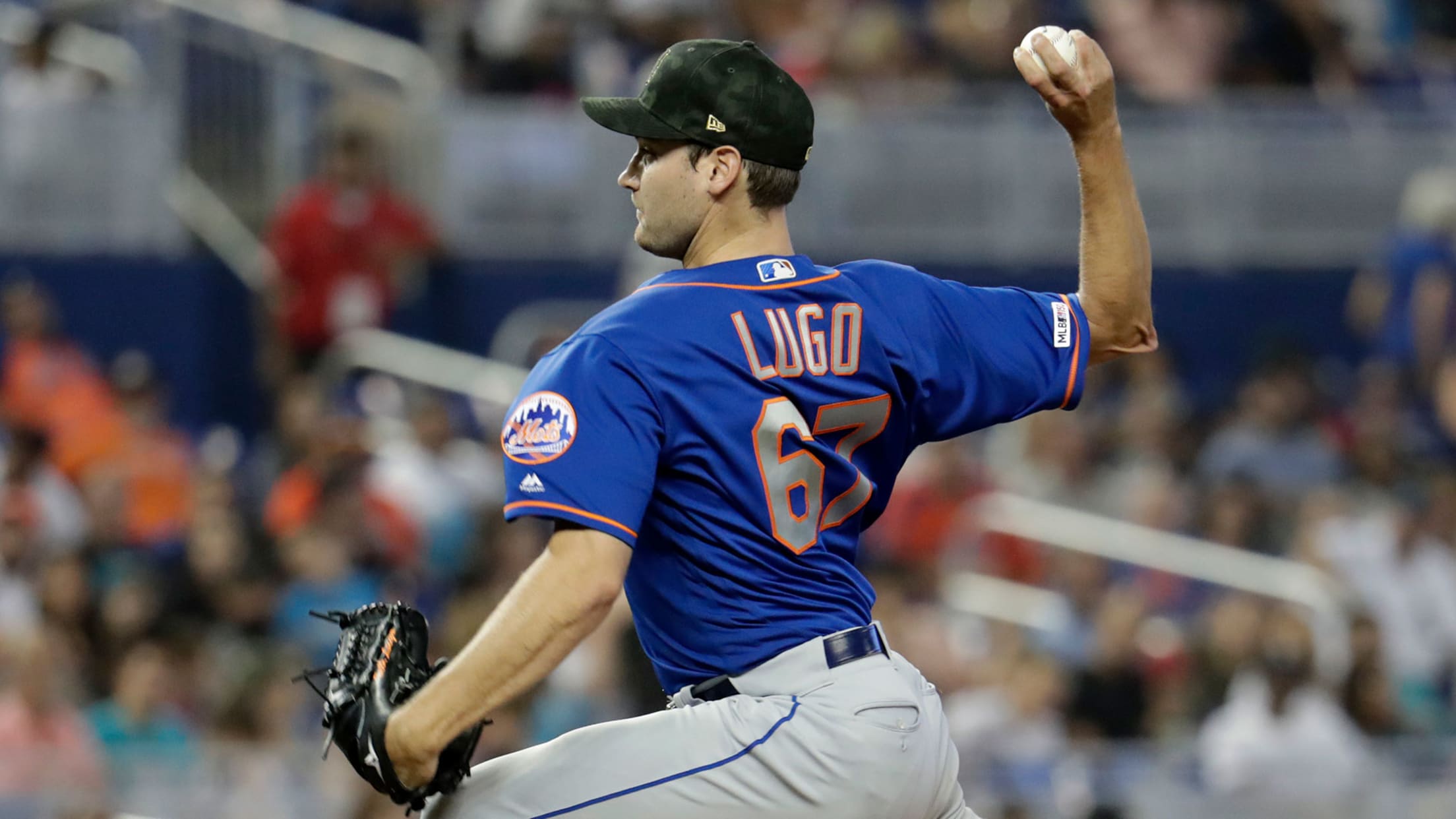 NEW YORK -- The Mets' bullpen suffered a blow before Monday's 5-3 win over the Nationals, when the team placed one of its top relievers, Seth Lugo, on the 10-day injured list due to right biceps tendinitis. The Mets called up veteran left-hander Hector Santiago from Triple-A Syracuse to take
NEW YORK -- The Mets' bullpen suffered a blow before Monday's 5-3 win over the Nationals, when the team placed one of its top relievers, Seth Lugo, on the 10-day injured list due to right biceps tendinitis. The Mets called up veteran left-hander Hector Santiago from Triple-A Syracuse to take Lugo's place, transferring Jed Lowrie to the 60-day injured list to clear 40-man roster space.
Lugo said he had experienced soreness at various points this year between outings, but never in a game until Sunday. In that game, he allowed his first run in a month.
"It's disappointing for me, but we've got other guys that they're going to pick it up and they're going to play just fine," Lugo said. "As a team, we've got other pieces to fill in and pick up for me. But it's disappointing for me. I want to play every day."
It is also disappointing for a Mets team that had come to rely extensively on Lugo, one of its most versatile pitchers. Appearing regularly from the fifth through ninth innings, Lugo has posted a 3.12 ERA in 19 appearances, with 34 strikeouts and six walks in 26 innings. He said his tendinitis is unrelated to the partially torn elbow ligament he has been pitching with for the past three seasons.
Here, Seth Lugo breaks down his injury and plans for the next week. pic.twitter.com/yCzUv2hS3J

— Anthony DiComo (@AnthonyDiComo) May 20, 2019
"Rest is the way to go," Lugo said of his current malady.
In Lugo's absence, the Mets will turn more frequently to Drew Gagnon in high-leverage spots, as well as to Santiago -- an eight-year veteran who nearly made the rotation out of Spring Training before struggling late in March. Santiago last pitched Thursday for Triple-A Syracuse, where he had posted a 3.35 ERA in seven starts and one relief appearance.
Like Lugo, Santiago boasts big league experience as a starter, a closer and everything in between.
"That's my role for the last seven years," Santiago said. "I've been a short guy, a long guy, the next day closing. I'm able to adapt. I'm mentally ready to go every day."
Gagnon picked up the win in Monday's victory over the Nationals, delivering two shutout innings in relief of Wilmer Font. The Mets chose to start Font over Gagnon in part because they wanted to have the latter available for similar relief appearances later this week.
"We wanted to make sure Gagnon, the way he's throwing the ball, that he kind of assumes Lugo's role," manager Mickey Callaway said. "It might not be the seventh and eighth, but it might be the fifth or the sixth or the sixth or the seventh. He's been throwing so good, we feel we can benefit and win games with him in that role, just like we did tonight."
Conforto improving
Monday marked Michael Conforto's third consecutive day without concussion symptoms, according to Mets general manager Brodie Van Wagenen. Conforto had a follow-up appointment with Mets doctors in New York, and he could restart physical activity soon. But the team did not offer details on exactly when, or what types of activities Conforto will be able to do.
Conforto suffered a concussion when he collided with Robinson Cano last Thursday in Washington, attempting to catch a pop fly down the right-field line. His nine home runs rank second on the team behind Pete Alonso.
Cano benched
Callaway offered three reasons for Robinson Canó being out of the starting lineup Monday. The first two were routine: Cano has posted a .337 OPS against left-handed pitchers and had started games on six consecutive days. A break against Nationals lefty Patrick Corbin made sense.
The third reason was less orthodox: Callaway said he was unhappy with Cano's hustle this weekend in Miami, where the second baseman twice did not run out ground balls. The manager said he has had "several" conversations with Cano since that time, drawing a stronger line than he did when asked about the topic over the weekend.
"I don't think I mentioned that it was fine," Callaway said Monday.
Cano, however, said that Callaway never mentioned his lack of hustle as a reason for the benching. Regardless, he apologized to Callaway and his teammates.
"I made a mistake," Cano said. "Let's not let it happen again."
If there was any remaining doubt that Cano received his manager's message, the second baseman sprinted out of the batter's box during a pinch-hit appearance in the sixth inning Monday. Motoring into second base in 8.43 seconds, Cano narrowly beat the throw thanks to his fastest home-to-second time since 2016.
"I guess he got the hint," Callaway quipped.
Rotation nearly back to full strength
Jason Vargas is healthy enough to rejoin the Mets' rotation after making a four-inning rehab start Sunday for Double-A Binghamton. According to Callaway, "there's a good chance" the Mets look to slot Vargas in the next time they need a fifth starter, Saturday against the Tigers.
Vargas has been on the injured list since May 6 due to a strained left hamstring.
Go go Gomez
With a third-inning double, Carlos Gomez logged his first Mets hit since Sept. 26, 2007. His 11 years and 236 days between hits was the second-longest stretch in franchise history, topped only by pitcher Bob Miller, who went 11 years and 306 days between hits from June 12, 1962 to April 14, 1974.