Mariners add fresh arms in Armstrong, Alaniz
Rookies Fester, Swanson optioned to Triple-A Tacoma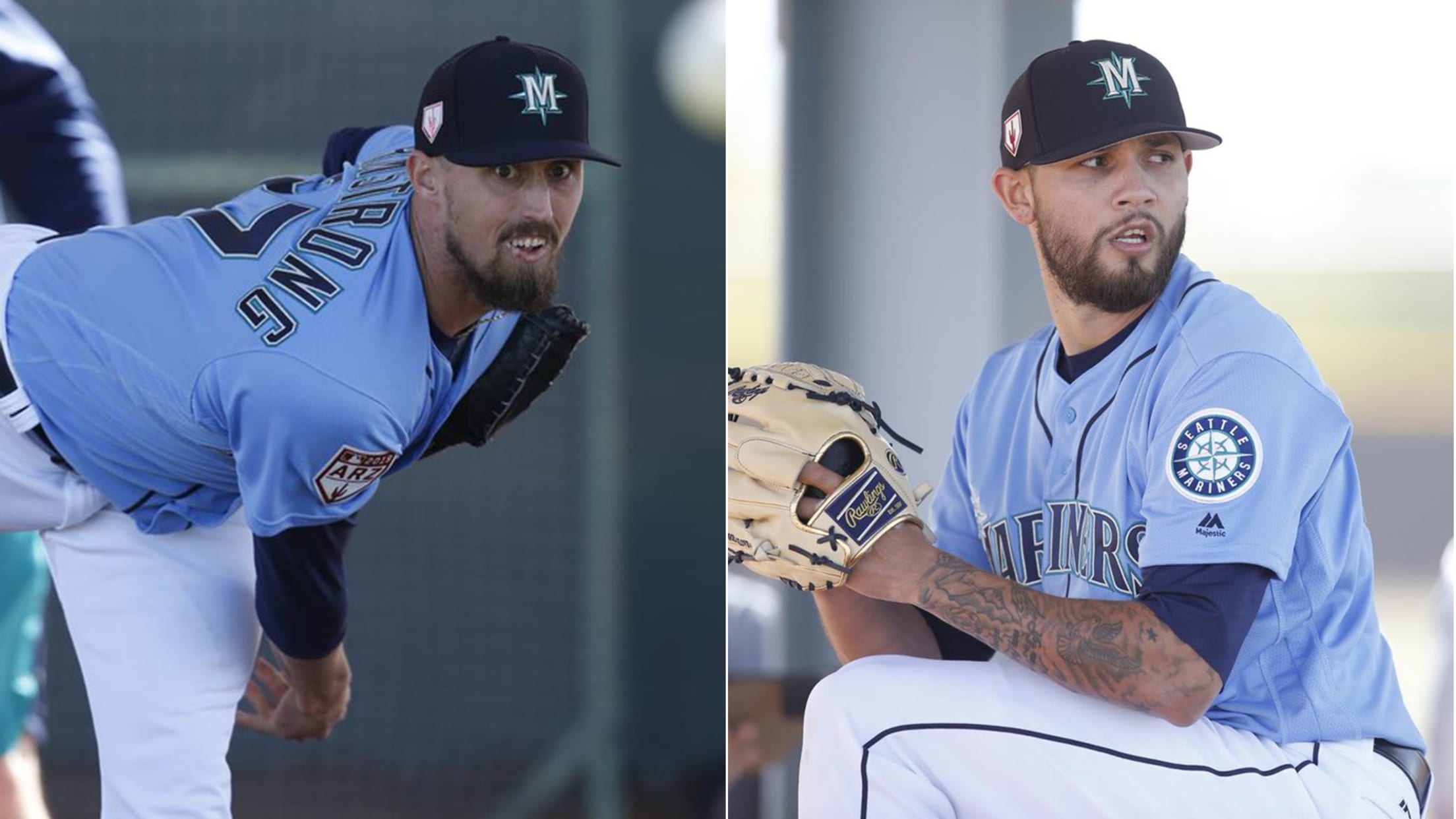 SEATTLE -- The Mariners activated Shawn Armstrong from the 10-day injured list and called up fellow right-hander R.J. Alaniz from Triple-A Tacoma on Friday as Seattle adds some fresh arms to its bullpen prior to its weekend series with the Astros. Seattle optioned rookie right-handers Matt Festa and Erik Swanson
SEATTLE -- The Mariners activated Shawn Armstrong from the 10-day injured list and called up fellow right-hander R.J. Alaniz from Triple-A Tacoma on Friday as Seattle adds some fresh arms to its bullpen prior to its weekend series with the Astros.
Seattle optioned rookie right-handers Matt Festa and Erik Swanson to Tacoma to open spots for the newcomers.
Armstrong was expected to play a significant role in the Mariners' bullpen to start the year, but he strained his left oblique in his final Cactus League outing before the team departed for Japan. He pitched two rehab games with Tacoma and allowed two hits with three strikeouts in two scoreless innings.
"I'm excited to be back with the team and keep what they've been doing going," Armstrong said. "It's been fun to watch while they've been gone, but watching the TV gets kind of old, so I'm very happy to be back. They're doing special things right now, so I want to help do whatever I can to help them win."
The 28-year-old posted a 1.23 ERA with one save in 14 2/3 innings over 14 games with Seattle at the end of last season after putting up a 1.77 ERA in 56 innings over 49 appearances in Tacoma, where he was a Pacific Coast League All-Star.
Alaniz, 27, signed with Seattle as a six-year Minor League free agent in November and will be making his Major League debut if he gets in a game. He pitched twice for Tacoma, allowing two runs (one earned) in 3 1/3 innings. The 6-foot-4, 219-pounder went 3-4 with a 3.38 ERA in 31 appearances last year across four levels of the Rays' Minor League system, striking out 53 in 42 2/3 innings.
"I'm pretty pumped. It's been a long time coming," said the Texas native. "Ten years in the Minors. I'm looking forward to the opportunity. It's been a long journey, but I'm here now and that's all that counts."
The Mariners signed Alaniz to their 40-man roster in November even though he's never pitched in the big leagues as they're intrigued by his potential.
"He throws really hard, 95-96 with a good slider," manager Scott Servais said. "He's had a couple really good outings in Triple-A and is back healthy again. He was a guy we went out and were aggressive in signing this offseason. I'm curious to see how he handles things."
Festa has been with the club since Opening Day in Tokyo and threw 5 1/3 scoreless innings in his first four outings before giving up five earned runs over 1 2/3 frames in his last two appearances as he struggled with his slider command. The 26-year-old, who ranks as the Mariners' No. 17 prospect per MLB Pipeline, appeared in eight games last year with Seattle.
Swanson made his MLB debut in Thursday's 7-6, 10-inning win in Kansas City, allowing two runs in two innings while striking out four. He would have had a scoreless outing if not for a pop fly that dropped in for a double on a windy afternoon at Kauffman Stadium and opened the door to two more hits and both runs in his initial inning.
April 12, 2019
The 25-year-old is Seattle's ninth-ranked prospect, and he was acquired along with left-hander Justus Sheffield (the system's No. 1 prospect) and outfielder Dom Thompson-Williams (No. 15) from the Yankees in the James Paxton trade in November.
Swanson will resume a starting role in Tacoma, where he was the Opening Day starter and threw five scoreless innings with eight strikeouts.
"You need starting depth," Servais said. "He showed us a lot. He may eventually end up being a reliever at the big league level, but he'll go back into the rotation there. I do suspect we'll see him again here at some point."