Johnson receives first big league callup at 28
Angels add to middle-infield depth; Fletcher may not return this season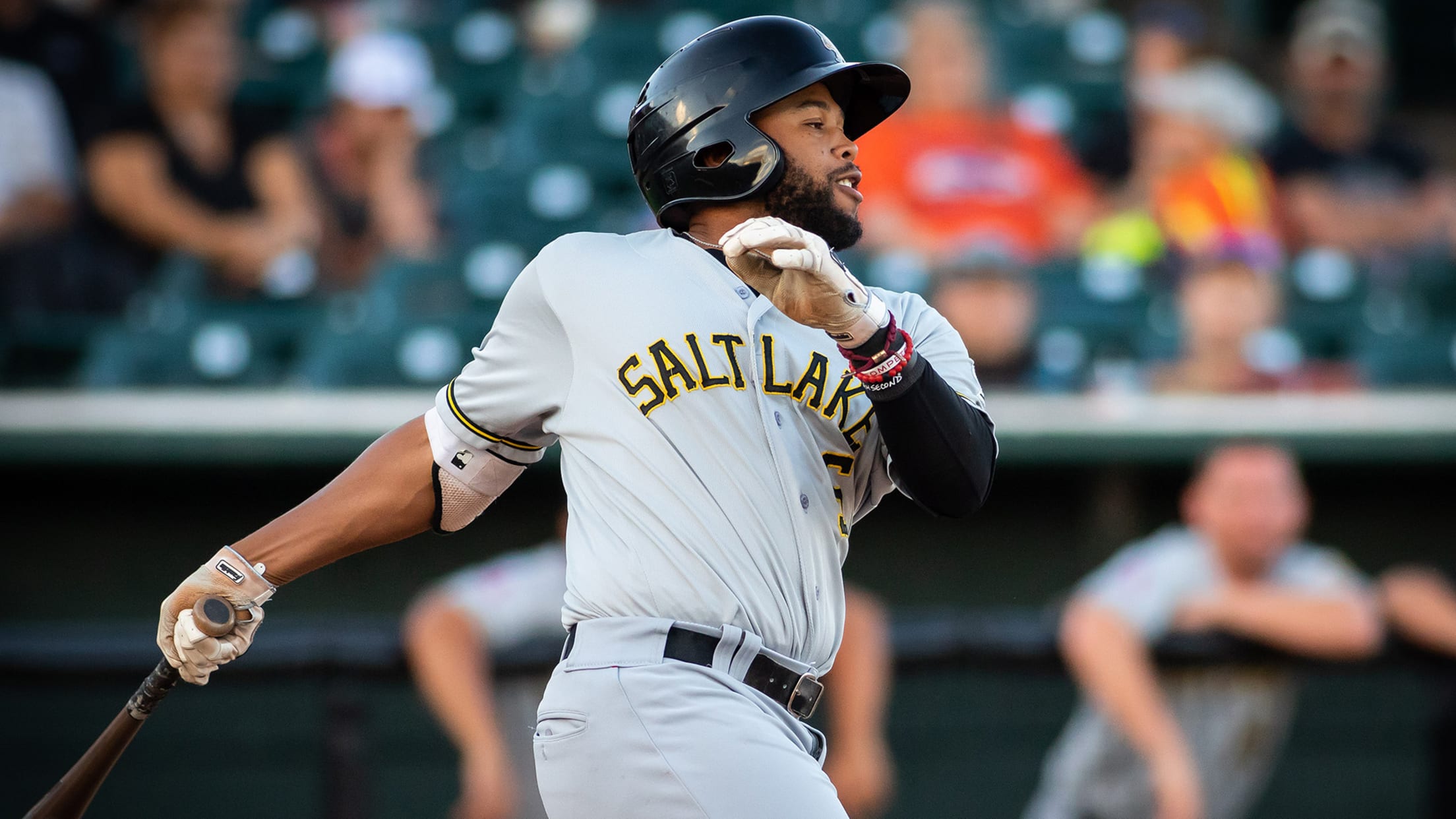 Salt Lake Bees left fielder Sherman Johnson (5) at bat during the game between the Salt Lake Bees and the Colorado Springs Sky Sox at Security Service Field in Colorado Springs, Colorado on June 18, 2018. Photo by: Bobby Stevens / MiLB.com (Bobby Stevens)
OAKLAND -- After playing his last game of the season with Triple-A Salt Lake on Sept. 3, Sherman Johnson switched out of baseball mode. He went back home to Tampa, Fla., to begin his offseason, putting the Majors far from his mind.Johnson was playing video games earlier this week when
OAKLAND -- After playing his last game of the season with Triple-A Salt Lake on Sept. 3, Sherman Johnson switched out of baseball mode. He went back home to Tampa, Fla., to begin his offseason, putting the Majors far from his mind.
Johnson was playing video games earlier this week when he received a call from the Angels' front office that caught him completely off guard. After seven seasons in the Minors, the 28-year-old infielder was receiving his first big league callup with the Halos.
"I kind of didn't believe it at first," Johnson said before Tuesday's series opener against the A's. "That was the last thing that I thought would happen, in my head."
With rookie second baseman David Fletcher out with a left hamstring strain, the Angels decided to bolster their middle-infield depth by calling up Johnson. To clear a spot for Johnson on the 40-man roster, the Angels transferred right-hander Nick Tropeano (shoulder inflammation) to the 60-day disabled list.
A 14th-round Draft pick by the Angels in 2012, the left-handed-hitting Johnson batted .251 with a .755 OPS, four home runs and 20 RBIs in 66 games between Triple-A Salt Lake and Double-A Mobile this season.
Johnson said he appreciated the chance to look back on his long road to the Majors during his cross-country flight from Florida to California.
"You try not to let the frustration get to you," Johnson said. "Just try to keep playing, keep going. Keep getting better every day. That's all you can really focus on at that point. It's definitely a good feeling to be able to reflect. I had a long flight from Florida here, so I got to think about all those times in the Minor Leagues and at Triple-A. It's definitely rewarding."
The Angels have 37 players on their active roster.
Worth noting
• Manager Mike Scioscia said the Angels are unsure if Fletcher will play again this season after injuring his hamstring on Sunday.
"These things usually have a mind of their own," Scioscia said. "We're going to keep looking at it on a day-to-day basis to see where he is, but we're not going to rush anything or run him out there in a game and put him at risk. We'll see how it goes."
• Left-hander Tyler Skaggs was activated off the disabled list and started against the A's on Tuesday. Skaggs had not pitched for the Angels since Aug. 11 due to a left adductor strain.