Shields struggling to find his way with White Sox
'We've got to figure this thing out,' right-hander says after loss to Tribe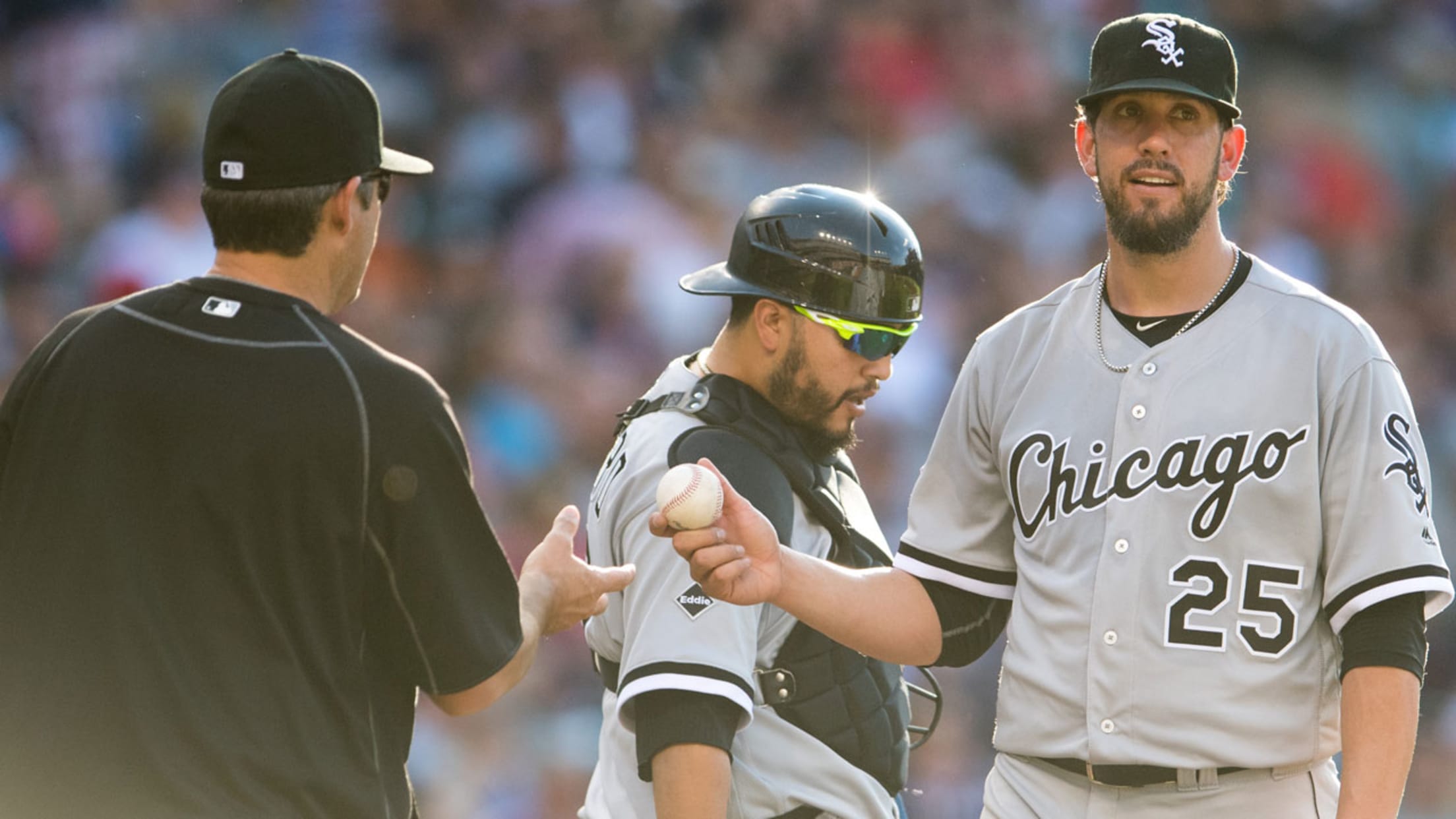 James Shields has allowed 21 earned runs over 8 2/3 innings in three starts for the White Sox. (AP) (AP)
CLEVELAND -- Dioner Navarro uttered 11 words following a 13-2 loss to the Indians Saturday night concerning James Shields' recent stretch of forgettable performances that White Sox fans pray come true."It can't get any worse than what it is right now," Navarro said.The White Sox held that same sentiment in
CLEVELAND -- Dioner Navarro uttered 11 words following a 13-2 loss to the Indians Saturday night concerning James Shields' recent stretch of forgettable performances that White Sox fans pray come true.
"It can't get any worse than what it is right now," Navarro said.
The White Sox held that same sentiment in regard to Shields after his last start against Detroit, a five-inning effort in which he closed with his lone three-up, threw-down frame since coming over from San Diego. He had good side sessions with pitching coach Don Cooper, and buoyed by a 3-0 record and 1.67 ERA over his last four starts against the Indians, the veteran right-hander felt poised for a turnaround against the American League Central leaders.
Then, Saturday's first inning rolled around, and the White Sox found themselves down five runs. Shields' final line showed eight runs allowed on seven hits over 1 2/3 innings, with three walks and two strikeouts.
Since joining the White Sox, Shields has faced 62 hitters over 8 2/3 innings and has pitched in five innings where he has faced seven hitters or more. He has allowed 21 earned runs with the White Sox to go with 25 hits, against five strikeouts and nine walks.
Shields' ERA has jumped from 3.06 to 6.28 when factoring in his last start for the Padres. And his next trip to the mound comes Thursday at Fenway Park against one of the best offenses in baseball.
"He's going back out there," White Sox manager Robin Ventura said. "He's going to figure it out."
"Yeah, that's it. We've got to go," Shields said. "We've got to figure this thing out."
Control for Shields has been a problem in terms of consistently falling behind hitters at 2-0 and 3-1, and then coming in with seemingly hittable offerings. He admitted to making mistakes Saturday against Jason Kipnis, resulting in a first-inning double, and Mike Napoli, which turned into a three-run, first-inning homer.
An idea of pitch-tipping also has been floated. Whatever the problem, Shields needs to figure it out fast to give his team a fighting chance every fifth day.
"To be honest with you, I don't know exactly what it is right now. I'm going to keep grinding," Shields said. "The most disappointing thing is I'm disappointing my teammates right now and my performance is not even giving them a chance to win ballgames. I have to keep going and grind this thing out."
"That's all you can do right now," Ventura said. "Keep trying to find something that's going to work."
Navarro, who caught Shields during his ace hurler days with the Rays, knows there's something not remotely clicking with his friend and teammate. But he can't put a finger on it either.
"I know there is nobody who feels worse than him," Navarro said. "He takes a lot of pride in what he does. I've known the guy for a long time. He's pretty [ticked] off. I know he's going to figure it out. So we have to keep battling through and figure something out."