Ohtani disappointed to miss Mexico road trip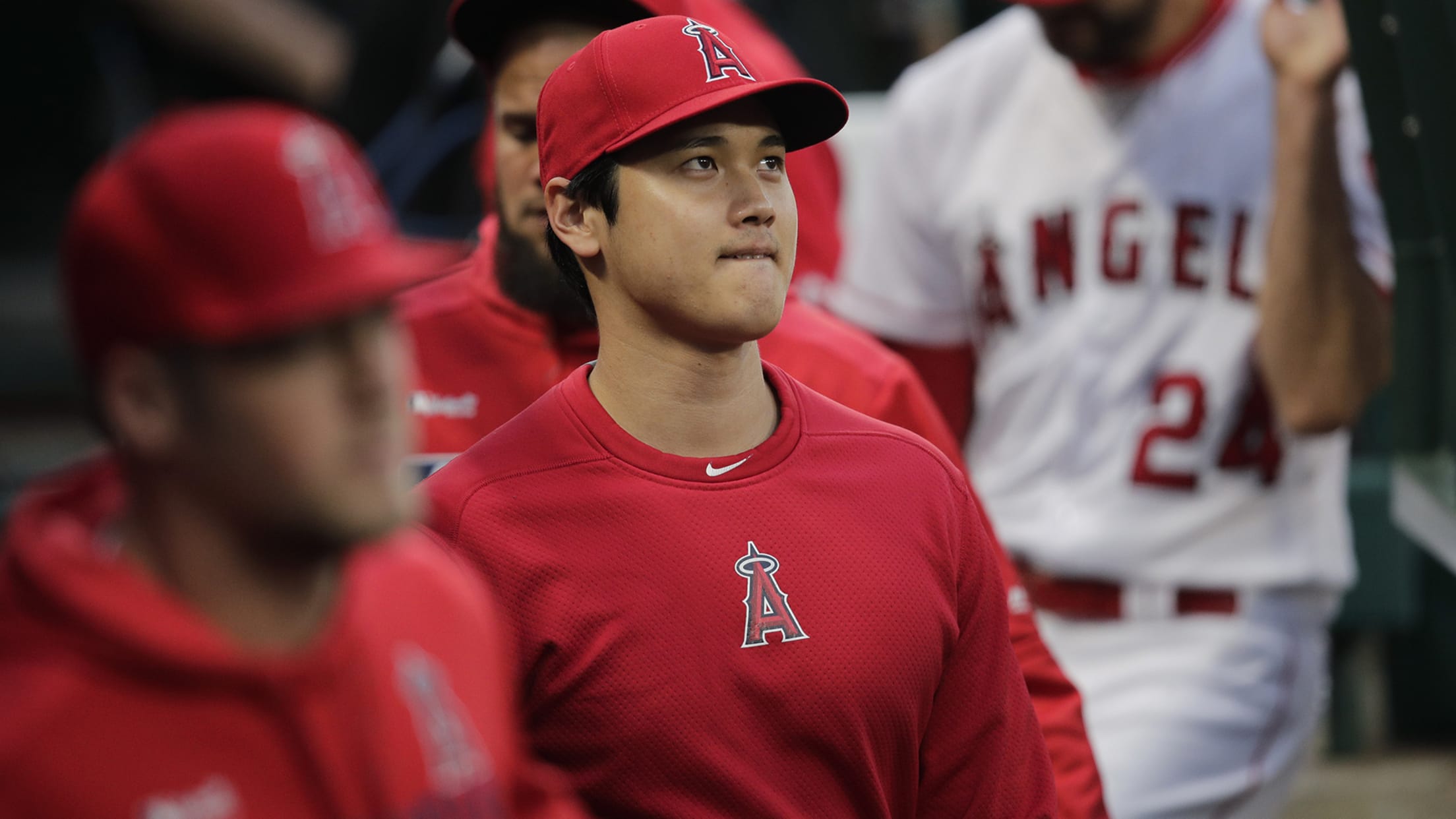 ANAHEIM -- Shohei Ohtani said Wednesday he's disappointed he won't be headed to Monterrey for the Mexico Series against the Astros this weekend, but understands why the Angels are being so cautious with him. Ohtani, recovering from Tommy John surgery on Oct. 1, had seven plate appearances in a simulated
ANAHEIM -- Shohei Ohtani said Wednesday he's disappointed he won't be headed to Monterrey for the Mexico Series against the Astros this weekend, but understands why the Angels are being so cautious with him.
Ohtani, recovering from Tommy John surgery on Oct. 1, had seven plate appearances in a simulated game on Wednesday, bringing his total to 32 plate appearances against live pitching over the last week. The Angels have said they'd like to get him to roughly 40 plate appearances before he returns as the club's regular designated hitter, but the earliest he'll return is Tuesday in Detroit after being ruled out for Saturday and Sunday in Mexico.
"It is disappointing, but it is what it is," Ohtani said through interpreter Ippei Mizuhara. "I have to wait it out and be ready when they call my name."
Ohtani, who was the American League Rookie of the Year last year, said he believes he's ready to return, but that it's ultimately not up to him. He's also been throwing three days a week as part of his rehab, but won't pitch again until 2020.
"Personally, I feel like I'm ready to go as of right now," Ohtani said. " I'm feeling great. Now it's all up to people above me. Once they give me the go sign, I'll be ready to go."
Ohtani, 24, admitted it's been tough to be patient throughout the process, but manager Brad Ausmus said it's a normal reaction for a player coming back from an injury. But there's a process that was laid out by doctors and the club's medical staff, and Ohtani has yet to finish the final step.
"It is a process, and we've got to get through it," Ausmus said. "I think he understands that. Players, they want to play. It's a general rule, and that's not just with Shohei. We still have to go through the whole process. When you have an injury, your process to get back to playing, he's nearing the end of it."
Canning to remain in rotation
Right-hander Griffin Canning, who made his Major League debut against the Blue Jays on Tuesday, will remain in the rotation, Ausmus said. Canning gave up three runs over 4 1/3 innings, but struck out six and induced 18 swinging strikes.
Ausmus, though, said he's not sure which game Canning will start against the Tigers next week because of upcoming off-days on Friday and Monday. But if the Angels stay on track with their current rotation, he's likely to start the series opener on Tuesday in Detroit.
Injury roundup
• Left fielder Justin Upton, on the 60-day injured list with left turf toe, has been making progress after getting his boot removed last week, as he's been utilizing an AlterG zero-gravity treadmill as part of his rehab. He's also been able to use a recumbent bike but has yet to get cleared to start jogging or running in the field.
• Third baseman Zack Cozart, on the 10-day IL with neck stiffness, participated in baseball activities on Tuesday, but suffered a slight setback and was held out of action Wednesday. Cozart is eligible to return Saturday in Mexico, but it's unclear if he'll be ready by then.
• Right-hander JC Ramirez, recovering from last April's Tommy John surgery, will face hitters for the first time since the operation in a simulated game on Thursday. Ramirez is in the process of getting stretched out to start and is expected to return sometime in June.