Ohtani hits, throws in final Tempe workout
On-field BP next for two-way star; cuts clarify Angels' roster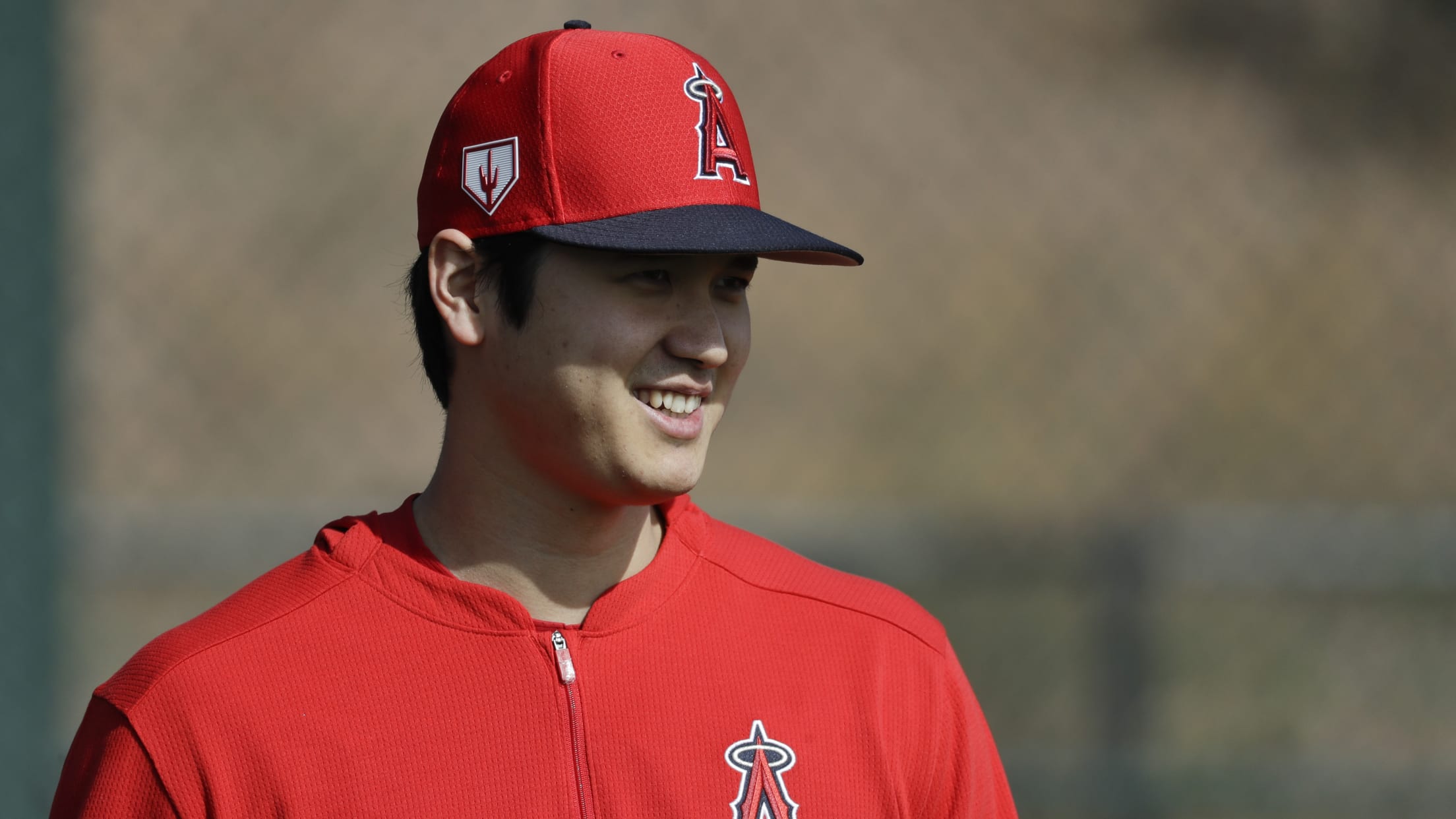 TEMPE, Ariz. -- Shohei Ohtani participated in his final workout at Tempe Diablo Stadium on Friday, as he'll head to Anaheim on Saturday with the team to continue his rehab from Tommy John surgery. Ohtani, who underwent the operation on Oct. 1 and is aiming for a return as a
TEMPE, Ariz. -- Shohei Ohtani participated in his final workout at Tempe Diablo Stadium on Friday, as he'll head to Anaheim on Saturday with the team to continue his rehab from Tommy John surgery.
Ohtani, who underwent the operation on Oct. 1 and is aiming for a return as a designated hitter in early May, hit and threw on Friday. The reigning American League Rookie of the Year Award winner threw 55 times on flat ground, including 35 throws from 50 feet, while also taking 10 swings off a tee, 10 swings during soft toss and 10 swings during batting practice in the cages.
"It was a lot different than last year, but for the most part, I think everything went pretty well, pretty smooth," Ohtani said through interpreter Ippei Mizuhara. "I have no frustrations at all, but I am eager to keep moving to the next step."
The next step for Ohtani is to take batting practice on the field, which is expected to happen soon. From there, he'll move up to live batting practice, simulated games and, potentially, a Minor League rehab assignment.
"I feel like I'm ready," Ohtani said of hitting on the field. "My first goal is to get back on the field. Depending when I come back and how many at-bats I get, then I can set goals. It's hard to set goals at this point."
Ohtani also said he reached out to Ichiro Suzuki to congratulate him on his retirement, and he was pleased to hear back from Ichiro, whom he idolized growing up.
"I'm very thankful, because he's probably busy with a lot of things," Ohtani said.
Ichiro also told the Japanese media during his retirement news conference that he believes Ohtani can be the best player in the world, and Ohtani was humbled to hear it coming from the future Hall of Famer.
"Obviously, it's one of the most honoring things coming from someone like Ichiro," Ohtani said. "I am thankful he went out of his way to mention my name in his retirement press conference."
Roster moves
The Angels' roster situation became a bit clearer on Friday, as third baseman Taylor Ward, reliever Jake Jewell and catcher Jose Briceno were optioned to Triple-A Salt Lake, while catcher Dustin Garneau and outfielders Jarrett Parker and Brennon Lund were sent to Minor League camp. Additionally, veteran reliever Daniel Hudson was released.
It essentially means that second baseman David Fletcher and backup catcher Kevan Smith will make the team, and Peter Bourjos will be added to the roster as the fourth outfielder. It's also a good sign for reliever Noe Ramirez, who is out of options and has been pitching better lately.
Trout homers, happy with his swing
Center fielder Mike Trout, playing in his second Cactus League game since signing his 12-year, $426.5 million extension, crushed a three-run homer in the first inning off lefty Carlos Rodon and went 1-for-3 in the Angels' 5-4 win over the White Sox on Friday.
"Just trying to fine-tune things," Trout said. "Some swings feel good. Some kind of are just in-between. I think we, as a team, and me personally, I feel good. I hit that ball pretty good."
Cahill solid in final tuneup
Right-hander Trevor Cahill, making his final outing leading up to his Opening Day start in Oakland on Thursday, allowed one run on four hits and three walks over 4 1/3 innings. He got up to 91 pitches and is fully stretched out for his second career Opening Day start, as he also got the nod in 2011 with the A's.
"Should be good to go for Thursday," Cahill said. "It's the first time going back to Oakland as a visitor pitching there. It'll be exciting."
Injury updates
• Reliever Taylor Cole, who will open the year on the injured list with a sore right shoulder, said he's confident it's a minor injury and he'll be able to return soon. Cole, who posted a 2.75 ERA with 39 strikeouts in 36 innings as a rookie last year, said he felt the discomfort in his shoulder after his last outing on March 7.
"The shoulder is good," Cole said. "Today is my third day throwing. I'm just getting back on track and trying to take it one day at a time. I don't want to rush it too much, but at the same time, I want to get back with the team."
• The Angels will continue to give extra playing time to third baseman Zack Cozart (left calf strain) and left fielder Justin Upton (right knee tendinitis) over the next few days to get them ready for the start of the season on Thursday against the A's. Manager Brad Ausmus thinks both players will avoid the injured list, but they could be eased into action early.
"The question is how much we have to protect them with playing time out of the gate," Ausmus said. "It's a big question, and we'll have to answer that probably after the Freeway Series."
• Reliever Keynan Middleton, who is recovering from Tommy John surgery in May, threw his first bullpen session on Friday. Middleton has been aiming for a return in June but is behind JC Ramirez, who has been throwing off a mound since early February.
Up next
The Angels wrap up Cactus League play on Saturday, when they travel to Peoria to play the Padres at 1:10 p.m. PT. The Angels will use a bullpen game, with right-hander Jeremy Beasley getting the start. Closer Cody Allen will also pitch in the game, while regulars expected to play are first baseman Justin Bour, Fletcher and Smith.