Inbox: Should Twins seek more pitching help?
Beat reporter Do-Hyoung Park answers questions from fans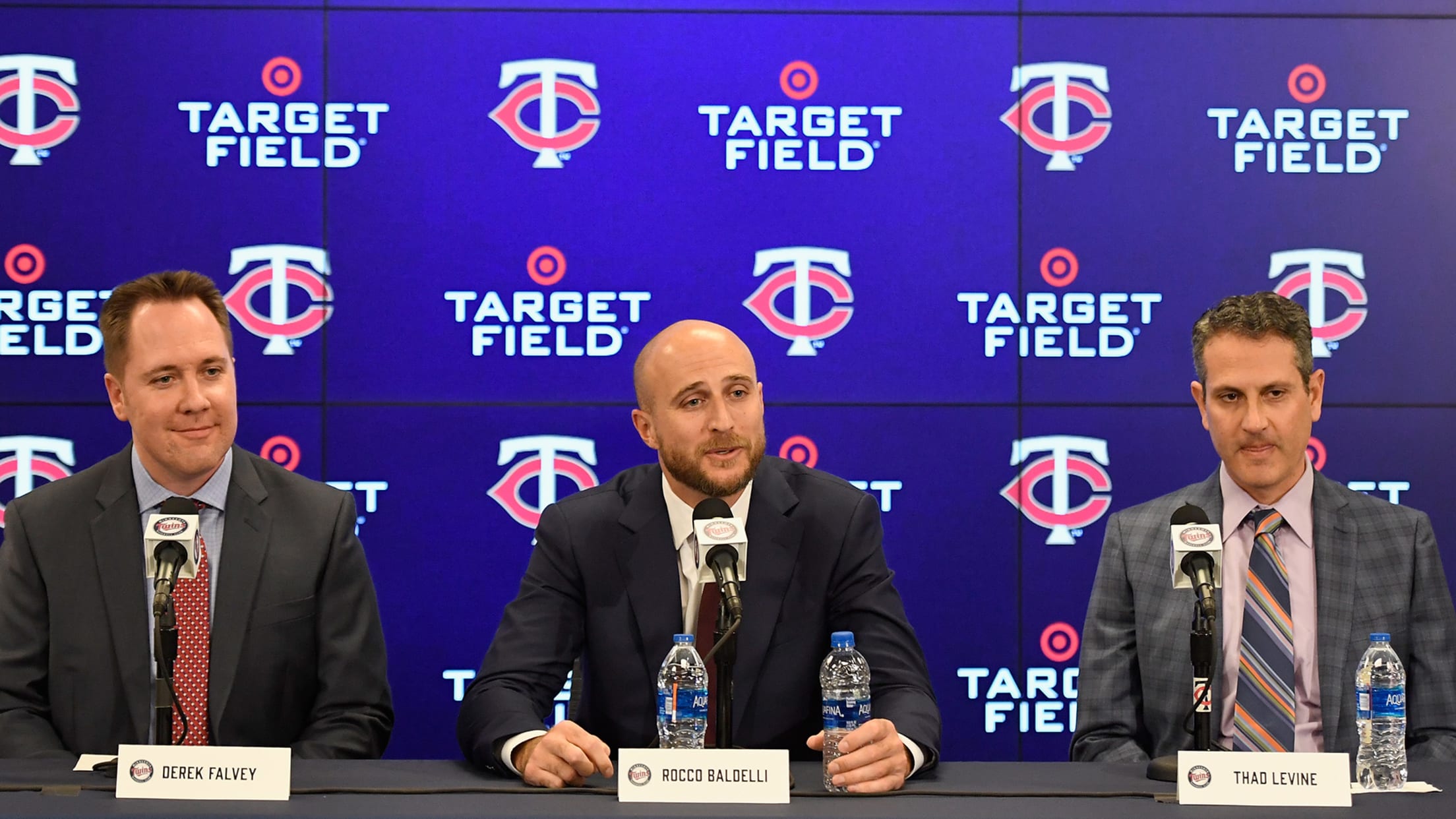 MINNEAPOLIS, MN - OCTOBER 25: (L-R) Chief Baseball Officer Derek Falvey, Manager Rocco Baldelli and General Manager Thad Levine of the Minnesota Twins speak as Baldelli is introduced at a press conference at Target Field on October 25, 2018 in Minneapolis, Minnesota. (Photo by Hannah Foslien/Getty Images) (Hannah Foslien/Getty Images)
MINNEAPOLIS -- We're now a week away from the first workout for the Twins' pitchers and catchers, making this the final Inbox before Spring Training gets underway in Fort Myers, Fla. The questions submitted for this week's Inbox largely revolved around the pitching staff and available free agents such as
MINNEAPOLIS -- We're now a week away from the first workout for the Twins' pitchers and catchers, making this the final Inbox before Spring Training gets underway in Fort Myers, Fla. The questions submitted for this week's Inbox largely revolved around the pitching staff and available free agents such as Dallas Keuchel and Craig Kimbrel, so let's dive in.
:: Submit a question to the Twins Inbox ::
With Berrios the only guaranteed starter under contract passed 2019, what are the Twins plans for a future, stable rotation? Why not sign a solid guy like Keuchel?

— Trevor King (@trevor_king22) February 5, 2019
I think much of that will depend on the continued progression of the Twins' young arms this season. You want as much homegrown talent as possible in order to build a "stable" rotation, and the Twins have several starters who could establish themselves in the Major Leagues this season or next, such as Adalberto Mejía, Kohl Stewart, Stephen Gonsalves, Zack Littell and Fernando Romero. If they continue to progress, they'll be a part of the conversation moving forward.
There could also be extension talks with Kyle Gibson this season, especially if he can maintain a similar level of performance to his breakout 2018, during which he went 10-13 with a career-best 3.62 ERA and 179 strikeouts. Gibson turns 32 following the 2019 season and has pitched his entire six-year career with the Twins.
I'll address Keuchel in my next answer, but in terms of acquiring new talent for the rotation, remember that the class of starters scheduled to hit free agency next season includes Madison Bumgarner, Gerrit Cole, Cole Hamels, Rick Porcello, Hyun-Jin Ryu, Chris Sale, Justin Verlander and Alex Wood, among many others. While Keuchel may be among the best available options this offseason, not adding him doesn't mean that the Twins won't have options moving forward.
Who would be more likely for the Twins to sign? Dallas Keuchel or Gio Gonzalez

— Will Peterson (@Slick__Bill) February 6, 2019
At this point, my sense is that the Twins could be largely finished adding starters, especially since they've indicated that they plan to use newly acquired Martin Pérez in a starting role.
One thing to keep in mind is that when you're adding a player in free agency, you're committing money and resources to that player's future performance -- not his past performance.
For example, Keuchel is undoubtedly an accomplished, proven pitcher with an impressive resume. He has a career 3.66 ERA, four American League Gold Glove Awards, an AL Cy Young Award and three seasons with a sub-3.00 ERA. But what's more difficult for fans to consider is how his performance might project, and how that compares to what he's seeking contractually, which is more important for a front office looking to allocate future funds.
I'm not in the decision room with Twins executive vice president and chief baseball officer Derek Falvey, general manager Thad Levine, assistant GM Rob Antony and company, so I don't know the resources that teams have available for projecting future performance. But it's undoubtedly more than what we have. My point is that, on the outside, it's easy for us to point to players' past performances as reasons to second-guess moves (or lack thereof), and to a certain extent, past performance certainly gives you a better idea of what to expect in the future. But it's far from the complete picture.
What are your thoughts on Royce Lewis getting an invite to Spring training and do you think he'll do some damage whenever he plays during spring training?

— Nick Byrne (@nickbyrne17) February 5, 2019
Regardless of whether Royce Lewis and Alex Kirilloff have impressive performances in Spring Training, it's a big next step in their development to be around the Major League coaching staff and players. They have a lot to learn from watching guys such as Nelson Cruz go about their daily routines -- especially Lewis, who's still only 19 years old and two seasons into his professional career.
It'll definitely be exciting to see them take at-bats against higher-level pitching, even if it's a small sample size. Lewis slowed down at the plate following his promotion to Class A Advanced last season, but he said that getting through his slumps helped improve the mental side of his game, and his raw physical tools will be fun to watch in Fort Myers. Kirilloff put on a hitting clinic at both the Class A and Class A Advanced levels last season, spraying the ball with impressive power to all fields.
How healthy are Sano and Buxton now? What are you hoping for from them this year? Who is going to be the closer for the Twins?

— John Telloyan (@Telly45) February 5, 2019
Miguel Sanó and Byron Buxton are fully healthy, and they've both been working with renewed efforts this offseason to get their bodies into the best shape possible.
I think the key to Buxton's season is for him to stay healthy. He showed in 2017 that he has the ability to utilize all of his tools in the Major Leagues on a consistent basis, but he wasn't healthy enough early last season to build on that campaign. He has now added 21 pounds to build more durability into his frame. If he can stay on the field, he'll provide plenty of defensive value, at minimum. Showing that he can again be more consistent with the bat will be the key.
As for Sano, we know his power will be there, and the hope for the Twins is that his improved body and added clubhouse leadership from Cruz and others will put Sano in the best position possible to leverage his talents over the course of a full season. He had a difficult offseason a year ago as he recovered from leg surgery, so with less of a roadblock this offseason, he should be able to hit the ground running more effectively.
If the Twins don't sign Kimbrel, will it be closer by committee or do you see a May or Rogers closing games?

— Scott Badger (@34badger34) February 5, 2019
Manager Rocco Baldelli has shied away from naming a closer leading into Spring Training, and in the last several weeks, he and the front office have spoken more of the need to figure out how to get the final nine outs of a given game, as opposed to naming concrete roles this early in the process.
Trevor May and Taylor Rogers certainly have the ability to close, as do Blake Parker, Addison Reed and Trevor Hildenberger. Romero could also work himself into the conversation. As one of the best left-handed relievers in the AL last season, I'd think that Rogers would be more valuable if he's not confined to a ninth-inning role and instead is used more flexibly in high-leverage situations, especially against tougher lefties.
Whether one of the pitchers emerges from the pack or the coaching staff decides to play matchups and situations by committee, this is a battle that should see more clarity as Spring Training progresses.