ST sights and sounds: Vlad Jr., Tebow, Bregman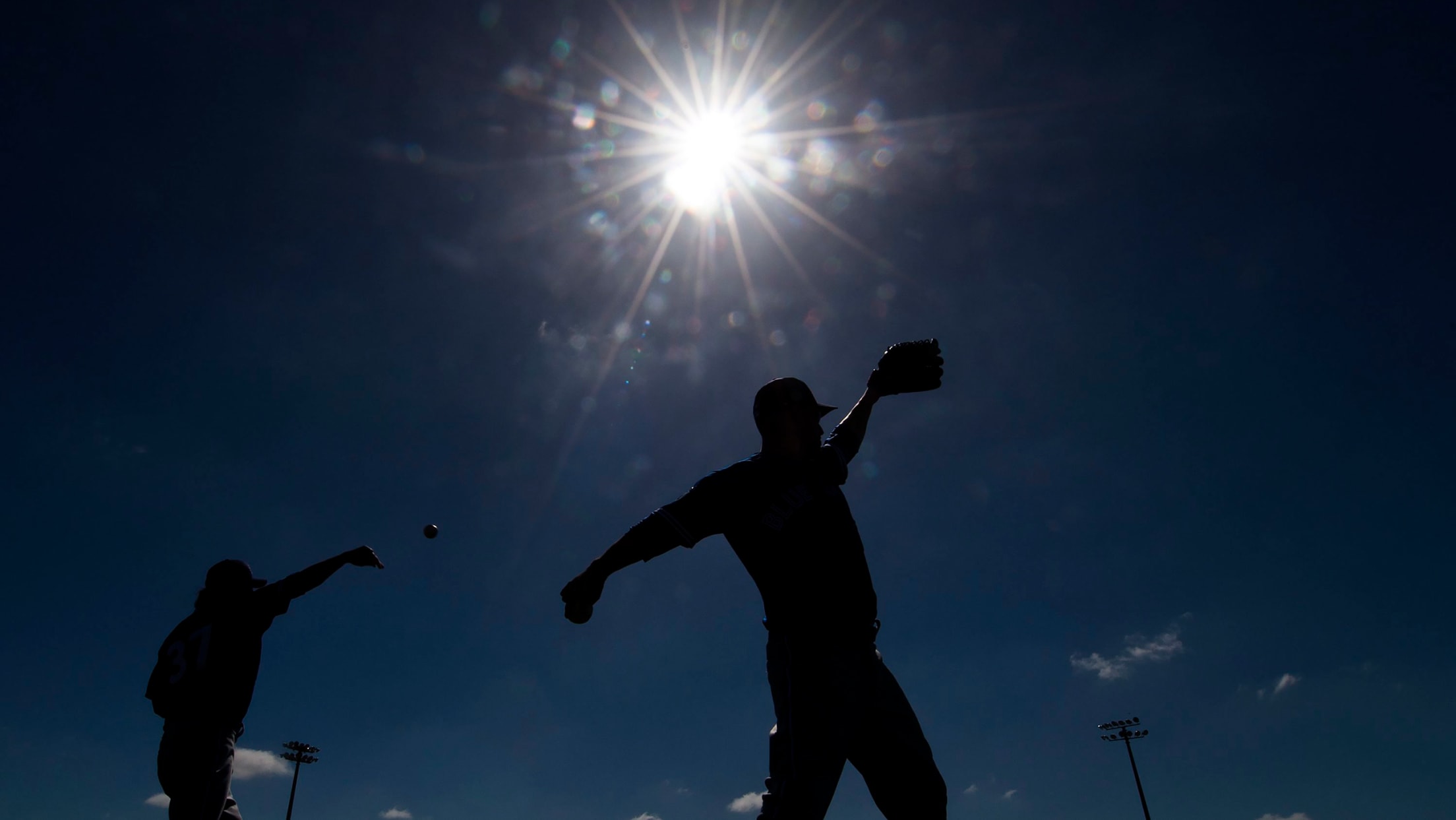 Spring Training is underway. Players are stepping back onto the baseball field as they get ready for the 2019 season.:: Spring Training coverage presented by Camping World ::MLB.com's beat reporters have you covered with the action from every team's training camp. Keep track of the latest highlights of Spring Training
Spring Training is underway. Players are stepping back onto the baseball field as they get ready for the 2019 season.
:: Spring Training coverage presented by Camping World ::
MLB.com's beat reporters have you covered with the action from every team's training camp. Keep track of the latest highlights of Spring Training right here.
Vlad Jr. has arrived
Vladimir Guerrero Jr. -- one of baseball's most anticipated prospects in years -- arrived at Blue Jays camp and got right to work, both in the cage and out on the diamond.
Vladimir Guerrero Jr. batting practice. #BlueJays pic.twitter.com/Extcalu7uP

— Gregor Chisholm (@gregorMLB) February 16, 2019
The Man. The Myth. The Legend. I'm of course talking about the BlackBerry I used to take this picture. Also, that's Vlad Guerrero Jr. #BlueJays pic.twitter.com/HNoCWaSC79

— Gregor Chisholm (@gregorMLB) February 16, 2019
Tebow time
Remember this guy? Tim Tebow is back for his second tour through Mets Spring Training.
He's heeeere. #tebowmania pic.twitter.com/qUjzRMZph6

— Anthony DiComo (@AnthonyDiComo) February 16, 2019
Legend in the house
Hope springs eternal around this time of year, but the Pirates had a special friend in attendance Saturday -- just in case they should ever find themselves in low places.
Just your typical BP group — Starling Marte, Josh Bell, Corey Dickerson and Garth Brooks pic.twitter.com/62OHGqmEr5

— Adam Berry (@adamdberry) February 16, 2019
Pitch for the camera
Pitch-tracking technology has become as ubiquitous as bubble-gum buckets at MLB camps this spring, and the Tigers' camp is no exception.
A whole lot of electronics pointed at Jordan Zimmermann as he throws a bullpen session today. (Rapsodo machine not pictured) pic.twitter.com/lyrzYzrjCJ

— Jason Beck (@beckjason) February 16, 2019
Good luck, National League Central
Winning the NL Central will be hard enough this year, and opposing hitters might feel extra pressure trying to figure out Andrew Miller's slider and Adam Wainwright's curve.
Andrew Miller and Adam Wainwright get some work off the mound. #STLCards pic.twitter.com/xg8nXyUNv2

— Jenifer Langosch (@LangoschMLB) February 16, 2019
Willians lets it fly
Willians Astudillo, in case you missed it, may have already submitted the homer celebration of the year in the Venezuelan Winter League. He admired another homer from the cage Saturday, but with a little more subtlety. It is only Spring Training, after all.
Astudillo with the walk-away after a BP homer. pic.twitter.com/WueAr0vbqt

— Do-Hyoung Park (@dohyoungpark) February 16, 2019
Bregman back at it
Alex Bregman was as dazzling with his glove as he was with the bat last season, and we're getting real close to seeing him unleash those cross-diamond throws again.
Bregman in fine form with the glove but not quite ready to throw across the diamond yet a few weeks out of elbow surgery pic.twitter.com/yHJBJBw636

— Brian McTaggart (@brianmctaggart) February 16, 2019
Present and accounted for
The Yankees rewarded their ace Luis Severino with a four-year, $40 million extension on Friday, and his rotation-mates made sure they were front and center for his celebratory press conference on Saturday.
The #Yankees rotation is here for Luis Severino's press conference. pic.twitter.com/eFmCUuvcuy

— Bryan Hoch (@BryanHoch) February 16, 2019
Alonso: "I see light at end of the tunnel"
Few prospects are as anticipated by his team's fan base as Mets' first baseman Peter Alonso, who displayed some serious power in the Minors last year. Alonso will compete for the Opening Day job this spring, and New York fans will likely see him this season no matter how the competition shakes out.
Peter Alonso reported to Mets camp today. "I kind of see the light at the end of the tunnel," he says as he prepares to compete for a big league job. pic.twitter.com/3CX10i47UG

— Anthony DiComo (@AnthonyDiComo) February 16, 2019