Three Phillies rank among Top 100 prospects
Sanchez, Bohm, Medina identified by MLB Pipeline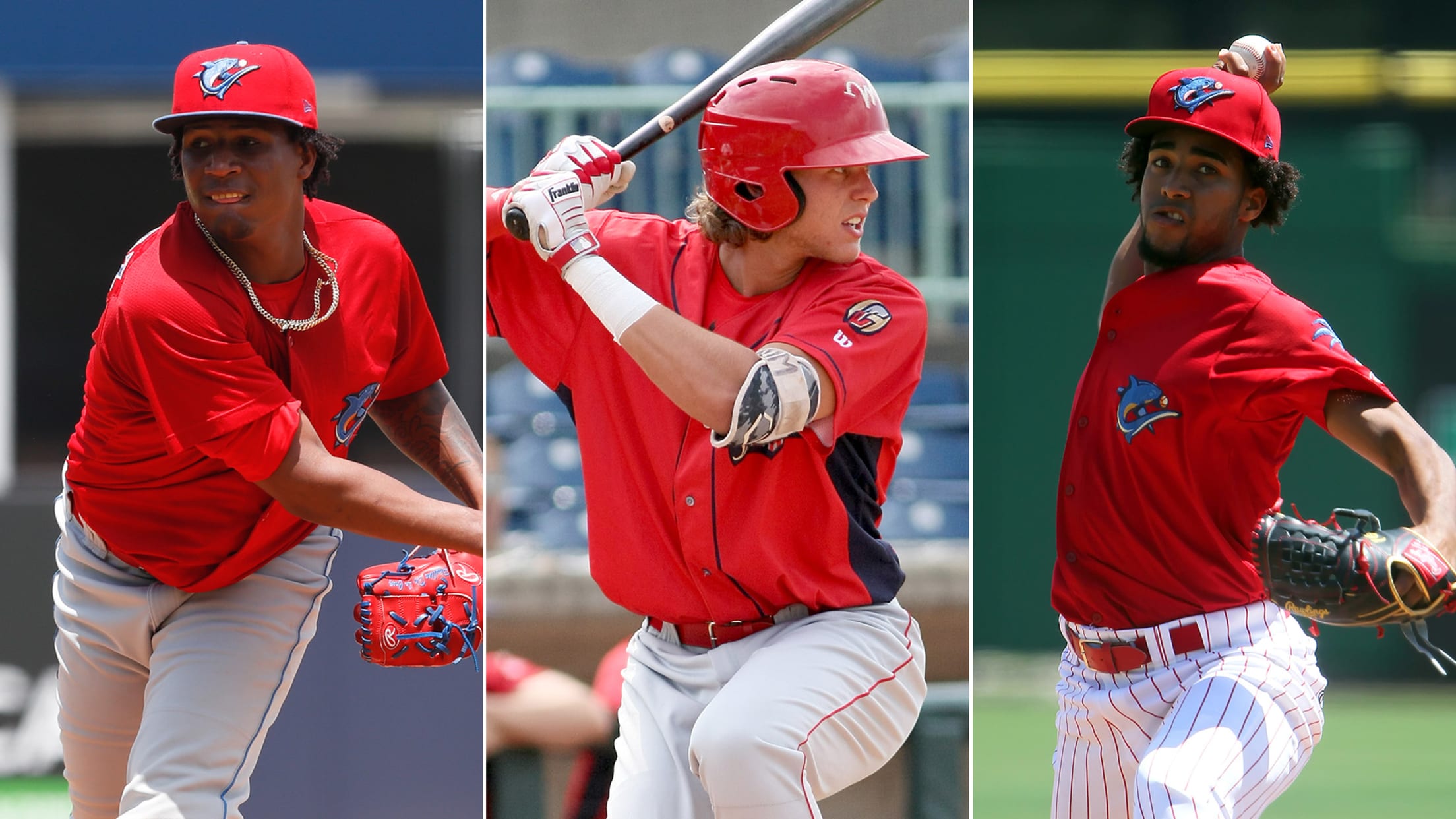 CINCINNATI -- MLB Pipeline updated its prospects rankings Thursday, including its Top 100 and organizational Top 30.Right-hander Sixto Sanchez (No. 17), third baseman Alec Bohm (No. 46) and right-hander Adonis Medina (No. 73) rank in the Top 100. Sanchez is the fifth-best right-handed prospect. Bohm is the fourth-ranked third-base prospect.The
CINCINNATI -- MLB Pipeline updated its prospects rankings Thursday, including its Top 100 and organizational Top 30.
Right-hander Sixto Sanchez (No. 17), third baseman Alec Bohm (No. 46) and right-hander Adonis Medina (No. 73) rank in the Top 100. Sanchez is the fifth-best right-handed prospect. Bohm is the fourth-ranked third-base prospect.
The Phillies just selected Bohm with the third overall pick of the 2018 Draft.
Bench looking for help
The Phillies continue to search for an offensive upgrade before Tuesday's non-waiver Trade Deadline, but at the very least they could have a fourth bench player on Friday at Great American Ball Park: Triple-A outfielder Roman Quinn could be that guy.
"We've been discussing various names and Roman has come up as a possibility," Phillies manager Gabe Kapler said before Thursday night's series opener against the Reds.
The Phillies optioned infielder Mitch Walding and recalled right-hander Jake Thompson on Wednesday following Tuesday's 16-inning victory over the Dodgers. It left the Phillies with only three bench options Wednesday and Thursday: backup catcher Andrew Knapp, infielder Trevor Plouffe and infielder Jesmuel Valentin.
Quinn missed significant time this season following surgery to repair a ligament in his right middle finger, and he returned to action on July 19. At the very least, he could help the team because of his speed and defense.
The Phillies optioned outfielder Aaron Altherr on Sunday. The only other player on the 40-man roster eligible to be promoted at this time other than Quinn is Triple-A outfielder Dylan Cozens.
The Phillies have been connected to some veteran outfielders from other organizations with the Trade Deadline approaching: the Orioles' Adam Jones and the Blue Jays' Curtis Granderson. They also have been linked to infielders like Eduardo Escobar, Mike Moustakas, Whit Merrifield and Asdrubal Cabrera.
Injury updates
• Infielder J.P. Crawford (broken left hand) is in Clearwater, Fla. He hit inside the batting cage on Thursday.
• Infielder Pedro Florimon (broken right foot) took ground balls with the team.
• Right-hander Jerad Eickhoff (nerve issue in right fingers) threw 40 pitches in an "up and down" bullpen session.