Where FA reliever market stands as 2019 looms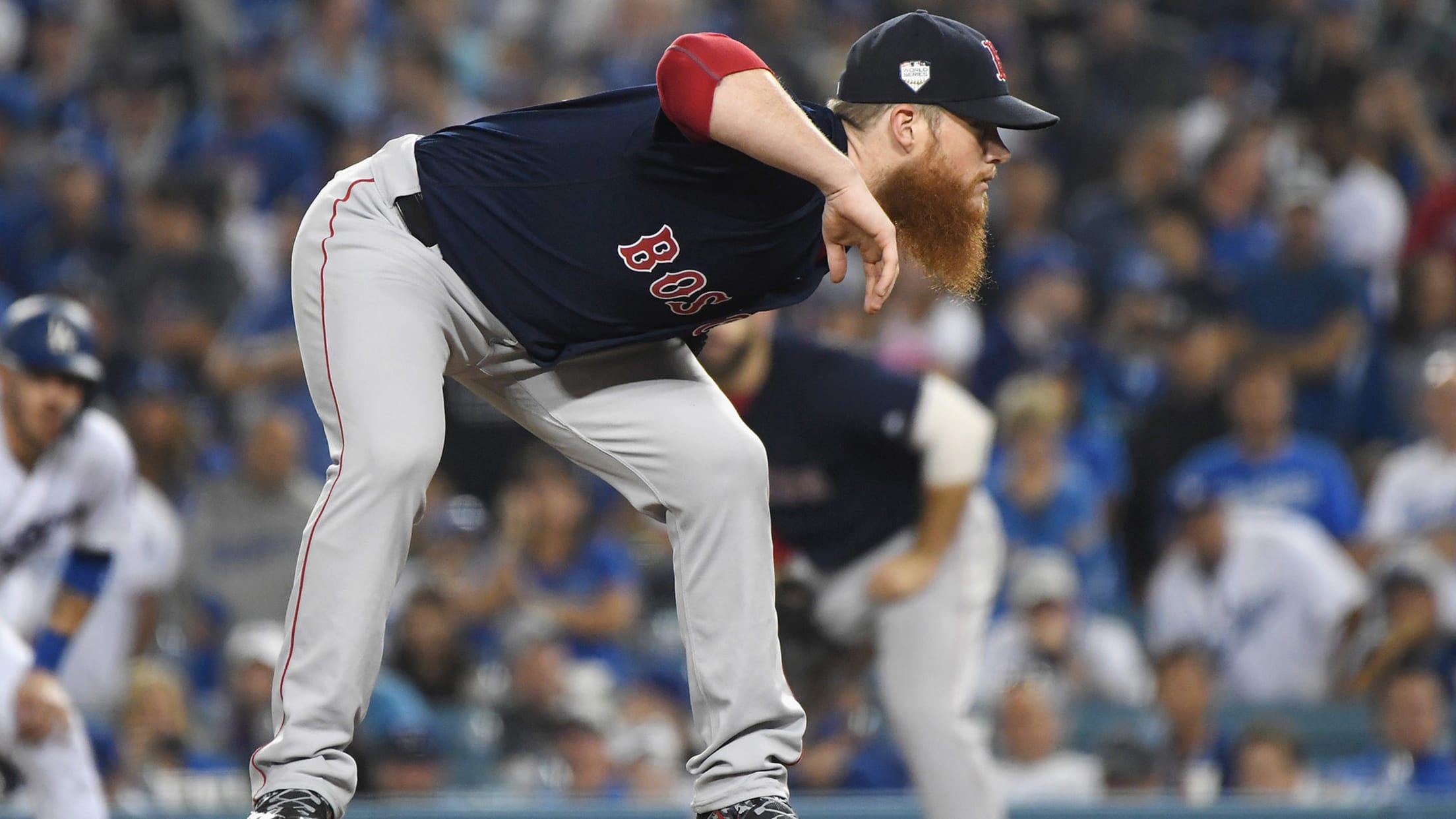 LOS ANGELES, CA - OCTOBER 26: Craig Kimbrel #46 of the Boston Red Sox prepares to deliver the pitch during the ninth inning against the Los Angeles Dodgers in Game Three of the 2018 World Series at Dodger Stadium on October 26, 2018 in Los Angeles, California. (Photo by Harry How/Getty Images) (Harry How/Getty Images)
Last year's free-agent market was notable for its deliberate pace, though relief pitchers were the one group that not only signed quickly, but landed fruitful contracts in the process.This year, there has been plenty of movement in free agency, with starting pitchers seizing opportunities with aggressive teams looking to bolster
Last year's free-agent market was notable for its deliberate pace, though relief pitchers were the one group that not only signed quickly, but landed fruitful contracts in the process.
This year, there has been plenty of movement in free agency, with starting pitchers seizing opportunities with aggressive teams looking to bolster their rotations.
The relief market, on the other hand, has been slow to develop. Perhaps last winter's deals given to Jake McGee and Bryan Shaw (three years, $27 million each), Tommy Hunter (two years, $18 million), Addison Reed (two years, $16.75 million), Anthony Swarzak (two years, $14 million) and Greg Holland (one year, $14 million) have caused teams to take a step back, though with plenty of big-name relievers available this winter, there figures to be a flurry of activity at some point soon.
Here's a look at where the relief market stands:
Who will be the next reliever to sign?
Andrew Miller signed a two-year deal with a vesting option with the Cardinals, taking a notable name off the market.
When healthy, Miller is the most dominant of the non-Craig Kimbrel group, but the left-hander appeared in only 37 games last season, bringing his health into question. Miller (who turns 34 in May) is coming off a four-year, $36 million contract he signed with the Yankees before the 2015 season.
Where will Kimbrel land?
The All-Star closer is reportedly seeking a six-year deal worth $100 million, which would shatter Albertin Chapman's relief record deal of $86 million. Few inside the industry believe Kimbrel -- who struggled with his command during the postseason -- will find those numbers anywhere, but the right-hander should be able to land a four- or five-year deal in the $16 million-$17 million range annually. That would put him in the company of Wade Davis ($17.33 million), Chapman ($17.2 million) and Kenley Jansen ($16 million) for the highest average annual value of any closer in history.
Among the teams believed to be interested in Kimbrel are the Phillies and Braves, and while the Red Sox have suggested they won't sign Kimbrel to a big-money deal, Boston could wait out the market and make a late play to bring its closer back.
If not Kimbrel, who would close for the Red Sox?
Kimbrel wouldn't be the only reliever from the World Series champs to leave town, as Joe Kelly -- who, unlike Kimbrel, had a spectacular postseason -- bolted to Los Angeles after scoring a three-year, $25 million pact from the Dodgers.
• Hot Stove Tracker
Boston could look to the glut of relievers on the free-agent market to replace Kimbrel, possibly signing two of the other top relief arms for the same money Kimbrel gets elsewhere. With Miller apparently headed to St. Louis, Zach Britton, Player Page for David Robertson and Adam Ottavino are among the options, so bringing in two of them would not only give the Red Sox a pair of closing options, but also help replace the hole left by Kelly's departure.
Who will get the second-biggest deal after Kimbrel?
Jeurys Familia signed with the Mets for three years and $30 million, while Kelly received $25 million over the same term from the Dodgers. Britton, Robertson and Ottavino are all expected to sign deals in that same range, though all come with questions involving age, injury history or both.
Robertson (who turns 34 in April) and Ottavino (who turned 33 in November) are looking for deals that will take them well into their mid-30s. Britton turns 31 on Saturday, but he's less than a year from a ruptured Achilles tendon that cost him the first 2 1/2 months of a 2018 season filled with inconsistency. Any of these pitchers have the ability to be dominant, though it's no certainty.
Speaking of Achilles, how will Joe Smith's injury impact the market?
Smith is expected to miss the first half of the 2019 season after undergoing surgery for a torn left Achilles, an injury he sustained last week while working out. The loss of Smith, who held hitters to a .207 average and .645 OPS last season, is notable for the Astros, though general manager Jeff Luhnow said Thursday he doesn't believe his team must now look at any of the big relief arms on the free-agent market.
• Free-agent rumors
"Losing Joe is a blow, but I don't think it requires us to go out and get another late-inning reliever," Luhnow said. "We're going to have enough good arms in the bullpen to do what we need to do."
Houston is more likely to continue its pursuit of a starting pitcher, taking a mix-and-match approach to replace Smith until he's ready to return.
Aside from the aforementioned relievers, who else is still out there?
Other established veterans still available on the free-agent market include Kelvin Herrera, Shawn Kelley, Brad Brach, Bud Norris, Sergio Romo, Cody Allen and Justin Wilson. In all, there are more than 60 unsigned relievers available via free agency.
Mark Feinsand, an executive reporter, originally joined MLB.com as a reporter in 2001.