Turnbull impresses as he seeks rotation spot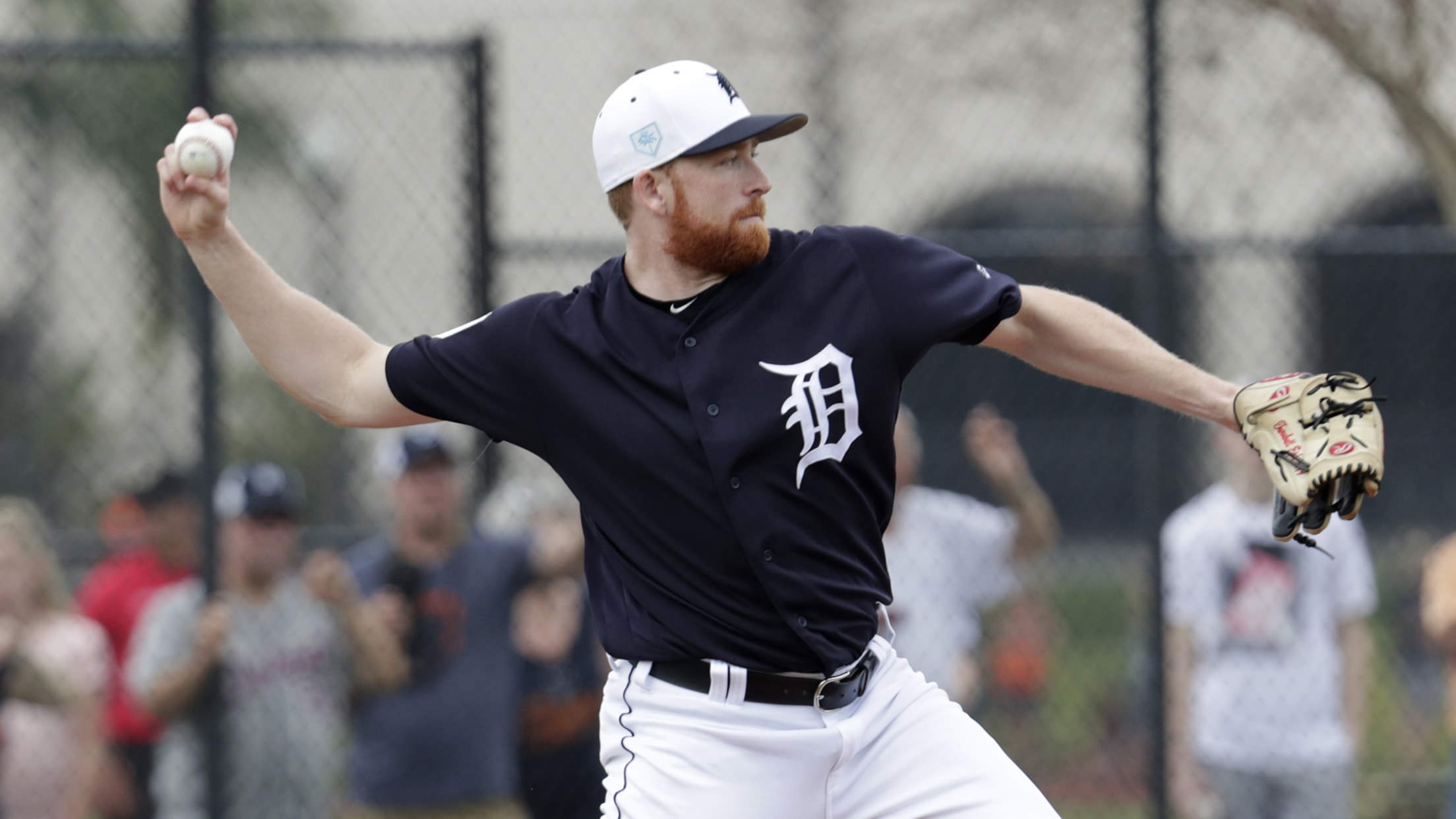 LAKELAND, Fla. -- Right-hander Spencer Turnbull was the starting pitcher for the Tigers' final game of 2018, taking the loss in an 11-0 defeat against the Brewers at Miller Park. As the former second-round Draft pick readied to throw the club's first pitch of 2019, that game was still impressed
LAKELAND, Fla. -- Right-hander Spencer Turnbull was the starting pitcher for the Tigers' final game of 2018, taking the loss in an 11-0 defeat against the Brewers at Miller Park. As the former second-round Draft pick readied to throw the club's first pitch of 2019, that game was still impressed on Detroit manager Ron Gardenhire.
"My last memory of last year was watching him pitch in Milwaukee, and when I walked to the mound, those [guys] on the other side were high-fiving. They were happy I was taking him out," Gardenhire said. "I'm telling you, they were. And a couple of their guys said it, too."
As Turnbull begins his second Spring Training in Major League camp trying to make his case for a rotation spot, that September stretch is sticking with him as well. Though he finished with a 6.06 ERA over three starts and a relief appearance, his quality start at Minnesota and his 15 strikeouts over 16 1/3 innings allowed him to head into the offseason knowing he can pitch in the big leagues.
"Seeing the hitters' reactions to my stuff gave me confidence that you're not getting fooled by guys that aren't quite at that same caliber yet, or whatever it is," Turnbull said. "You might throw a good pitch in High [Class A] and it might be a great pitch in the big leagues, but you don't really know for sure until you see how hitters react to it here."
Turnbull's competition on Friday was a group of college hitters from defending NAIA College World Series champion Southeastern University in Lakeland, a group Turnbull knows well.
He allowed a leadoff single on his first pitch, then Turnbull retired the next six batters in order with help from catcher Jake Rogers, who threw out Manuel Mesa trying to steal third base to end the inning. Turnbull's fastball sat at 95 mph, according to the Joker Marchant Stadium radar gun, just above his average for the Tigers last September, according to Statcast.
Though Turnbull ranks 30th on the club's prospect list, according to MLB Pipeline, well behind the top-rated group of potential starters, his standing is high with Gardenhire. While the debate has lingered in the organization whether Turnbull is a better long-term fit in relief, Gardenhire sees him as a potential starter this year, as a midseason callup if not out of camp. His combination of velocity with movement has won over a veteran manager.
Turnbull's chances to compete for a rotation spot in this camp took a drop when the Tigers signed Matt Moore and Tyson Ross this offseason. Turnbull's remaining Minor League options make him an ideal depth option to stretch out at Triple-A Toledo in case of injuries.
"I think Turner should be in the rotation," Gardenhire said. "I think he'd be best served, if he doesn't make our rotation, to start in Triple-A. This kid's going to be a good one. He's already a pretty good one. He's got a few things to learn, but I really like his stuff. ...
"I think he has as good a chance as anybody to get in this rotation, depending on how healthy we are and all those things. He's going to be in the mix for me. I probably like him better than a lot of other people out there as far as thinking he's ready for this on an everyday basis. I like this kid. I stood behind watching him throw [on Tuesday] and the ball does some unbelievable things. He can really make it sink."