Notes: Turnbull looks sharp, Cron homers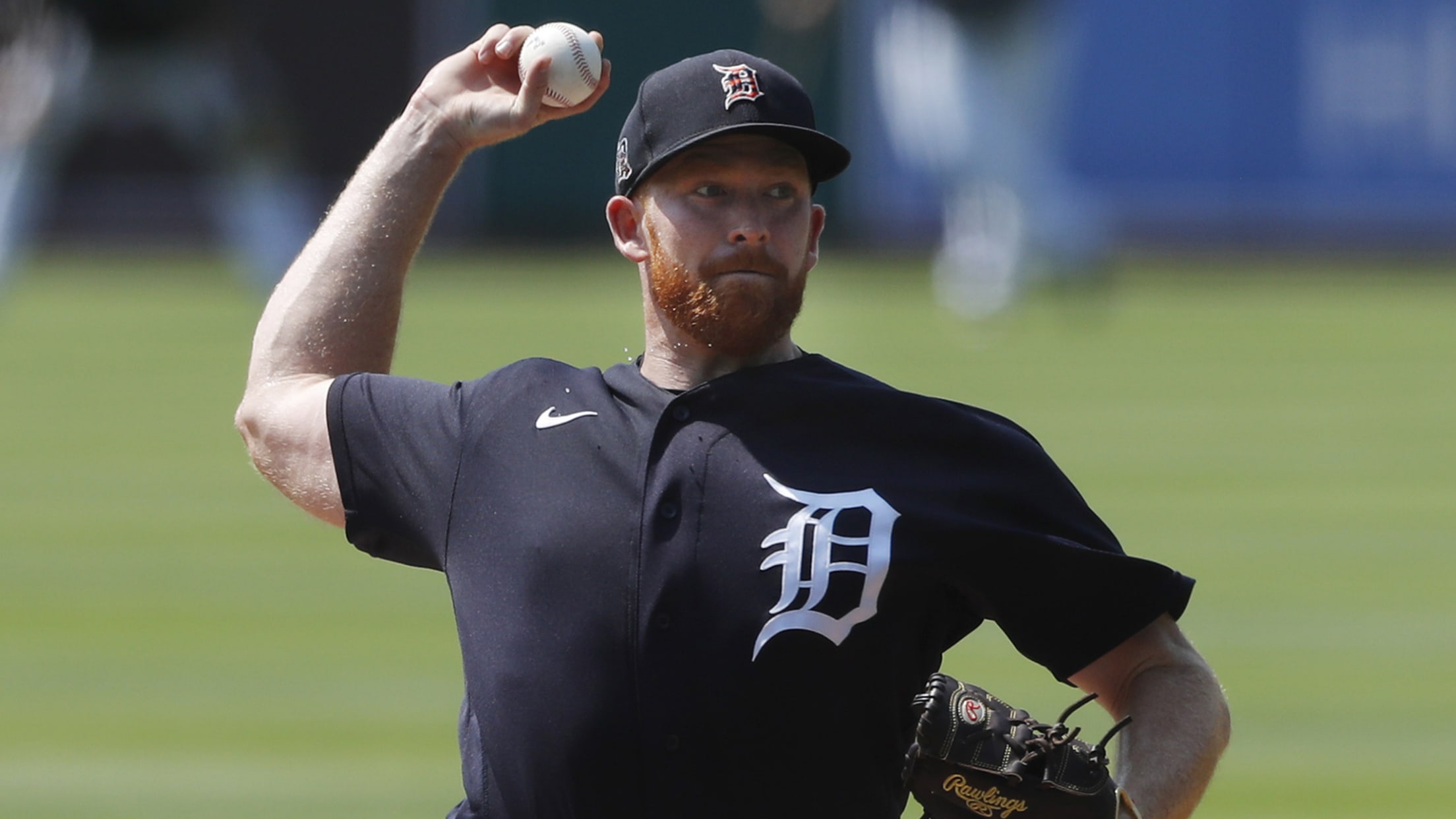 DETROIT -- Spencer Turnbull spent part of baseball's coronavirus shutdown throwing bullpen sessions to his father, who bought catching gear from a local sporting goods store and went to work. On Saturday, Turnbull and catcher Jake Rogers looked like they were playing catch for two-plus innings. Turnbull wore down by
DETROIT -- Spencer Turnbull spent part of baseball's coronavirus shutdown throwing bullpen sessions to his father, who bought catching gear from a local sporting goods store and went to work. On Saturday, Turnbull and catcher Jake Rogers looked like they were playing catch for two-plus innings.
Turnbull wore down by the end of his third and final inning, which is why the Tigers ended the inning without a third out. But he retired the first eight batters he faced, half of them by strikeout, and was unhittable until Victor Reyes and Harold Castro hit back-to-back doubles.
"He got a little tired there at the end," manager Ron Gardenhire said. "His pitch count was up over 50 pitches, I think, and he said he just got a little tired there, made a bad pitch and [Reyes] hit it a country mile. But he threw the ball great. The ball was really coming out of his hand good. That's nice to see. His breaking balls were sharp, and his velo was good. We like what we saw."
It was especially good news for Turnbull, who had a break from throwing for a week in the transition from Lakeland, Fla., to Detroit for Summer Camp once the Lakeland facility was closed for workouts.
Turnbull worked to established the breaking ball, starting it off for strikes on hitters who were expecting fastballs. About two-thirds of his first pitches last year were fastballs or sinkers. He threw more sliders than curveballs in that count, too.
Is that a walk-off?
The Tigers extended Saturday's intrasquad game for one more batter, giving C.J. Cron a chance to hit a line-drive home run down the left-field line off reliever John Schreiber. It was a moot point in what was already a win for Cron's team.
But Cron wasn't done there.
"He wants to hit off a curveball machine right now," Gardenhire said after the game. "He feels like he's not really picking the ball up good, not staying through it. He told us he wanted to hit after the game, and then he hit a home run. So we said, 'Are you good?' And he said, 'No, I still want to hit.'
"And that's kind of the things we'll be doing the rest of the way, just kind of ad-libbing and seeing who feels good and who needs a little more. Same way with the pitching side. The more they get out there, the better they're going to be."
Gardenhire calls it panic, the feeling among players that they're not feeling as comfortable as they want to be with the season approaching.
.@CCron24 HIT IT TO THE STATUES. pic.twitter.com/Yk0omVrb8p

— Detroit Tigers (@tigers) July 11, 2020
Cisnero impresses
Jose Cisnero -- trying to hold onto a bullpen spot for Opening Day -- made an impression with two strong innings Saturday, retiring his final six batters and striking out three. His fastball was overpowering; a three-pitch strikeout of Riley Greene featured all fastballs.
"We were a little concerned," Gardenhire said, "because the ball hadn't really jumped out of his hand, but out there today, the ball jumped out of his hand. He had a good breaking ball and his fastball really jumped. We were a little nervous about it, but it is [Summer Camp].. We really have to keep remembering that. In the first go at it, he wasn't quite where we wanted him to be, but today was a really good day.
"We like this guy because he ate up a lot of good innings last year, and he pitched in a lot of big moments for us. We like him a lot, and if he can do what he did out there today, that's fun to watch."
Balls and strikes
The format of the Tigers' intrasquad games this week has not including umpires, leaving catchers to call balls and strikes on teammates. That's about to change, with umpires soon joining the games to get in their prep work ahead of Opening Day.
"The umpires, they have to get work, too," Gardenhire said. "We've already talked to MLB about that. They're going to come in and start getting behind the plate, get on the bases. They've assigned, I think, three or four guys here to come out and work."
Quick hits
• Outfielder Travis Demeritte missed a second straight game Saturday. Gardenhire said he's dealing with groin tightness. With JaCoby Jones getting a day off, Riley Greene earned a start in right field. He made a nice catch in deep right-center field on a ball that drifted on him.
• Look for the Tigers to use their extra roster spots for Opening Day to carry more bullpen depth. "We're going to have a few more pitchers starting out, having a 30-man roster," Gardenhire said. "And then we're going to have to break them down, and then they limit the number of pitchers you can have ultimately when we get down to 26. We'll see who fits and who doesn't."