Turnbull debuts with 5 K's in loss to Jays
Gardenhire: 'He handled himself really well'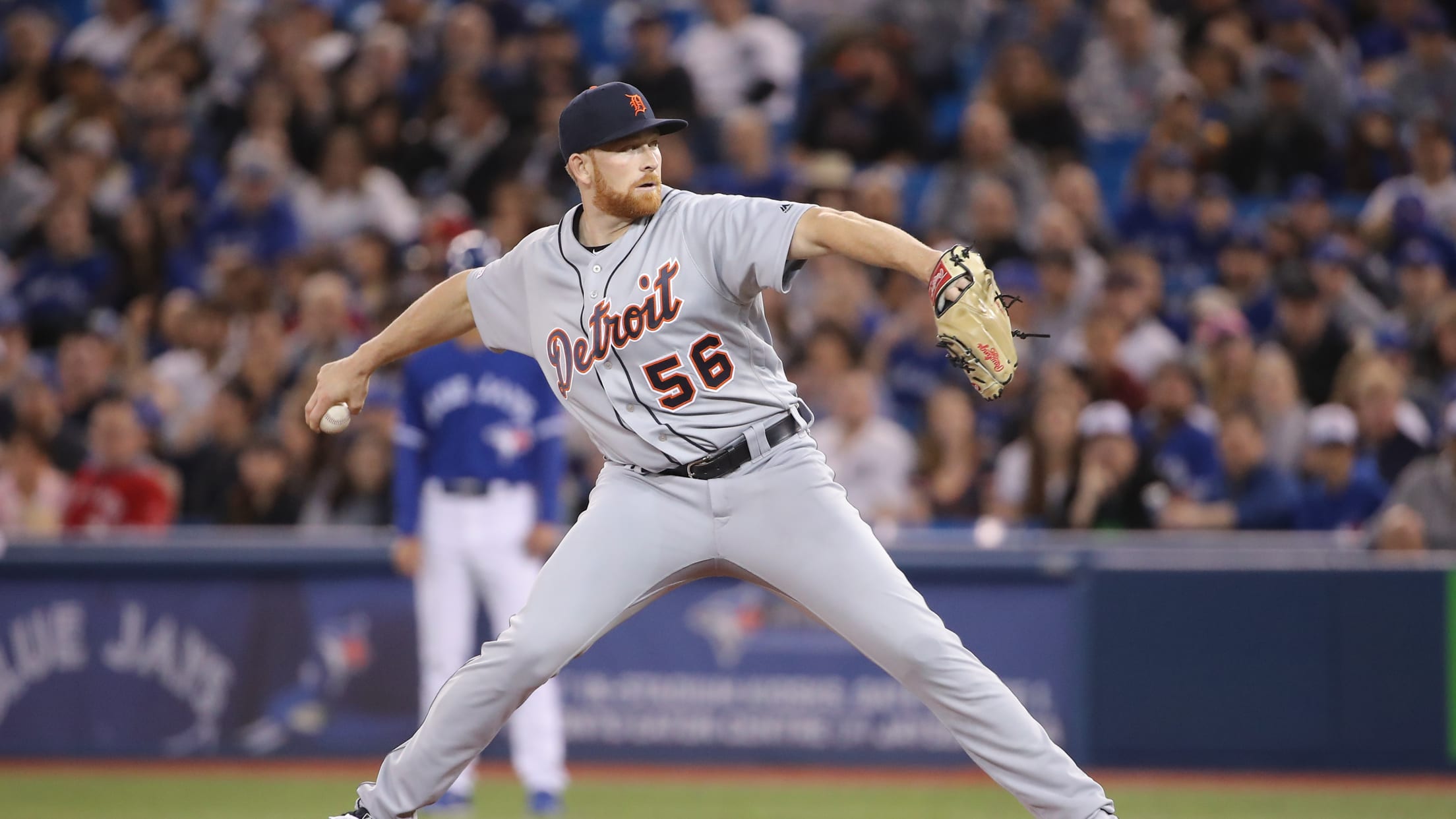 TORONTO -- Spencer Turnbull talked at length the day before his first start of the season about the importance of making adjustments when hitters adjust to him. So, as he headed into the Tigers dugout at the end of a three-run fourth inning Saturday, having yielded damage his second trip
TORONTO -- Spencer Turnbull talked at length the day before his first start of the season about the importance of making adjustments when hitters adjust to him. So, as he headed into the Tigers dugout at the end of a three-run fourth inning Saturday, having yielded damage his second trip through the Blue Jays order, he was understandably frustrated.
"More because I couldn't correct it quicker," Turnbull said after the 3-0 loss at Rogers Centre. "I felt like I was spinning there for a second. Results are going to be what they're gonna be, but I wish I could've kind got back in my groove a little quicker than I did."
Though the Tigers' offensive struggles continued to loom large, Turnbull's job was to pitch independently of that and keep his team within reach. Even with the damage, he arguably did his job with three runs on four hits over five innings. After three perfect innings, however, the big fourth essentially decided the game, just as it did for the Blue Jays against Matthew Boyd the night before.
Turnbull struck out his first two batters and yielded nothing close to a base hit through three, inducing an aggressive Toronto lineup to chase pitches out of the zone -- especially low.
The Blue Jays, as they did Friday, tweaked their approach their second time up, seemingly looking to work counts and force Turnbull to pitch up in the zone. When he did, they capitalized.
"It was almost the same way, how it happened [Friday]," Blue Jays manager Charlie Montoyo said. "We were pulling off the ball at the beginning of the game and then we made an adjustment and started trying to go the other way. Almost the same thing we did yesterday, except we went only three [runs] instead of six."
Four consecutive batters reached to begin the fourth, all with two strikes. Brandon Drury took back-to-back called strikes and shrugged off two cutters low and out of the zone before lacing a 2-2 high fastball to the wall in right-center for a leadoff double. Billy McKinney watched two pitches out of the zone to run his count full, then got a hanging cutter he lined to left for an RBI single. Teoscar Hernandez took a bevy of pitches low and outside to draw a walk.
"It was more a mechanical thing," Turnbull said. "I was maybe trying to do a little too much on a couple things, which caused me to open up my front side. I think that was more the issue. I'm not sure exactly what caused it, but just started missing pitches."
The crushing blow for Turnbull was a pitch he arguably deserved better fortunes on. Justin Smoak fouled off back-to-back fastballs after a 2-0 count, then chased a curveball at the knees. Not only did Smoak connect, he sent a line drive over the left-field fence with a 105.4 mph exit velocity, according to Statcast, for a two-run homer and 3-0 lead.
It did not look like the kind of pitch that creates a crushed home run. But it didn't look like the pitch Turnbull wanted to execute, either.
"If I can bury that curveball, it's probably not over the fence," Turnbull said.
Turnbull (0-1) induced 10 swinging strikes, half off his fastball. But with Aaron Sanchez (1-0) delivering five-plus scoreless innings on three hits with three strikeouts, Turnbull had no support. His next chance, weather permitting, is lined up for the Tigers' home opener on Thursday at Comerica Park. Manager Ron Gardenhire wasn't worried when he lined Turnbull up for that slot earlier; he isn't worried now.
"He handled himself really well," Gardenhire said. "He's got great stuff, as you can see. The ball's coming out of his hand and darting all over the place. They took some really bad swings at him. I don't know if he got a little tired in that inning or over thought some situations, but he misfired in some situations just enough where they took advantage. He was OK, though. I really like what he was doing."