1 player per team who changed minds in camp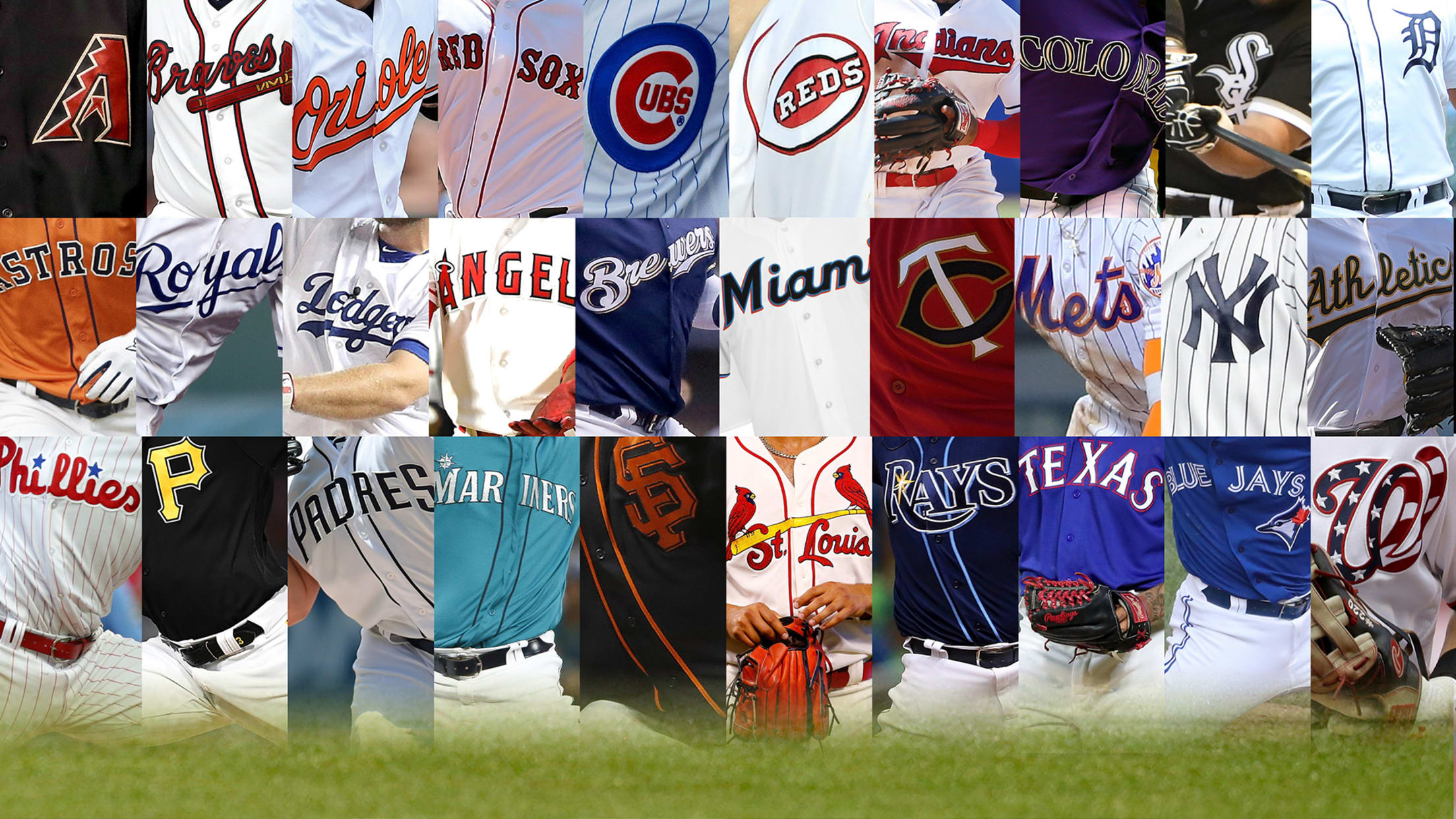 There's the guy who emerges from the pack and plays his way into the conversation. Sometimes, it's a raw kid; other times, a veteran some had written off. To many of us, this is the most fun thing about Spring Training. With that in mind, let's check out some of
There's the guy who emerges from the pack and plays his way into the conversation. Sometimes, it's a raw kid; other times, a veteran some had written off. To many of us, this is the most fun thing about Spring Training. With that in mind, let's check out some of the surprises that have emerged this spring:
NATIONAL LEAGUE EAST
Braves: Kyle Wright, RHP: The Braves' No. 2 prospect per MLB Pipeline has pitched so well that he's pushing hard for a spot on Atlanta's Opening Day roster. That's an impressive accomplishment in itself considering how much pitching depth the Braves have in their system.
Marlins: Caleb Smith, LHP: He has been the best starter in camp even as the Marlins took a cautious approach as he recovered from last summer's lat surgery.
Mets: Dominic Smith, 1B: One of the coolest stories of the spring, Smith has shown why he drew rave reviews while making his way through the Minor Leagues. He and top prospect Pete Alonso have both played so well that the Mets might keep two first basemen.
Nationals: Carter Kieboom, 2B/SS: He's 21 years old and won't open the season with the Nationals. But he has been so impressive this spring that the Nats are convinced more than ever that he's a future star. The only question is if that happens this season or in 2020.
Phillies: Andrew McCutchen, LF: He has prompted manager Gabe Kapler to take a second look at his leadoff hitter. McCutchen's combination of OBP and power makes him the likely leadoff man in Philly.
NL CENTRAL
Brewers: Adrian Houser, RHP: He showed the Brewers that he's fully recovered from Tommy John surgery and ready to contribute in 2019. He'll begin the season in the Minors, but with Milwaukee likely to rotate its young arms in and out of the rotation, Houser strengthens the case for the Brewers winning a second straight NL Central title.
Cardinals: Tyler O'Neill, OF: He hustled his way onto the team and may have leapfrogged Jose Martinez on the outfield depth chart with five spring home runs and a high-energy style of play. Because O'Neill can play all three outfield positions, he figures to be a key player for the Cardinals in 2019.
Cubs: Ian Happ, utility: He asked to return to his natural position of second base for spring playing time, and manager Joe Maddon has been pleasantly surprised. Happ will get more at-bats in the outfield, but he has reminded the Cubs he's a reasonable option at second as well.
Pirates: Jung Ho Kang, 3B: The Pirates didn't give up on this guy when a lot of teams might have figured he wasn't worth the trouble. After playing three games the last two seasons, Kang has performed so well this spring that manager Clint Hurdle has named him his Opening Day third baseman.
Reds: Phillip Ervin, OF: The Reds already have a jammed outfield depth chart, and Ervin has played his way onto it with a 1.300 OPS this spring. He leads the Cactus League with five spring home runs and his 31 total bases lead Cincinnati.
NL WEST
D-backs: Carson Kelly, C: He has passed every test this spring and appears to be everything the D-backs hoped he would be when they acquired him in a package of players in the trade that sent franchise icon Paul Goldschmidt to the Cardinals.
Dodgers: Julio Urias, LHP: After Urias made eight big league appearances the last two seasons, all the Dodgers wanted to see was the 22-year-old throwing without pain. That he has done. Now it's figuring out a role for him in 2019.
Giants: Travis Bergen, LHP: A Rule V pickup from Blue Jays, this 25-year-old hasn't allowed a run in seven spring appearances and appears to have won a bullpen spot on a Giants team that is being forced to make some tough (the good kind) roster decisions.
Padres: Chris Paddack, RHP: He's a preview of the kind of pitching depth the Padres have in the Minors. Paddack began the spring with no more than an outside shot at a rotation spot, but has pitched so well that manager Andy Green has considered him for the Opening Day assignment.
Rockies: Mike Dunn, LHP: He thought his career might be over when pain in his shoulder and back became nearly unbearable. But offseason shoulder surgery has allowed Dunn to throw free and easy, and he's going to be an important part of manager Bud Black's bullpen group.
AMERICAN LEAGUE EAST
Blue Jays: Teoscar Hernandez, LF: Manager Charlie Montoyo has raved about his power all spring and also his defense, which was a major concern last year. Hernandez is a breakout candidate this season with 30-homer potential.
Orioles: Mark Trumbo, OF: His surgically repaired right knee has held up so well that he has been one of the O's most pleasant spring surprises. Trumbo has been good enough that Baltimore is re-evaluating its plan to have him start the season on the injured list.
Rays: Brandon Lowe, utility: He has had a great spring offensively while also working to improve his defense at first, second and the outfield. The Rays have so much depth that Lowe will have to take advantage of his opportunities, but this spring has been a great step in that direction, and the club just signed him to a six-year extension.
Red Sox: Darwinzon Hernandez, LHP: Never mind that the 22-year-old only has six innings of pro experience above Class A ball. His stuff is so electric and his spring so impressive that the Red Sox are rethinking his ticket to the Minors. Hernandez projects to be a starter, but may have a job in the bullpen on Opening Day.
Yankees: Domingo German, RHP: He has been so impressive that the Yankees were reluctant to enter the free-agent market even with uncertainty surrounding Luis Severino and CC Sabathia. The Yanks have signed veteran Gio Gonzalez, but German could be a rotation mainstay.
AL CENTRAL
Indians: Shane Bieber, RHP: Just when it looked like the Indians had plenty of starting pitching, they've got even more. Bieber has been one of the stars of the spring after retooling his changeup to make his nice fastball/slider/curve combination even more effective.
Royals: Kyle Zimmer, RHP: His career was teetering last summer during his sixth season in the Minors and after a long list of injuries, surgeries and setbacks. Now Zimmer appears to be on the brink of finally pitching in the Majors after a dominant spring in which he has put a 96-mph fastball on display.
Tigers: Daz Cameron, OF: If you're going to trade a future Hall of Famer -- in this case, Justin Verlander -- this is the prototype of the kind of dazzling talent you're looking for in return. Cameron will begin this season in the Minors. He's unlikely to be there long.
Twins: Byron Buxton, CF: Remember when he was the No. 1 prospect in the game? Maybe those predictions of being a franchise-changing player will be proven right after all. At 25, Buxton appears to have jump-started his career with one of the most impressive springs in any camp.
White Sox: Danny Mendick, infielder: He did what a former 22nd-round Draft pick has to do: He opened eyes. Thanks to a tremendous spring, the 25-year-old has put himself into position to either break camp with the White Sox or position himself to make his MLB debut in 2019.
AL WEST
Angels: Kole Calhoun, RF: He had such a tough 2018 season that the Angels didn't know what to expect this spring. But Calhoun has answered the challenges and bounced back so solidly that he figures to be the team's leadoff hitter.
Astros: Myles Straw, OF: Houston's roster was virtually set entering camp, but Straw played so well that he made the decision to send him down difficult. He hit .342 with a .390 OBP, and given his gift of speed and defense, he's certain to get a chance this season.
Athletics: Jesus Luzardo, LHP: His fastball sits at 95 mph, his changeup is outstanding. In four spring appearances, Luzardo is averaging 14 strikeouts per nine innings. Now all the A's have to do is figure out a workload for a 21-year-old who threw 109 1/3 innings at three levels of the Minors in 2018 and will be shut down for 4-6 weeks with a muscle strain in his left shoulder.
Mariners: Domingo Santana, OF: No Mariner has been more impressive this spring, and it appears he could take the next step in a big league career that has been a roller-coaster ride. Santana continued his strong Cactus League performance with a grand slam in the Mariners' Opening Day win against the A's in Tokyo.
Rangers: Hunter Pence, OF: His signing of a Minor League contract was a low-risk gamble for the Rangers, especially since Pence is a homegrown former star at UT-Arlington. Finally healthy, he's on his way to earning a spot on the Opening Day roster.