Stage set for history: Roberts vs. Baker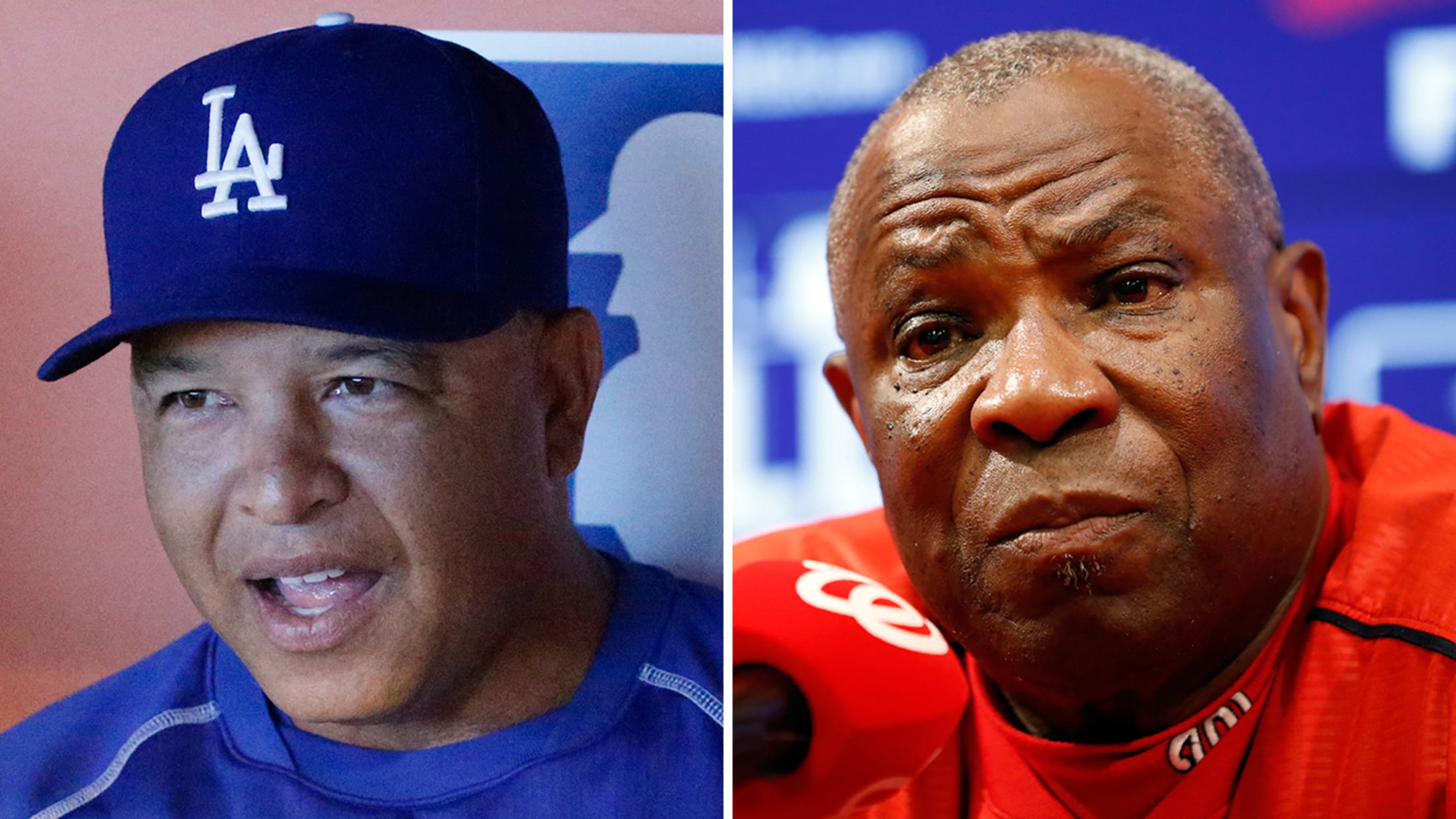 "I had ultimate respect for him as a player," Nationals manager Dusty Baker said of Dave Roberts, left. (AP)
WASHINGTON -- Three miles from the home of America's first African-American president, our national pastime will witness a profoundly welcome milestone on Friday.When Dusty Baker's Washington Nationals host Dave Roberts' Los Angeles Dodgers in Game 1 of the National League Division Series at Nationals Park (5:30 p.m. ET, FS1), it
WASHINGTON -- Three miles from the home of America's first African-American president, our national pastime will witness a profoundly welcome milestone on Friday.
When Dusty Baker's Washington Nationals host Dave Roberts' Los Angeles Dodgers in Game 1 of the National League Division Series at Nationals Park (5:30 p.m. ET, FS1), it will mark the first meeting between minority managers in the Major League Baseball postseason -- 69 years after Jackie Robinson broke baseball's color barrier.
:: NLDS: Dodgers vs. Nationals coverage ::
Poignantly, it was 42 years ago this week that Frank Robinson became MLB's first African-American manager, with the Cleveland Indians; Frank Robinson later managed the Nationals in their inaugural season, 2005.
During a conversation in his office on Wednesday afternoon, Baker was asked if his overwhelming emotion on the occasion is pride (that he's involved in the historic series) or sadness (that it's taken so long).
"Neither," Baker said. "I'm just sad that we have to knock each other out. I wish we could've met in the World Series like [A's third-base coach Ron Washington] and I had talked about.
"You look at the other minority managers in baseball, and they were all in the same division," Baker added, referring to Washington (Texas), Lloyd McClendon (Seattle), and Bo Porter (Houston). "They had to all knock each other out."
Today, Baker and Roberts are MLB's only African-American managers.
"I had ultimate respect for him as a player," said Baker, who managed NL clubs during Roberts' time as an outfielder with the Dodgers, Padres and Giants. "We would talk. Then he was in business with Rich Aurilia -- the wine business, and I'm in the wine business. They sent me wine. I think I still owe him some wine.
"When he was in San Diego [as a coach], we spoke whenever we played him. I was hoping he'd get an opportunity [to manage]."
Baker's 1,766 career victories are the most of any minority manager in MLB history. He ranks 17th on the all-time wins list, second only to Bruce Bochy among active managers. This year, he joined Billy Martin and Davey Johnson as the only managers to lead four franchises to at least one division title.
Baker has the longest active postseason streak (three years) of any MLB manager, including the 2012 and '13 seasons in Cincinnati. (He didn't manage in either of the last two years.) And at 67, he continues to advocate for deserving managerial candidates.
"I'd like to shine a light on quite a few," Baker said. "I don't have any legacies in my chain that are managing. There are general managers who have proteges all over the league. Some managers have proteges all over the league.
"I stay in contact with Bo Porter; he calls me all the time. That's why I brought Jacque Jones in [as the Nationals' assistant hitting coach]. I think he's more than qualified to be a manager: He went to USC. He's a good baseball man. He pays attention. I believe in him.
"Robby Thompson. … Matt Williams was the first guy who played for me that managed. … I think Ellis Burks has a great chance to manage. … I hope [Glenallen Hill] gets a shot. He played for me, too."
Hill is high on the list of candidates for the Colorado Rockies' vacancy, according to MLB.com's Tracy Ringolsby. Rick Renteria, who is Mexican-American, was named manager of the Chicago White Sox earlier this week, becoming the third minority manager in the league today. When the Nationals dismissed Williams after last season, Baker reached out to him before contacting the club to express interest in the job.
"Matt Williams gave me a lot of insight," Baker said. "I asked Matty's permission, if it would be all right for me to contact them. This is probably one of two or three places I was willing to go to. I don't have the time to start all over and rebuild like I did in the past. I don't have a five-year plan like I had before. I have more than a two-year plan, but not a five-year plan.
"I like this town. This has been more my kind of town than anywhere other than San Francisco, with the diversity, the attitude. It's an international town -- outside of New York, probably the most international town. The education level of the people who live here is off the hook.
"The one thing we're trying to get is more Nats fans to join in our positive outlook and attitude, because most people here are from other towns. It's the next generation of kids coming up now, who are going to grow up Nats fans no matter who their parents liked."
Baker spent time with President Barack Obama at barbecues before he was elected -- former MLB All-Star Gary Matthews is a mutual friend of the Bakers and Obamas -- and Baker had lunch in the West Wing earlier this week with some White House staff members.
"[President Obama] sent word that he was upset I was there and he didn't know about it," Baker said with a smile, then added: "I figured the president would know everything."
Washington's only World Series championship came in 1924, when the Senators defeated the New York Giants during the Calvin Coolidge administration. Now Baker is 11 victories from the first World Series title of his managerial career, second of nearly a half-century in the game.
Baker was an All-Star outfielder on the Dodgers' 1981 World Series championship team. Since then, he's come achingly close to the summit as a manager -- most notably with the 2002 Giants, '03 Cubs and '12 Reds.
"You wonder sometimes: Are things already written?" Baker said. "If so, you have to accept the goodness God is going to give you.
"I try not to think back on those, because you can't bring them back. You go forward in life."
On Friday, that will mean joining Roberts in a historic moment for baseball.
Jon Paul Morosi is a columnist for MLB.com.