Leg up: New Fusion socks to debut at ASG
All-Star Game to get new look as stars lead colorful fashion trend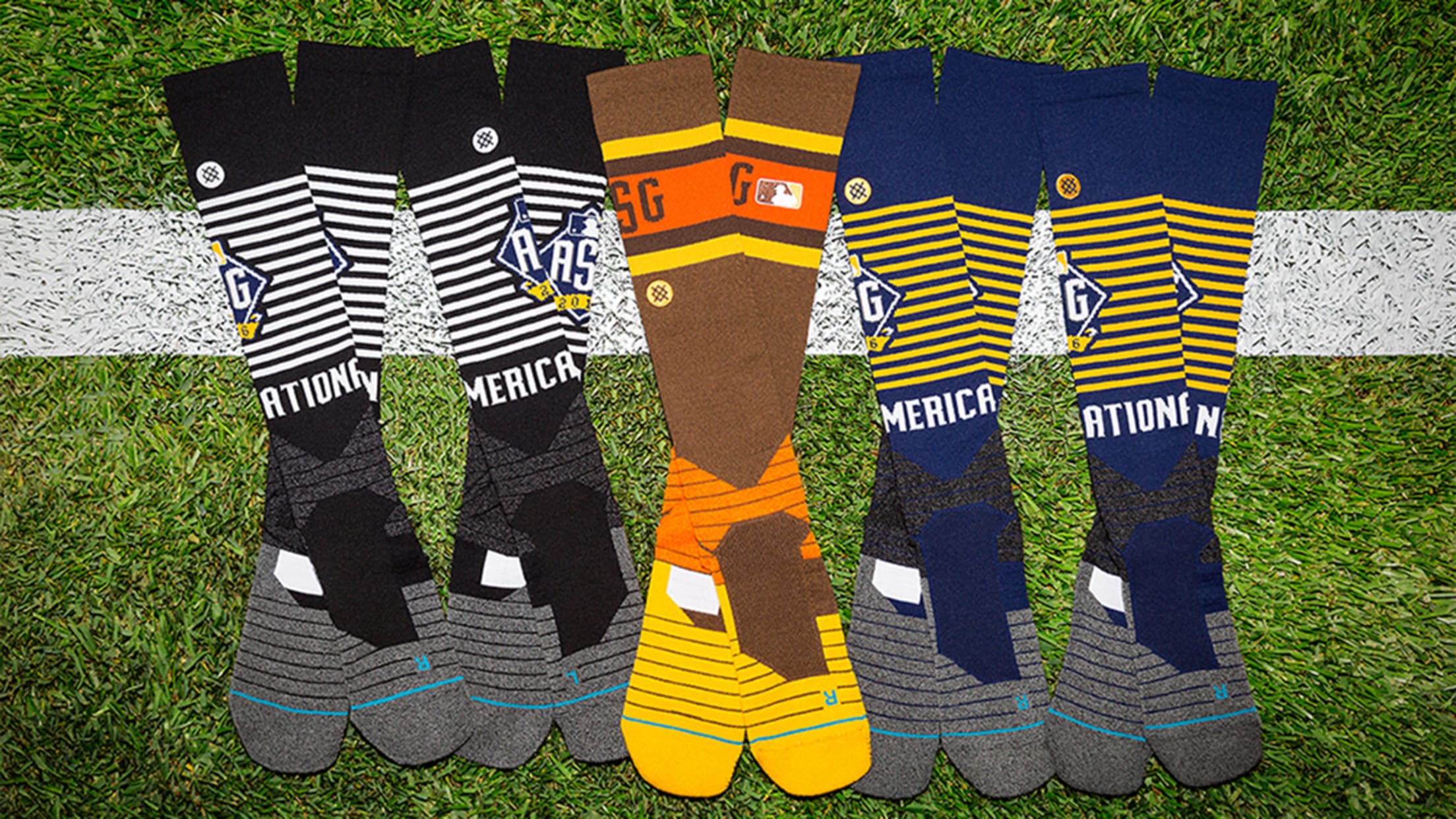 Stars will wear Stance socks at the Home Run Derby and All-Star Game in San Diego.
It was nearly 150 years ago that, according to the Brooklyn Eagle newspaper, "the Cincinnati nine wore the uniform introduced by Harry Wright, viz.: red stockings, knee breeches and white flannel shirts and caps, then quite a novelty."That was a key moment in the history of socks, alongside the ancient
It was nearly 150 years ago that, according to the Brooklyn Eagle newspaper, "the Cincinnati nine wore the uniform introduced by Harry Wright, viz.: red stockings, knee breeches and white flannel shirts and caps, then quite a novelty."
That was a key moment in the history of socks, alongside the ancient Greeks' wearing of them in eighth century BC; the 1589 invention of a knitting machine that meant they could be made six times faster than by hand; the introduction of nylon in 1938; and players like Houston's Jose Altuve legging out extra bases in 2016 with colorful calves and new designer styles.
Major League Baseball announced a long-term global partnership on Monday with Stance to make it the official sock of MLB and to bring a brand-new look to this year's All-Star Week in July at San Diego's Petco Park. It not only raises expectations that fans will see many of their favorite players in splashing styles of lower legwear at the T-Mobile Home Run Derby and the 87th All-Star Game presented by MasterCard, but it also signals a high-sock renaissance.
"Socks were a forgotten piece of apparel and completely overlooked as a piece of technical equipment," said Taylor Shupe, Stance co-founder and chief product officer. "There hasn't been any real innovation in the space despite how important socks actually are in achieving comfort and function to protect the foot. This particular sock is going to open the eyes of a lot of players to what they've been missing out on."
Eyes are opening as they did when Wright's Cincinnati Red Stockings took the field against the Nationals in Washington that day in 1867 -- paving the way for the Boston Red Sox and Chicago White Sox and a tradition that can never be covered up for long.
Little by little, inch by inch, the pant leg is being pulled up around baseball -- a fast fashion movement. Most players still pull their pant legs down around their heel, some so garishly that you can see holes torn around the cuff where they get caught on the player's cleats. Some players mix high and low, and some are making the high sock a sartorial signature as surely as Jackie Robinson's blurred legs scampering around the bases as an American icon.
Stephen Strasburg, Ichiro Suzuki, Francisco Lindor, Ian Kinsler, Nick Castellanos, Curtis Granderson, Adam Jones, Chris Archer, Sonny Gray, Felix Hernandez, Brett Gardner, Hunter Pence, Xander Bogaerts, David Wright, Carlos Correa, George Springer, Kevin Pillar, John Lamb, Trevor Story, Daniel Murphy, Neil Walker, Jason Heyward, Andrew McCutchen, David Robertson and even Stomper the A's elephant mascot are among those who have been leading the way.
Painters have their canvas again. Sculptors have their marble block again. Composers have their blank music sheet again. Socks make the game more visual and interesting.
"I started doing it a little bit in '13, but full time '14, last year and this year. I'm never going to wear my pants down again," Altuve said this weekend. "Makes me look faster."
• Get inside Stance's All-Star Game socks
'It looks so much better'
Altuve said he wears his socks high because of Kinsler. They were All-Star second basemen together in 2012 and '14, the first time as opponents and the second time as teammates. Kinsler is a four-time All-Star, Altuve a three-timer and both have good cases to go again.
Just the thought of both of them wearing the new Fusion Baseball socks from Stance during this Midsummer Classic is alluring.
"He wears his pants up every time, and I really like the way he looks and I decided to go out there with my pants up," Altuve said. "When I see guys that wear pants up and next day they wear pants down, it looks so much better with the pants up. Ask Springer."
Now is the right time for the deal with Stance, which, in its own words, "shook up a boring sock category by injecting it with art and science." Derby sluggers and both National and American League teams will each have specific designs, and then basic stripe and solid colorways will be worn by Major Leaguers for the remainder of the 2016 season.
A more comprehensive lineup of styles will make its debut on the field and at the MLB.com shop. The brand also will expand its current casual product, which consists of Stadium, Legends and team logo collections. Fans as well as players can wear some heroic hosiery right now -- with images of Ozzie Smith, Lou Gehrig, Cal Ripken Jr. and at least three types of Jackie socks on the fly. There's a Memorial Day collection as well, trimmed in camo design.
"With Stance we have the unique opportunity to do something that's very authentic to our sport in a way that's extremely current," said Noah Garden, MLB Executive Vice President, Business. "This deal will bring something fresh to our fans and our players through a product that still respects our roots."
"There is nothing as prolific as the Major League Baseball uniform and we have been eyeing it for years as a potential canvas for the unique style Stance can bring," said Clarke Miyasaki, EVP of Business Development at Stance. "It's extremely rare for any brand to have such an impactful and unique opportunity, so we can't wait to work with the league to bring an incredible performance sock to the best players in the world."
The color of baseball
The Fusion Baseball sock, which was engineered, designed and tested in the company's SHRED laboratory in California, was built to provide maximum durability and comfort to address specific needs of baseball players. This means baseball is essentially coming full circle, because the importance of socks in the game came as a matter of necessity.
Wright led the way. The English-born player brought his knowledge of cricket attire back to the States in the 1860s with the Cincinnati baseball team. As captain/manager, he led a team that wore shortened players' pants. MLB Official Historian John Thorn said Wright was "trying to create a sensation. High socks displayed manly calves, which the ladies liked."
"In early years, National League uniforms were white for home, gray for the road, with the city name or club logo on the front of the jersey," Thorn said. "When clubs wished to add color, they did it with their stockings."
So the New York Mutuals were known as Green Stockings ca. 1870-71, although later they changed their color. Boston was the Red Stockings, taking the name of the disbanded Cincinnati Red Stockings, which allowed their best players to go to Boston and to the Washington Olympics (blue stockings). St. Louis had two clubs in '75: Brown Stockings and Reds, with the Browns entering the NL in '76. Chicago, of course, was the White Stockings.
Stirrups and sanitaries became part of the standard legwear in the 20th century. By the 1990s, both high sock and stirrups had all but disappeared from baseball, hidden by long pants. Still, it is important to remember that the socks have always been there. All that is happening now is a gradual uncovering, revealing what has been there and now even greater opportunity in what is unfolding as a more vivid era for the sport.
On May 1, there was another key moment in the history of socks: A Curtis Granderson Socks Giveaway promotion at Citi Field for a Mets game. The veteran All-Star outfielder wears high socks as a tribute to Negro Leagues players.
"Those guys are the reason that I get to play this game," Granderson said. "I took it upon myself to learn as much as I could about them and their struggle. If wondering about my socks helps to make kids curious to learn more about the Negro Leagues, that's even better."
Archer said he wore his pant legs up in the Minors and "it never bothered me." Now that he is an All-Star in the Majors, he continues to make a statement and is especially gratified by how some fans are wearing their own stripes in solidarity when he pitches.
"I've always appreciated the look," Archer said. "I go back and look at how I wore my stuff in Little League, and I wore my pants up a lot. And the stirrups are just a nice complement and accent to our uniform. . . . I just did it one game, pitched well and I've been rolling with it."
Oakland ace Sonny Gray, just placed on the 15-day disabled list, was in the full-length pants camp until the start of his 2015 All-Star season. Teammate Eric Sogard had various green socks with gold stripes at his locker, and Gray saw them and said he'd like some.
Gray opted for a pair with three wide gold and white stripes for his Opening Night start against the Rangers, and after pitching eight one-hit innings -- very Barry Zito-esque -- he was convinced.
"I'll have to wear these again," Gray said.
So he did, and so are many other sock fashionistas around MLB. Socks appeal is coming back. Look for the lower leg to be a special topic of conversation this July in San Diego.
Mark Newman is enterprise editor of MLB.com. MLB.com beat reporter Brian McTaggart contributed to this story.