'All Starlin' a flashy reminder of Castro's swagger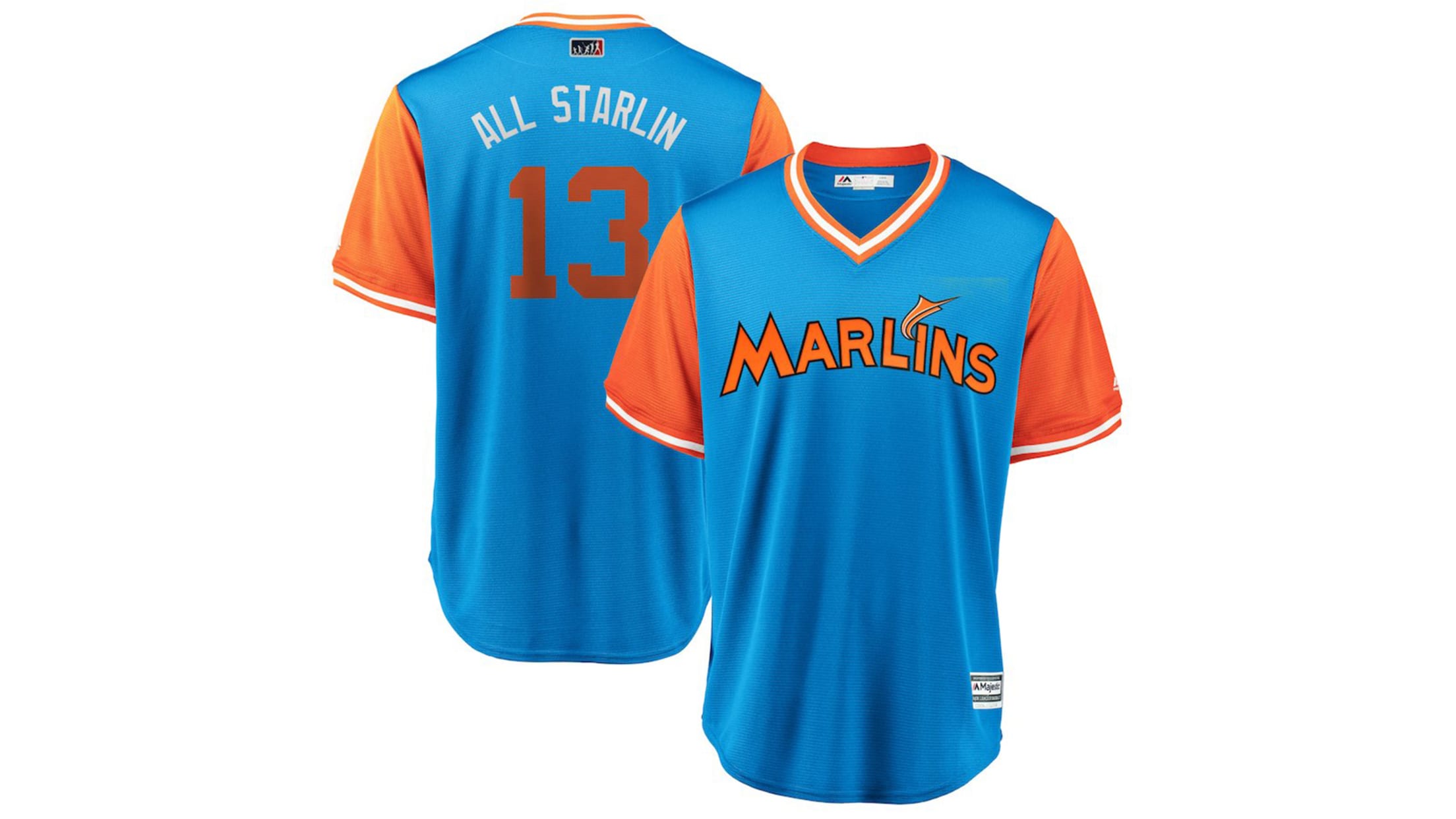 MIAMI -- Making the All-Star Game once is a big thrill, but it hardly is enough of a track record to be tagged with a catchy nickname. So after Starlin Castro was named an All-Star while with the Cubs in both 2011 and '12, his teammates dubbed him "All Starlin."The
MIAMI -- Making the All-Star Game once is a big thrill, but it hardly is enough of a track record to be tagged with a catchy nickname. So after Starlin Castro was named an All-Star while with the Cubs in both 2011 and '12, his teammates dubbed him "All Starlin."
The moniker stuck, and Castro will have "All Starlin" on the back of his jersey beginning Friday as MLB takes part in Players' Weekend.
• Shop for Players' Weekend gear
Set for its second annual celebration from Friday through Sunday, Players' Weeknd was created to allow players to express themselves and have a little fun.
:: Players' Weekend presented by Valspar Stain ::
The Marlins will face the Braves this weekend, opening up the four-game set on Thursday at Marlins Park. But starting on Friday, players will start to don their Players' Weekend jerseys, which include flashy colors and player-chosen names on the back.
"The first time I was called [All Starlin], we didn't have a Players' Weekend," Castro said. "We started doing that in Chicago, when I made my second All-Star Game."
Castro also sported "All Starlin" on his back for the inaugural Players' Weekend as a member of the Yankees.
• 2018 Players' Weekend nicknames
"Last year, when we first had the Players' Weekend, when I was in New York, I made the All-Star Game, and I was able to pick the name," Castro said.
"All Starlin" will be among the most noticeable nicknames on the jerseys worn this weekend.
• All you need to know about Players' Weekend
Reliever Drew Steckenrider will be "Steckasaurus." Actually, the hard-throwing right-hander has a T-shirt playing off the "Steckasaurus" theme.
Shortstop JT Riddle will simply have "T" on his jersey. He had asked for "Riddler," but that wasn't allowed because it is copyrighted.
Right-hander Tayron Guerrero is "El De Bocachica," and Dan Straily is "Thunder."
• Marlins' nicknames for Players' Weekend
All-Star catcher J.T. Realmuto is keeping things real, simply going with "Real."
Reliever Jarlin Garcia is once again "Jarlin The Marlin," a variation of which could actually work for Castro, if he wasn't going to be "All Starlin."
Worth noting
• Marlins manager Don Mattingly said that starter Jose Urena is tentatively scheduled to make his next start on Aug. 28 against the Red Sox in Boston. Urena has appealed his six-game suspension for throwing a pitch at Atlanta's Ronald Acuna Jr. last week, but even with a delayed decision, the Marlins had no intention of having Urena face the Braves this weekend.
"There's no reason to open that back up," Mattingly said. "Who knows what happens? … We don't need that. There's no reason to open that back up."
• Outfielder Lewis Brinson (right hip) was scheduled to play nine innings at Double-A Jacksonville on Tuesday as part of his rehab assignment.
• Outfielder Garrett Cooper (right wrist) was scheduled to play seven innings in a rehab assignment game with Jupiter on Tuesday.