What advanced stats say about top trade options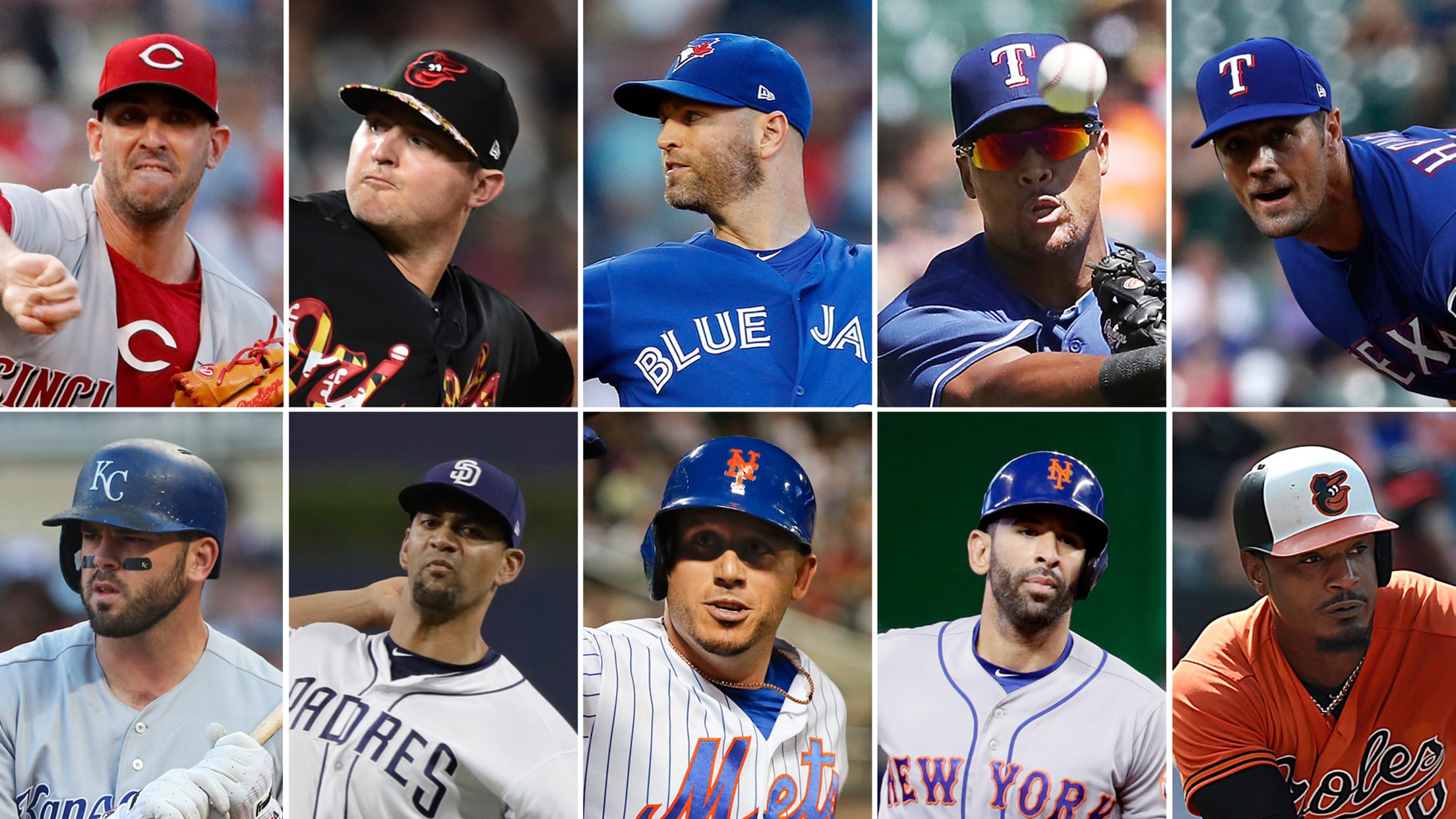 Immediacy is everything when it comes to trade rentals. If you've only got a guy for two or three months, you darn sure want him at his best. Or at the very least, some reasonable proximity thereof.As one executive put it, "We're always looking for indicators that give you some
Immediacy is everything when it comes to trade rentals. If you've only got a guy for two or three months, you darn sure want him at his best. Or at the very least, some reasonable proximity thereof.
As one executive put it, "We're always looking for indicators that give you some sense of whether a player is ascending, declining or staying the same." The beauty of Statcast™, as teams have discovered the past few years at the Trade Deadline, is that those indicators are readily available. In-season evaluations of player trends are more objective than ever.
With that in mind, here's a look at 10 trade candidates (and again, we're limiting this list to pending free agents, because they are the ones for whom the small samples have the largest magnitude) and what Statcast™ tells us about them in the here and now.
Matt Harvey, RHP, Reds
There might not be a more fascinating rental trade candidate, given the way Harvey bottomed out in Queens and was reborn with the Redlegs. Harvey's average fastball (four-seamers and sinkers) velocity was 92.5 mph in April, but it has climbed to 94.5 in July. Going into Sunday's start against the Pirates, his expected opponents' slugging percentage, based on quality of contact, against the fastball this season had gone in this direction:
March/April: .620
May: .606
June: .457
July: .413
That's good! But then Harvey got smacked for eight runs on eight hits, including four homers, on Sunday. The xSLG for the month is back up to .480. That's bad! Harvey offers a lot of intrigue, but perhaps not much in the realm of real reliability right now.
Zach Britton, LH closer, Orioles
The late-inning market has been open for a while now, with Alex Colome moving to the Mariners in May, Kelvin Herrera to the Nats in June and Brad Hand to the Indians and Jeurys Familia to the A's this past week. Britton could be the next to move, having returned from a ruptured Achilles just a bit more than a month ago. So he is the perfect example of the value of small samples right now.
Britton's velocity on his trademark sinker is down to 94.4 mph from 96.9 mph in his historic 2016 season, and his ground-ball rate (62.2) is a shadow of what it was that year (80.0). However, if you just look at this July, Statcast™ paints a much better picture: The average velo is at 95.3 mph and ground-ball rate at 76.9, entering Saturday. So the sink is sinking and the stock is rising.
J.A. Happ, LHP, Blue Jays
Happ is an All-Star whose star seems to be fading in recent weeks. Going into Sunday's start against the Orioles, he has a 6.84 ERA in five starts dating back to June 20. And that doesn't include the unearned runs he gave up to the Red Sox in a 3 2/3-inning outing just before the break, when he served up a grand slam to Mookie Betts.
Take note, though, that while opponents are hitting .315 off Happ this month, their expected batting average, based on quality of contact, is .248. That 67-point gap is, as of this writing, tied for the largest for any pitcher this month (minimum 50 batters faced). Happ has seen an increase in velocity this month (from 91.6 to 92.7). And hey, maybe somebody will want to acquire him as a closer after he finished the job for the American League in that wild Midsummer Classic.
Adrian Beltre, 3B, Rangers
There's a good chance Texas will keep Beltre, but it's hard not to root for this future Hall of Famer to land in a spot where he has a legit chance to get that elusive World Series ring this year. You know any team that lands him would be getting a respected clubhouse presence, but don't expect a great deal of boom with the bat at this point. The 39-year-old Beltre has his lowest contact rate on in-zone pitches (83.7) and lowest barrel rate (4.4) in four years of Statcast™ tracking.
Cole Hamels, LHP, Rangers
That an acquiring club would not likely be getting the vintage Hamels is assumed. He's taking a 4.36 ERA and 106 ERA+ into Monday's start, and his 1.34 WHIP is higher than ever. Statcast™ backs up the assumption because 9.2 percent of batted balls off Hamels this year are barrels (in other words, well-struck). That's up from 5.4 percent just a year ago and is the 15th-highest percentage among the 123 pitchers with at least 200 batted balls against them this season.
One bit of good news is that Hamels is getting more whiffs (27.2 of swings) this season than last (23.8), but the quality of contact is definitely an issue here.
Mike Moustakas, 3B, Royals
Moose had a frustrating free agency that led him back to the Royals on a one-year deal, and the hope was that he'd rebuild his value over the course of 2018. For about six weeks, that's exactly what happened, but any club inquiring about Moustakas now must consider these trends:
Opening Day through May 11: .904 OPS, 91.8-mph average exit velocity, 44.4-percent hard-hit rate, 12.8-percent barrel rate
May 11 to the All-Star break: .679 OPS, 87.8-mph average exit velocity, 40.6-percent hard-hit rate, 6.7-percent barrel rate
Tyson Ross, RHP, Padres
With Hand and Adam Cimber having already been dealt from the bullpen, Ross could be the next Padres pitcher on the move. His fastball velocity (90.4 mph) simply isn't what it was back in his All-Star season of 2014 (93.2 mph), but his slider has become his biggest weapon. Ross' 44.2-percent slider usage tops all starters, and batters have hit just .184 and slugged .388 against it.
Take note, though, that Ross has a ghastly 11.48 ERA in three starts in July so far, and an .808 slugging percentage off the slider in that span is a prime culprit. Inquiring teams will certainly be looking for better from Ross' breaking ball when he makes his next start Monday against the Mets.
Asdrubal Cabrera, INF, Mets
Cabrera has had a bit of a power surge in his age-32 season, with a hard-hit rate (40.1) and barrel rate (7.9) that are both significantly higher than his previous bests in the three other years that Statcast™ was tracking (33.1 and 5.7, both in 2016). Don't, however, read too much into Cabrera's particularly appealing .313/.410/.582 in his last 20 games before the break because his expected batting average (.242) and slugging percentage (.396) suggest that surge was a product of batted-ball luck.
Jose Bautista, OF, Mets
When the Braves cut Bautista in mid-May after a brief experiment at third base, a lot of us figured his big league career was over. But the Mets scooped him up, and he has responded with a solid .828 OPS for them. Buyer beware, though, for Bautista whiffed on nearly one-third (30.6 percent) of his swings in the first two weeks of July and has one of the highest popup rates (13.9 percent).
Adam Jones, CF, Oriole
Acquire this guy for his intangibles and bat (he actually fares better against fellow righties than lefties), but don't expect the four-time Gold Glove Award winner to provide dynamic defense at this stage. Statcast™ has him at minus-eight outs above average this season, which is nearly the worst such mark among Major League center fielders. Jones' sprint speed of 26.7 feet per second is tied with Odubel Herrera for slowest among qualified center fielders.
Perhaps Jones is better suited to a corner spot at this stage, or perhaps he needs to be repositioned deeper in center to focus more on would-be extra-base hits and let the singles fall where they may.