Stras brings heat in strong start, K's 5 Tigers
Nats righty makes slight adjustment, sees it pay off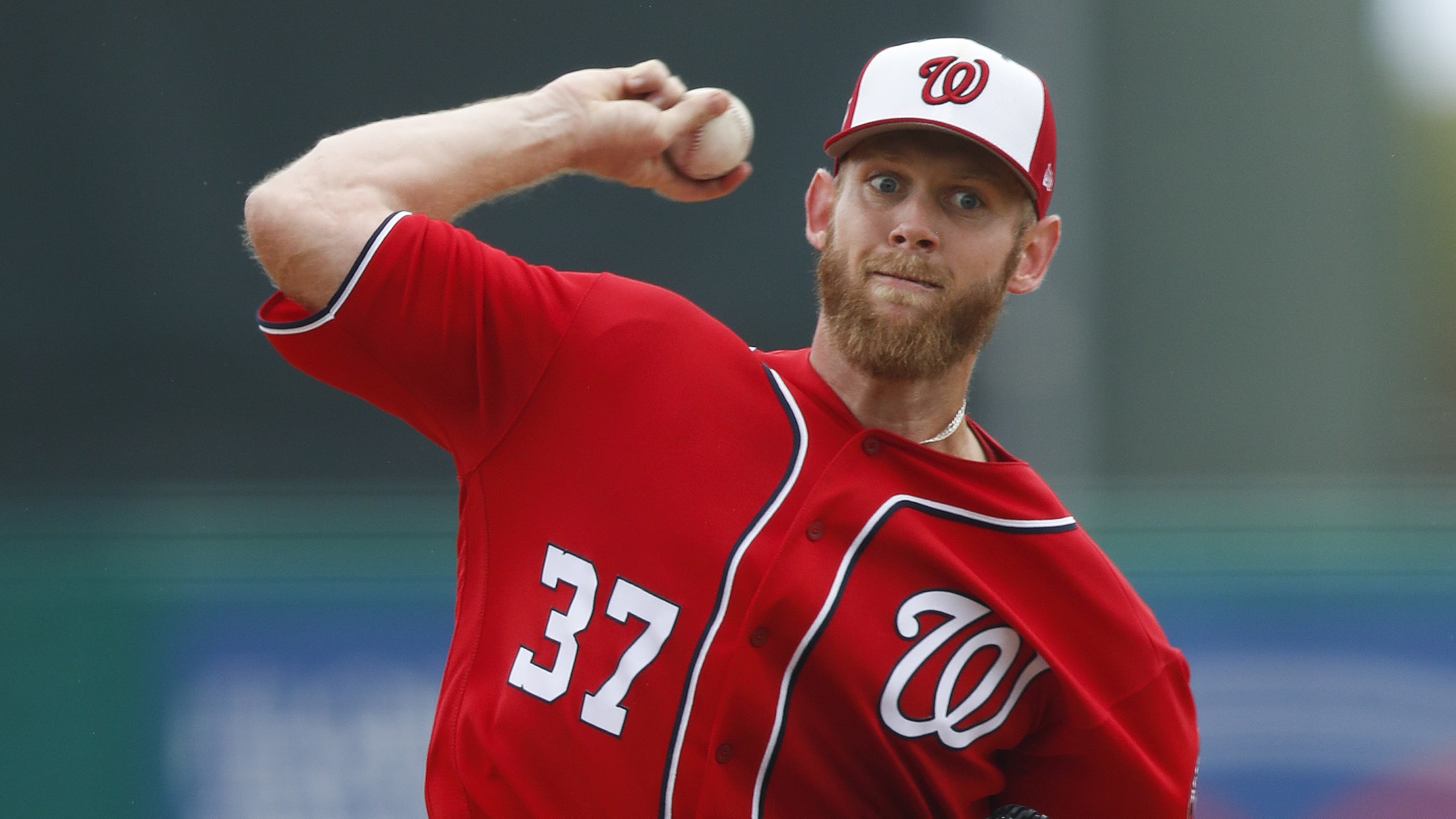 "I always have a tendency to tip pitches," Stephen Strasburg said after adjusting how he holds the ball. (John Bazemore/AP)
WEST PALM BEACH, Fla. -- With each start this spring, Stephen Strasburg said he will continue to grow more comfortable as he learns to pitch entirely from the stretch. He made a slight adjustment in Monday afternoon's 3-3, 10-inning tie against the Tigers, after he believed he was tipping his
WEST PALM BEACH, Fla. -- With each start this spring, Stephen Strasburg said he will continue to grow more comfortable as he learns to pitch entirely from the stretch. He made a slight adjustment in Monday afternoon's 3-3, 10-inning tie against the Tigers, after he believed he was tipping his pitches when he was hit hard during his previous outing against the Cardinals.
On Monday, Strasburg began with the ball in his glove when gripping a pitch, a deviation from his usual starting motion from the stretch where he begins with the ball separate from his glove. His adjustment paid off and he looked at ease during his third Grapefruit League start. Strasburg's fastball velocity sat in the mid-to-upper 90s, according to the stadium radar gun, and his offspeed pitches looked crisp as he struck out five in four innings and did not issue a walk.
"I always have a tendency to tip pitches," Strasburg said. "I think it's just the way I grip the ball, my hands are pretty big. If I'm not paying attention, I do little things."
Strasburg and pitching coach Mike Maddux noticed he had developed a pattern when reviewing his previous outing on Wednesday. The Cards were all over each first-pitch fastball from Strasburg, and he was touched for six runs on seven hits in two innings.
"The way that the Cardinals were hitting him around, you know it was something, because they didn't miss any fastballs," Nats manager Dusty Baker said. "That's a perfect sign that something's going on."
Strasburg did allow a pair of runs Monday. The first came when Brendan Ryan doubled, stole third and scored on a sacrifice fly by Jose Iglesias in the third. Then in the fourth, J.D. Martinez punished Strasburg for leaving a fastball over the middle of the plate with a towering solo home run. He allowed only one hit the rest of his outing, which lasted 56 pitches (40 strikes).
But overall, Strasburg was much more effective and at times much more dominant. All positive signs for the Nationals, especially considering as Max Scherzer continues to recover from a stress fracture in his right ring finger, it is becoming more likely that Scherzer might not be ready to make his third consecutive Opening Day start for the Nats.
If so, Strasburg likely would be the next in line as he continues to fine-tune his new delivery.
"Felt pretty good today," Strasburg said. "I think it's just a matter of keeping an eye on that stuff, because I think they can know when I'm throwing an offspeed pitch compared to a fastball, and it kind of helps them out a lot."