Vogt back in bigs with Giants; Blach optioned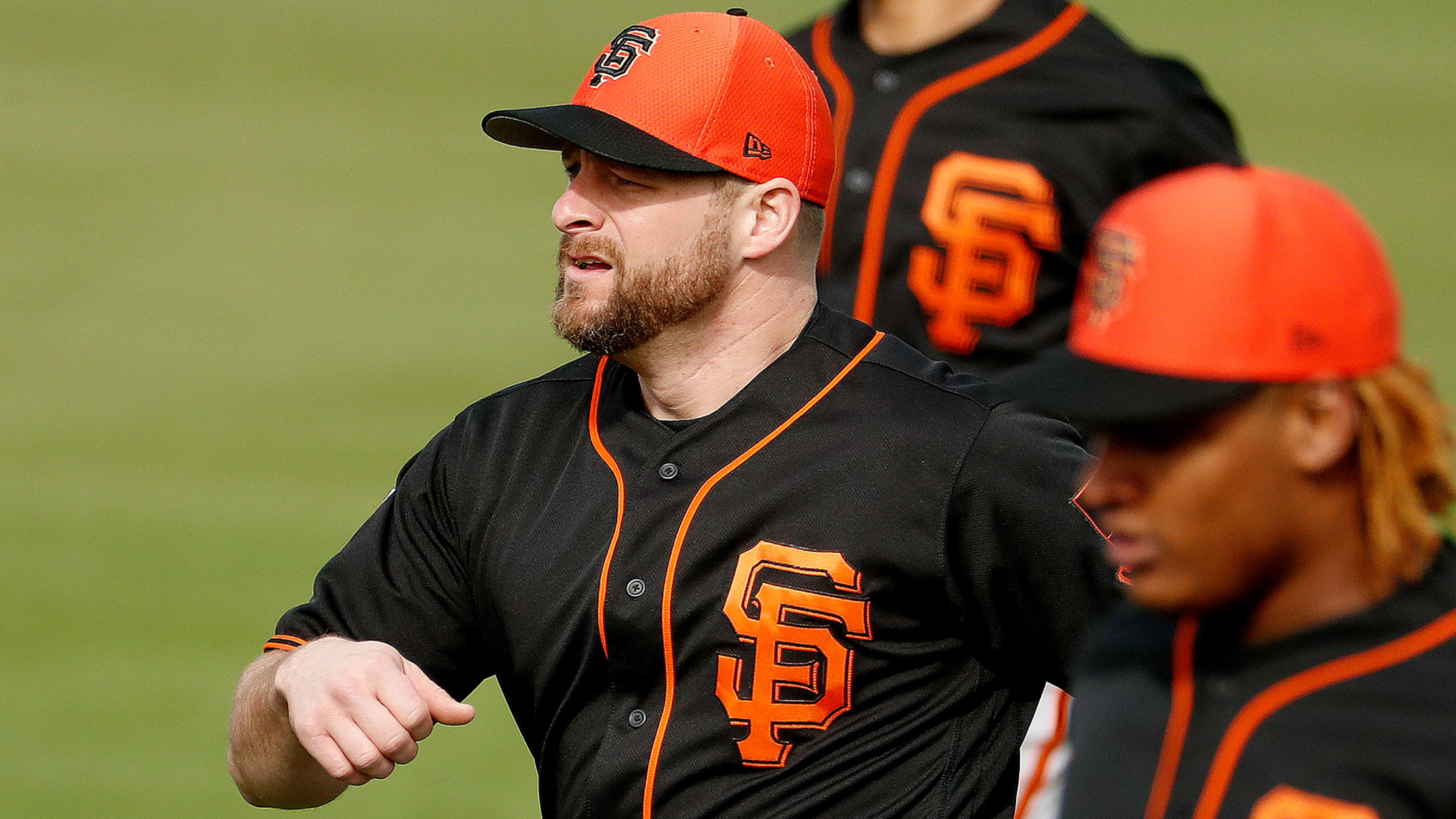 SAN FRANCISCO -- Less than a year after undergoing right shoulder surgery, veteran catcher Stephen Vogt is back in the Majors with the Giants. The Giants selected Vogt's contract from Triple-A Sacramento and optioned left-hander Ty Blach ahead of Wednesday's series finale against the Dodgers. Right-hander Logan Webb, the club's
SAN FRANCISCO -- Less than a year after undergoing right shoulder surgery, veteran catcher Stephen Vogt is back in the Majors with the Giants.
The Giants selected Vogt's contract from Triple-A Sacramento and optioned left-hander Ty Blach ahead of Wednesday's series finale against the Dodgers. Right-hander Logan Webb, the club's No. 5 prospect who received an 80-game suspension after testing positive for performance-enhancing drugs, was placed on the restricted list, clearing a spot on the 40-man roster for Vogt.
"Obviously, it's been a pretty emotional 24 hours for me and my wife and our family," Vogt said. "To already be back in the big leagues less than a year out of surgery, I'm proud of that, I'm excited for that. I just want to come here and help win."
Vogt, 34, signed a Minor League deal with the Giants over the offseason and agreed to open the season at Triple-A Sacramento to continue rehabbing his shoulder. A left-handed hitter, Vogt batted .241 with an .889 OPS and four home runs in 14 games with Sacramento. He hasn't played in the Majors since Sept. 30, 2017, as he missed all of last season following shoulder surgery in May.
"I'm sure he's excited," manager Bruce Bochy said. "It's been a long road for him, going through what he had to go through on the rehab. He was determined to make it back up here. He's a guy that's known for being a great teammate and leader, too. Plus, the bat is going to help us out. It's going to be nice having him up here helping us out."
In addition to catching, Vogt can play first base and some outfield. Bochy said the Giants will carry three catchers and 12 pitchers for now, though the club will need to make another move on Friday to clear a roster spot for right-hander Tyler Beede, who will be called up from Sacramento to make his 2019 debut and start against the Reds.
Beede will pitch in place of Derek Holland, who landed on the 10-day injured list with a bone bruise in his left index finger on Monday. After a disappointing 2018 campaign, Beede emerged as one of the biggest surprises this spring and continued his resurgence at Sacramento, where he logged a 1.99 ERA with 10 walks and 34 strikeouts over 22 2/3 innings in five starts.
The 25-year-old has streamlined his repertoire and is now mixing an upper-90s fastball with a curveball and changeup.
"You can see how much better he's gotten," Bochy said. "Just from the end of last year to what you saw last spring. He carried that into Sacramento, so he should feel good about where he's at. His confidence should be way up there. We're excited about getting a chance to watch him."
Webb issues apology
After his suspension was announced Wednesday, Webb released a statement through the Giants maintaining his innocence and apologized for the "negative attention" he brought to the organization. A fourth-round Draft pick in 2014, Webb is one of the top pitching prospects in the Giants' system and had posted a stellar 2.00 ERA with seven walks and 31 strikeouts over 27 innings in five starts with Double-A Richmond this year.
"For the past month and a half, I have tried endlessly to find the answer to why the M4 metabolite was found in my urine sample," Webb said. "I have done research, I have talked to people who know a lot more about it than I do, and I have sent in an endless amount of supplements and products for testing that I have used over the past couple years. Unfortunately, none of those things have helped me find that answer, and the time for me to find the reason that this has happened has run out. I know in my heart that something someday will be put into the world to prove my innocence.
"That being said, I do not disagree with MLB's policy, and respect the drug testing system that has been put in place. I love this game and respect it too much to ever cheat it. I am heartbroken over this and I am not sure why this is happening to me, but in life some things happen for a reason and it is my job now to find that reason."
Maria Guardado covers the Giants for MLB.com. She previously covered the Angels from 2017-18. Follow her on Twitter.