Cishek cherishes time with his two daughters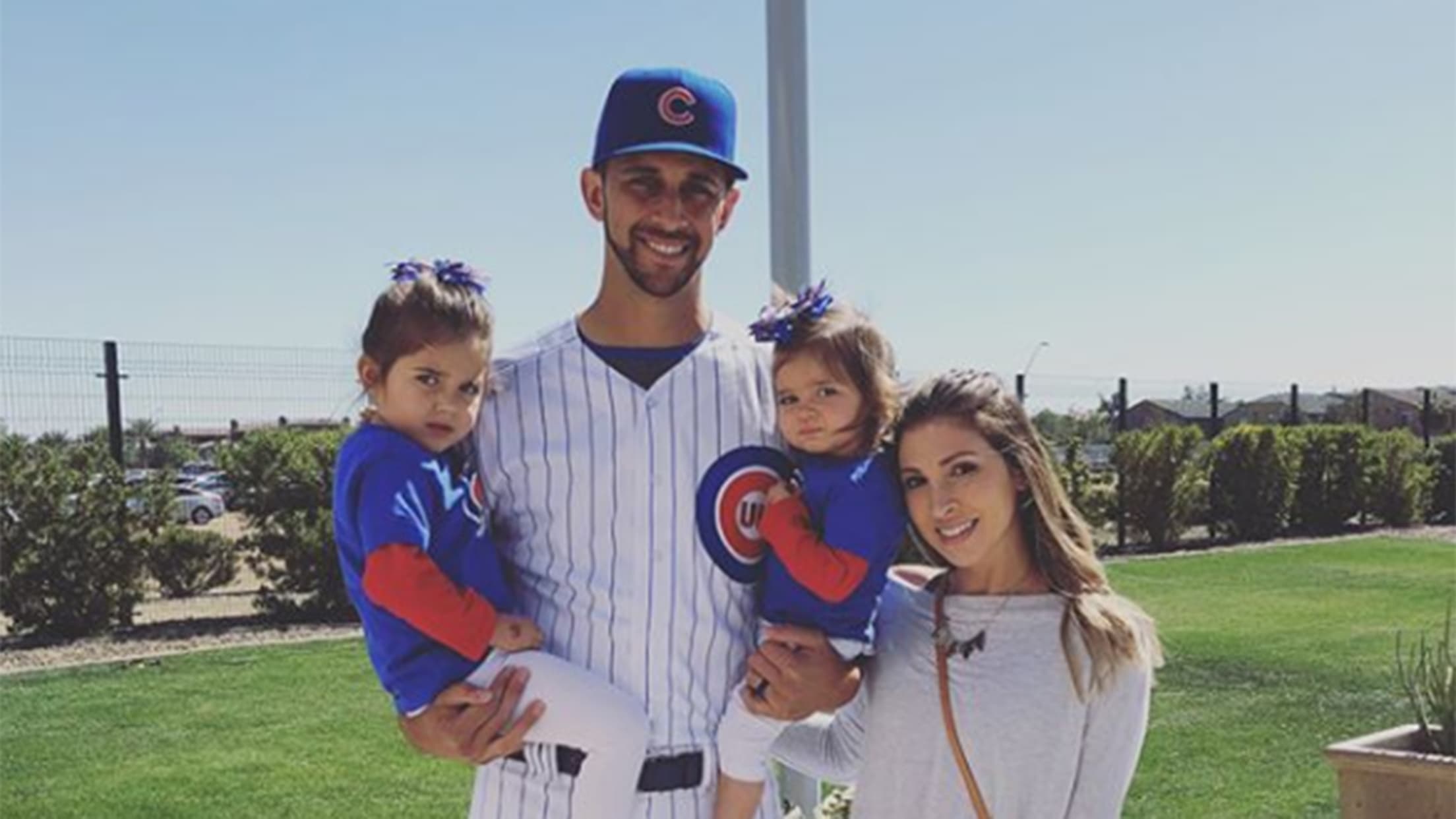 ST. LOUIS -- No matter what happens in a game, Cubs reliever Steve Cishek knows his daughters will always be his biggest fans, and that's a great thought to have on Father's Day.In March, Cishek's first Spring Training outing with the Cubs in Mesa, Ariz., didn't go as well as
ST. LOUIS -- No matter what happens in a game, Cubs reliever Steve Cishek knows his daughters will always be his biggest fans, and that's a great thought to have on Father's Day.
In March, Cishek's first Spring Training outing with the Cubs in Mesa, Ariz., didn't go as well as he'd hoped, but his two girls helped him forget that almost immediately.
"As soon as I came out to walk back to the clubhouse, I happened to run into my wife [Marissa] and my girls," Cishek said of his daughters, Emmie and Avery. "Emmie, out of nowhere, says, 'Daddy, you were amazing.' That's awesome. I pitched poorly, but to her, it was incredible. She understands what I was actually doing out there.
"Being a father just puts everything in perspective. You don't have any time to yourself when you're home, nor does my wife. If I'm being serious, it shows you how selfish you can be with your time. When the kids need it and you want to be doing something else, you have to drop everything and be with your kids, and that's part of being a good parent. It's been awesome for us. We really enjoy spending time with the girls, and it's been fun."
Emmie is 3 1/2 and Avery is 1 1/2, so being a dad is still somewhat of an adjustment to Cishek.
Emmie is super into Ultimate Beastmaster on Netflix so of course daddy set up a beastmaster… https://t.co/lzIrNKbLvI

— Steve Cishek (@srSHREK31) March 14, 2018
"If you have a bad game, I used to take it home with me pretty hard," said the right-handed reliever, now in his ninth Major League season. "With the family, you can't do that. The kids are relying on you to be loving to them. As soon as the game's over, I head home and trash that outing and just enjoy my family. My daughters are just excited to see me pitch."
Emmie has even tried to pitch like her dad.
"She'll mimic my throw every now and then," Cishek said. "She'll throw a ball and it's like sidearm. I don't know if she means to do it, but it's hilarious and we roll with it."
Cishek, 31, did get Emmie her own glove, but right now, she likes playing catch with a bouncy ball. One thing that didn't take long for the girls to learn is the song, "Go Cubs Go," which is played at Wrigley Field after a win.
"Emmie likes to sing as it is -- she's nonstop," Cishek said.
Cishek will also take a moment on Sunday to think about his grandfather, Manuel Domingos, too. His name is stitched on Cishek's glove.
"Ever since I was able to put a name on a glove, I put his name on it," Cishek said. "I know whose glove it is and I wanted to put something on there that means a lot to me. My family is from Portugal, and my grandmother sees it on TV and she thinks it's the greatest thing ever. It makes her all emotional. I won't ever have a different glove out there. That's the main reason I wear it, because when she sees it on TV, it lights her up."
#tbt my pupa Manuel Domingos (name on my glove) the best ever! We all miss him very much. @jmd2022 http://t.co/rfeIWX5kwO

— Steve Cishek (@srSHREK31) September 19, 2013
His grandfather didn't teach Cishek to play baseball -- Cishek's father was involved in that, even coaching the pitcher in a youth league. Domingos, who passed away in 2003, was a mason, and some of his work is still at Cishek's grandmother's house.
"[My grandfather] was huge into soccer," Cishek said. "In Portugal, soccer is the No. 1 sport. He was just an awesome guy, very hard worker. My whole family learned their work ethic from him, and it transitioned to my mother. They worked their fingers to the bone. I've always appreciated that part, and my grandmother and grandfather taught us a lot about working hard, saving your money and making sure you're doing the right thing. They established that to us kids when I was young.
"He's a special guy. We miss him. It's fun to be able to have that on my glove."
And to celebrate Father's Day, too.