Matz avoids forearm scare, but not DL stint
Evans has tibia fracture, Frazier activated, Wahl replaces Rhame in 'pen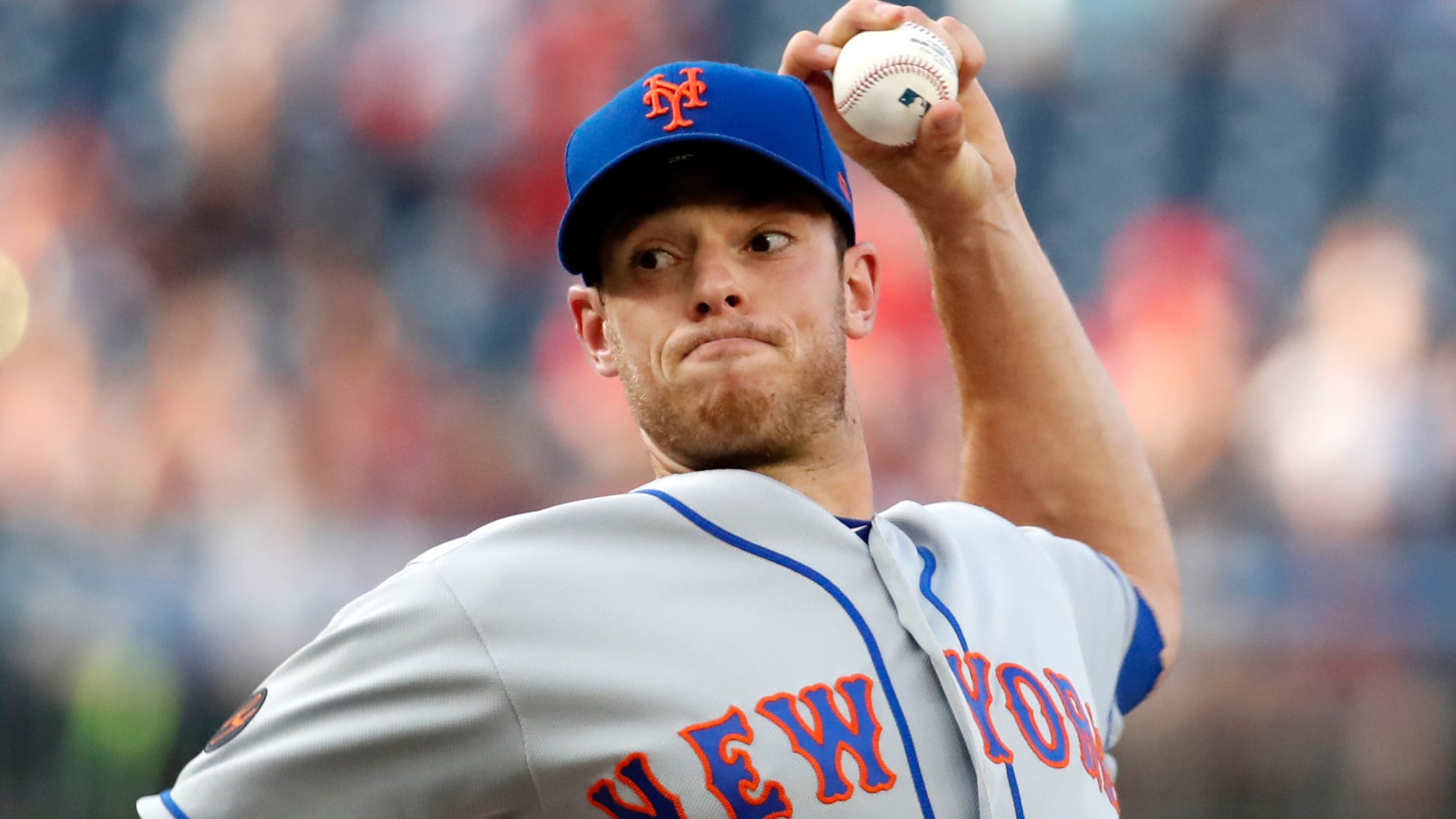 NEW YORK -- The Mets have avoided the worst with pitcher Steven Matz, whose MRI on Thursday revealed no structural damage in his left arm. Regardless, Matz will miss at least his next start and was added to the disabled list Friday.Right-handed pitcher Corey Oswalt was recalled from Triple-A Las
NEW YORK -- The Mets have avoided the worst with pitcher Steven Matz, whose MRI on Thursday revealed no structural damage in his left arm. Regardless, Matz will miss at least his next start and was added to the disabled list Friday.
Right-handed pitcher Corey Oswalt was recalled from Triple-A Las Vegas.
For now, Matz is resting with a "mild flexor-pronator strain," according to assistant general manager John Ricco. Once he is asymptomatic, he can resume throwing.
"There's a good chance we just take a conservative approach here," Ricco said. "It's the middle of a long season."
Matz departed his last start in the first inning Tuesday, after giving up seven runs on eight hits as part of the most lopsided loss in franchise history. Although Matz told reporters afterward that he felt healthy, he complained to team officials of tightness in his left forearm. The Mets sent Matz back to New York, where he underwent an MRI that revealed the flexor-pronator strain.
"We just need to see how he comes in tomorrow," manager Mickey Callaway said Thursday, admitting that there may be no benefit to having Matz make his next start. "He came in today a lot better than he was before. Now having said that, we also have to do the right thing by Matz. He's getting up there in innings this year. He obviously hasn't hauled a ton of innings the past few years. So we have to take that into consideration, and whether or not it's better just to give him a little bit of a break here."
Overall, Matz is 5-9 with a 4.35 ERA in 21 starts, one shy of his career high set in 2016. Should Matz land on the DL, Corey Oswalt is the most likely candidate to make a spot start Sunday, according to Ricco.
Tough break
Limping on crutches and sporting a red mark on his left leg where Nationals outfielder Adam Eaton spiked him, Phillip Evans returned to the Mets' clubhouse on Thursday with the news that he fractured a bone in the leg. Evans will be on crutches for at least the next three weeks, putting the rest of his season in jeopardy.
"It's frustrating for sure," said Evans, who suffered a non-displaced fracture of his left tibia. "It's never a good time for an injury, but it was definitely a big time for me to show what I can do. Getting the news today bums me out a bit."
A member of the Mets' Opening Day roster, Evans spent most of this season at Triple-A Las Vegas, also missing significant time due to an infection. He hit .143 in 15 big league games, playing four different positions.
The diagnosis prompted Callaway, who challenged Eaton's slide into second base during Wednesday's game, to double down on his assertion that it was a dirty play.
"I think the guy slid in late," Callaway said. "I thought he hit Phil a little high, way up on the leg. And we have an injured player that could be out the rest of the season because of it."
Nationals manager Dave Martinez disagreed with Callaway's assessment.
"I thought it was a clean baseball play, I really did," Martinez said Thursday in Washington, after learning the extent of Evans' injury. "He went straight to the base. He didn't look like he did anything illegal."
Quick promotion
Following a brief run of dominance at Triple-A Las Vegas, reliever Bobby Wahl -- one of two prospects the Mets acquired for Jeurys Familia last month -- earned a big league promotion Thursday. The Mets intend to use Wahl, who struck out 42 percent of the batters he faced during his 5 1/3-inning stint at Las Vegas, in some high-leverage spots.
"He's throwing well and can help us," Ricco said of Wahl, who throws in the upper 90s. "We're excited to see him."
To make room for Wahl, the Mets optioned fellow reliever Jacob Rhame to Triple-A Las Vegas. They also cleared 40-man roster space by designating outfielder Kevin Kaczmarski for assignment.
Wahl, who made his big league debut last season with the A's, called the past two weeks "a little crazy, for sure."
"But I'm really happy to be here in this situation," he said.
Bobby Wahl talks about the the trade and what has been working for him on the mound as of late. #Mets pic.twitter.com/G1Dp9IE5qR

— New York Mets (@Mets) August 2, 2018
Frazier returns
Determined to stay healthy the rest of this season, third baseman Todd Frazier returned from the disabled list Thursday after missing more than three weeks due to a strained left ribcage muscle.
At the time of his injury, Frazier was batting .217 with 10 home runs and a .685 OPS in 61 games. This marks the first time since 2012 that he will appear in fewer than 147 games.
"It's just one of those years for me that I've never had before," Frazier said. "You appreciate what Cal Ripken Jr. did."
One down, one to go
Doctors removed calcification and bone matter from Yoenis Cespedes' right heel on Thursday, in the first of what will be two surgeries for the Mets outfielder. Cespedes will spend the next eight to 12 weeks healing, before undergoing an identical procedure on his left foot. Cespedes is likely to miss a portion of next season, in addition to the rest of this one.
Former top prospect suspended
Pitching prospect Marcos Molina, who ranked as high as sixth on MLB Pipeline's Mets Top 30 list last year, has been suspended the rest of this season after testing positive for a performance-enhancing substance. The Mets released Molina last month to clear 40-man roster space.