Moya will continue to be aggressive in OF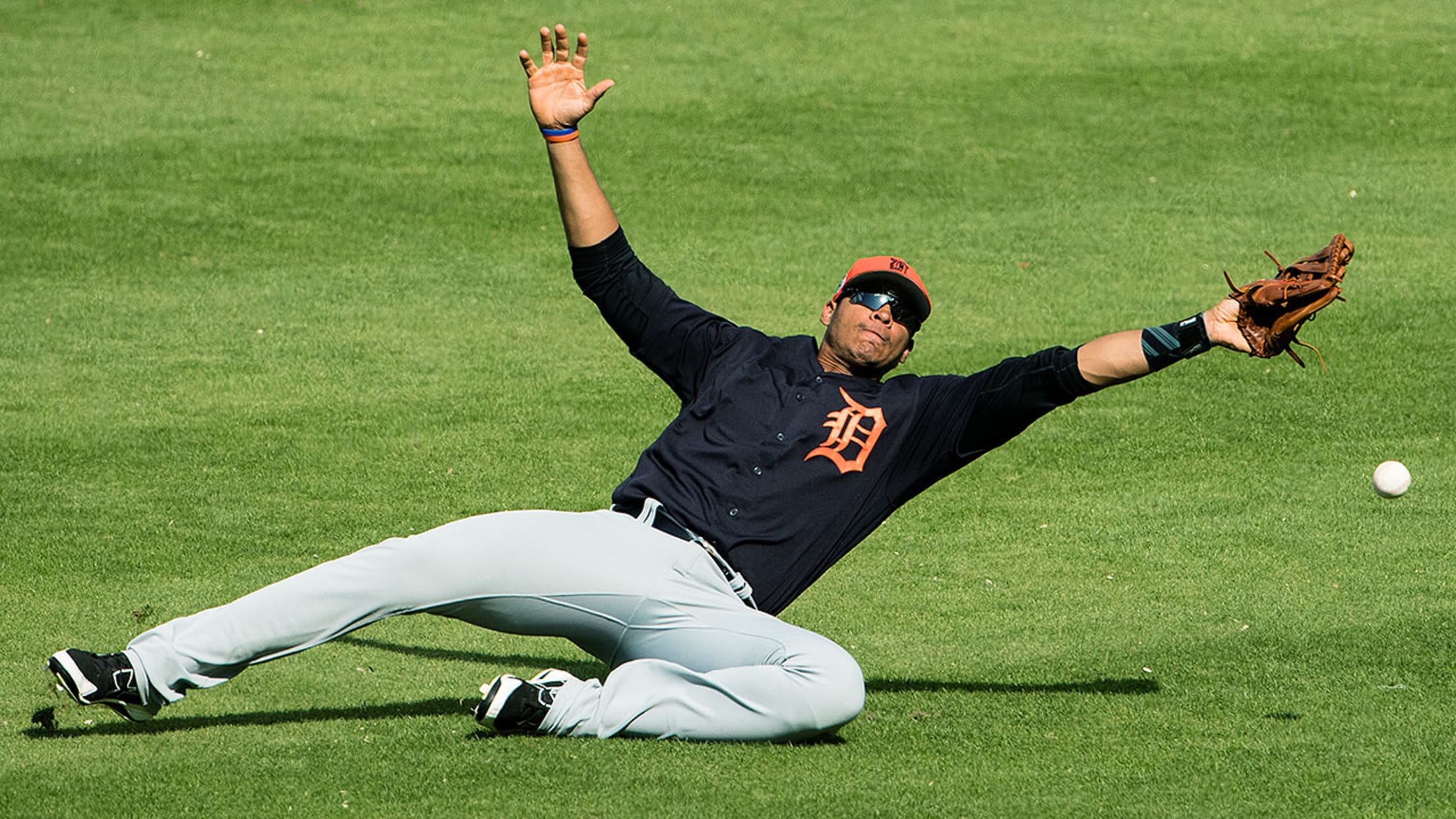 Steven Moya slides, but he can't corral Clint Frazier's double in the fifth inning. (AP Photo)
TAMPA, Fla. -- Steven Moya is never going to be a graceful defender in the outfield. His 6-foot-7, 260-pound frame isn't going to allow him to make some highlight plays. The Tigers don't want that to stop him from trying.The Yankees put up four fifth-inning runs in Detroit's 9-5 loss
TAMPA, Fla. -- Steven Moya is never going to be a graceful defender in the outfield. His 6-foot-7, 260-pound frame isn't going to allow him to make some highlight plays. The Tigers don't want that to stop him from trying.
The Yankees put up four fifth-inning runs in Detroit's 9-5 loss on Tuesday, three on base hits to right field where Moya tried to make plays. Starlin Castro had an RBI single on a sinking liner that bounced off Moya's glove on the hop, and Clint Frazier doubled in two runs with a slicing blooper that eluded Moya's sliding attempt in short right and bounced past him.
Tigers manager Brad Ausmus can accept that.
"I think at times last year he shied away from going full-speed because he was wary of making a mistake," Ausmus said, "and I like the fact that he was going after the ball and not concerned about whether he would miss it. He was going after it and giving the best effort he can. You're not going to catch every ball."
• Spring Training:Info | Tickets | Schedule | Gear
Moya made three errors in 26 games in the Tigers' outfield last year, but his tentative approach on some balls that went for extra-base hits proved more problematic. It's the difference between mistakes of aggression and other miscues.
"I just have to keep working and keep being aggressive," Moya said. "That kind of stuff, that's not going to stop me from going after it."
The Castro hit, Moya said, was an in-between ball that he weighed whether to charge and try for the catch.
"That's why I'm kind of uncomfortable on those line drives," Moya said. "Sometimes you want to go for it, but they have a really hard sink. You either just keep going or stop and that can happen."
Moya made a nice sliding catch on a ball last week with a little more hang time.
The Frazier double, Moya said, was a last-ditch effort.
"It was just a ball down the line hit by a righty that goes towards the line," Moya said. "The more you run towards the wall, the more the ball goes away from you. So the last chance you have is just to dive or slide."
Ausmus can live with that.
"He's got a more confident look in his eyes in the outfield so far this year," Ausmus said.