Side session to determine if Wright makes next start
Knuckleballer could return vs. Tigers if Monday's important step goes well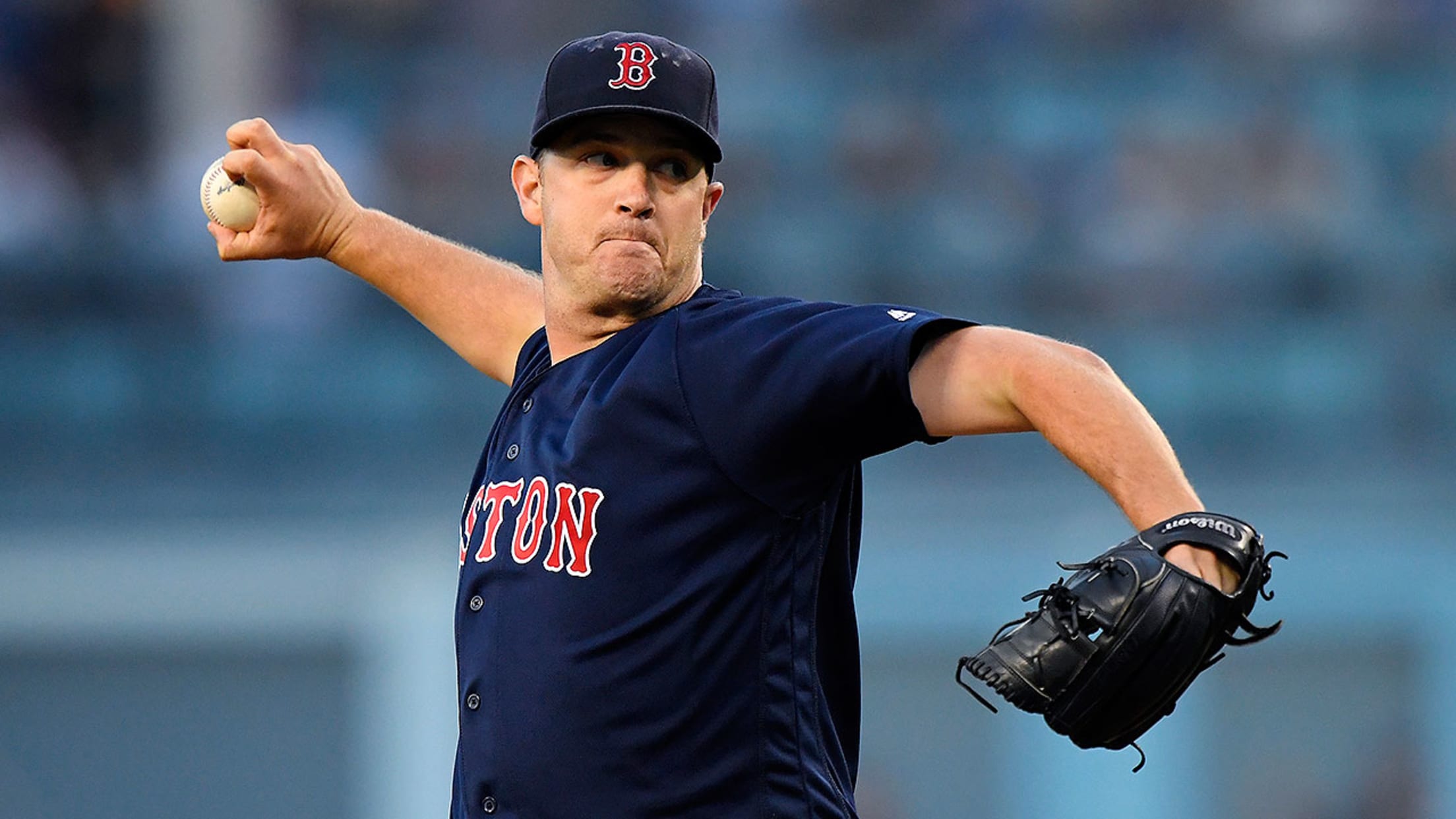 Steven Wright is 13-5 with a 3.01 ERA in 22 starts for the Red Sox this season. (AP)
BOSTON -- The plan for Red Sox knuckleballer Steven Wright is a side session on Monday, which should determine if he can return to the rotation for his next start on Thursday in Detroit.Wright missed his last turn due to right shoulder soreness from an ill-fated dive when he was
BOSTON -- The plan for Red Sox knuckleballer Steven Wright is a side session on Monday, which should determine if he can return to the rotation for his next start on Thursday in Detroit.
Wright missed his last turn due to right shoulder soreness from an ill-fated dive when he was pinch-running on Aug. 7 at Dodger Stadium.
"Every day has been getting better and better," Wright said. "I still have some things to work through, but so far I've been able to avoid the disabled list, which is huge for right now. I threw yesterday for the first time in four days. I threw a little bit more today, I'm going to throw more tomorrow, and if everything progresses the same way, I'll get off the mound Monday."
"While he's not completely symptom free, they've certainly diminished. So he's moving in the right direction," Red Sox manager John Farrell said.
Wright feels the knuckleball has good action from the work he's been doing on flat ground.
"It's one of those things where it still hurts when I throw, but the ball is still coming out the same," Wright said. "With there being no structural damage, it's bursitis, so it's a little inflamed. If the pain doesn't go away, it's just about if it's tolerable enough to pitch through."
What are the chances Wright can pitch Thursday?
"Right now, I don't know," he said. "I'd say right now, it's 50-50. It all depends on how I feel when I get off the mound."
Farrell said that if Wright can't pitch Thursday, Clay Buchholz will get another turn in the rotation. In Saturday's 6-3 win over the D-backs, Buchholz went 4 1/3 innings and threw 71 pitches in his first start since July 2.
Worth noting
• Farrell reported that third baseman Pablo Sandoval has lost 15 pounds during his recovery from left shoulder surgery. Sandoval will reunite with the Red Sox for a few days during the upcoming road trip to Tropicana Field from Aug. 22-25.
• Yoan Moncada, the No. 2 prospect in the game according to MLBPipeline.com, made his first professional start at third base on Friday for Double-A Portland. That is noteworthy, considering that is a position he could factor in sooner for Boston than at his natural position of second base.
"I think there was probably seven to 10 days prior to the ankle injury that he's done early work, ground balls, that type of thing," said Farrell. "We'll kind of see where it goes. I think everything points to him going to that position in the Arizona Fall League. We're trying to get him some further exposure at third base."