Sternberg optimistic about 2019, Rays' stadium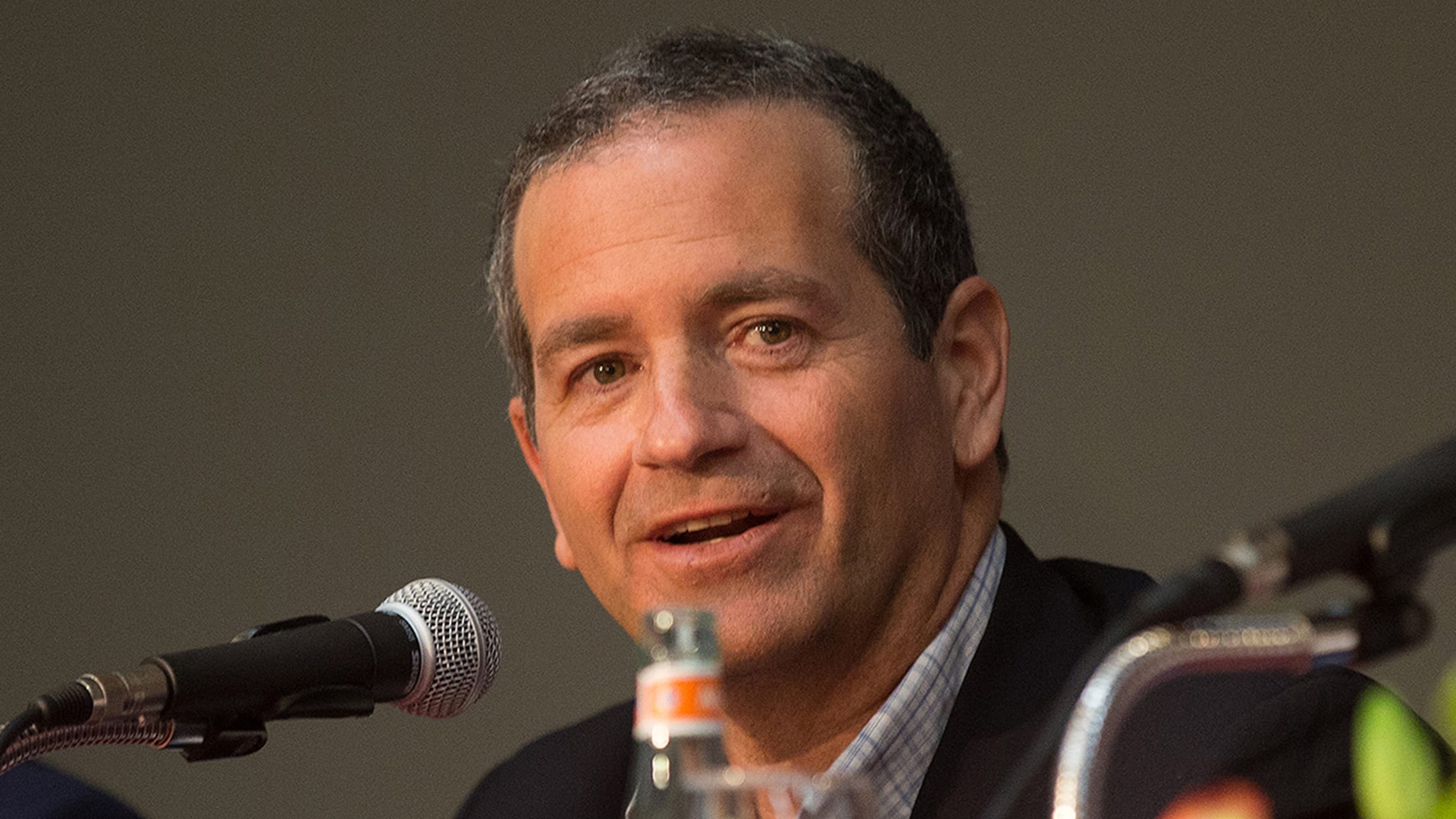 HAVANA - MARCH 21: Tampa Bay Rays owner Stuart Sternberg is seen during a press conference on Monday, March 21, 2016 at Melia Cohiba Hotel in Havana, Cuba. (Photo by Rob Tringali/MLB Photos via Getty Images) (Rob Tringali/Getty Images)
PORT CHARLOTTE, Fla. -- Rays principal owner Stuart Sternberg won't make any big prediction entering the 2019 season, but he still expressed a lot of enthusiasm during Tuesday's media session."I'm optimistic," Sternberg said. "We feel great. I always feel good coming into Spring Training. The last four years have been
PORT CHARLOTTE, Fla. -- Rays principal owner Stuart Sternberg won't make any big prediction entering the 2019 season, but he still expressed a lot of enthusiasm during Tuesday's media session.
"I'm optimistic," Sternberg said. "We feel great. I always feel good coming into Spring Training. The last four years have been a little more challenging, we had to reinvent ourselves a little bit, but fortunately, we've had a good core. We've stuck to our belief."
Before the 2018 season, Sternberg guaranteed that he was expecting more wins than anybody else. His optimism proved true as the Rays finished with 90 wins. This year, Sternberg said he believes the team has what it takes to match -- or exceed -- last year's win total.
:: Spring Training coverage presented by Camping World ::
"Any year that the Tampa Bay Rays can come in with expectation -- and I have the belief that we can be a 90-win team -- I'll sign up for it, and we feel great with that," he said. "I think we can be a 90-win team again. Whether it bears out and we end up with 75 or 94 [wins], that's why we play the games."
Sternberg said he was happy with the additions the front office made during the offseason, highlighted by the acquisitions of Charlie Morton and Mike Zunino. He did, however, say he hoped the team would've accomplished a little bit more either via free agency or trade.
"We didn't get everything done we would've liked," Sternberg said about the offseason moves. "It's no surprise that we were in on [Nelson] Cruz a bit. In addition to Morton, we were in on a couple of other guys, and it just didn't fit what we could spend.
"We would've liked to be involved in a couple of more trades, it just didn't happen. But having said that, if we stood pat and did nothing, we would've come in optimistic. But adding a frontline catcher and adding a very frontline starter? Anytime. Anytime."
The stadium situation was another topic of conversation Tuesday, as Sternberg sat down with the media for the first time since the Ybor City stadium plans came to an end in December.
Sternberg has made it clear that his plan is to keep the Rays in the Tampa Bay area well beyond the 2027 season, which is when the team's lease with Tropicana Field expires. With the Ybor City plan no longer in play, Sternberg said the organization is starting from scratch but has had initial talks with St. Petersburg Mayor Rick Kriseman.
"We spoke a little over a month ago," Sternberg said. "We agreed to get back to him. It's my expectation that we would have something to be able to come back to him with at some point in the summer. We're starting from scratch again, but I want to at least have a good sense of things before we get into it strongly with the mayor and his staff."
Overall, Sternberg is hoping for increased attendance at the Trop, especially if the team contends for a playoff spot in 2019.
"If we had 30-35,000 people walking through the door every night, and we had naming rights and big sponsors, the funding would be a layup," he said. "If we continue to have 8,000, 12,000, 15,000 people a night and not expand our sponsorship roles and everything, we can have all the funding in the world and it's meaningless."
** Juan Toribio ** covers the Rays for MLB.com. Follow him on Twitter @juanctoribio.