Taijuan somersaulting way to Opening Day
Walker showing extra effort on mound in Mariners camp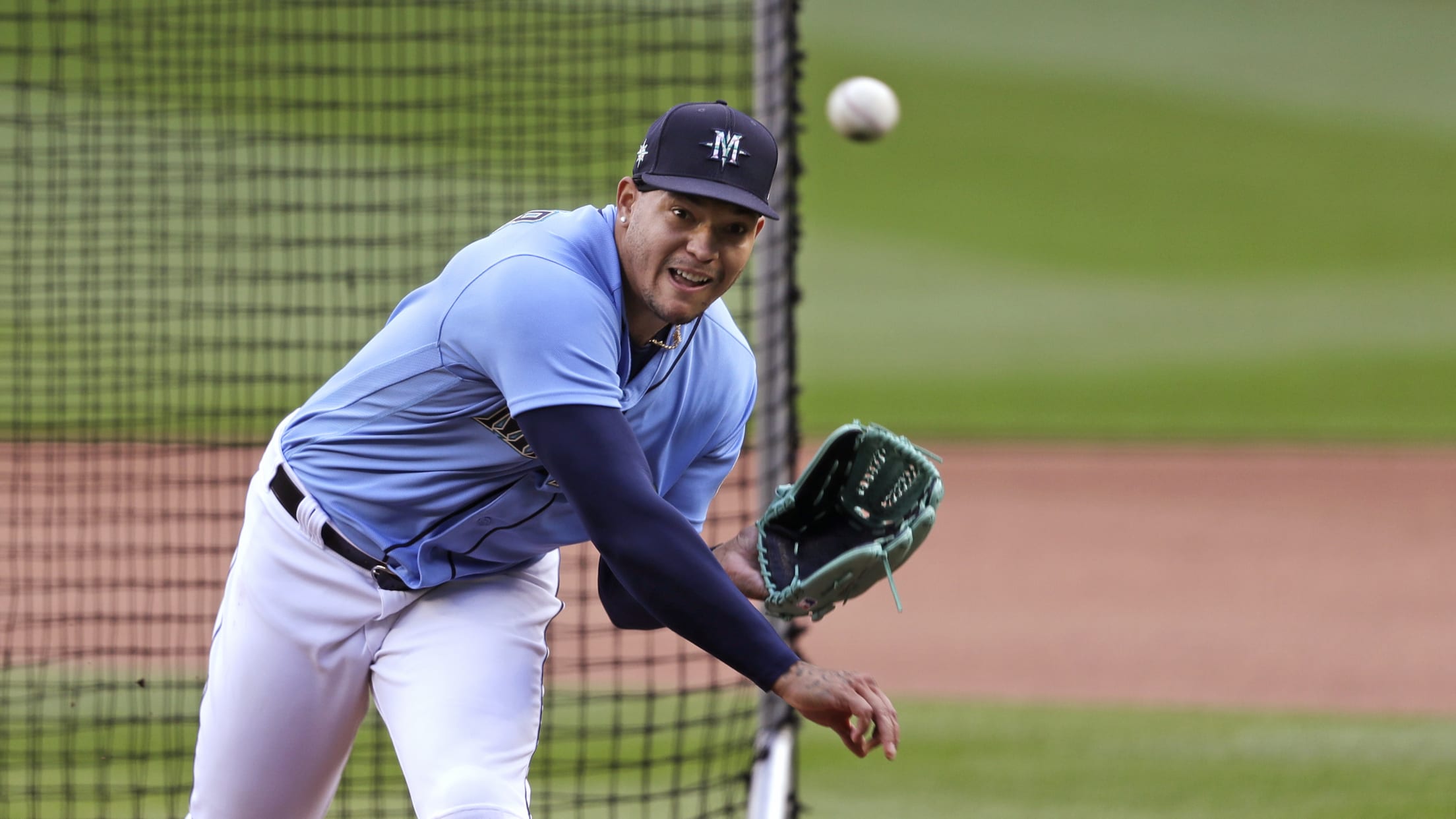 SEATTLE -- It was a slow roller off the bat off Austin Nola, a soft nibbler between the mound and third base in an intrasquad game with no fans in the stands and nothing more than pride at stake. But Taijuan Walker, ignoring the fact he's returning from a nearly
SEATTLE -- It was a slow roller off the bat off Austin Nola, a soft nibbler between the mound and third base in an intrasquad game with no fans in the stands and nothing more than pride at stake.
But Taijuan Walker, ignoring the fact he's returning from a nearly two-year rehab from Tommy John surgery, charged off the mound and made a sprawling -- albeit somewhat awkward -- attempt to corral the ball.
Walker couldn't make the play, as Nola legged out an infield single, but he made a point. The 27-year-old right-hander has been talking smack to teammates all week trying to ramp up the competition and inject as much intensity as possible as the Mariners gear up toward Opening Day against the Astros on July 24.
Never mind that the only ones watching were teammates, coaches and whatever fans tuned in to the Mariners' live stream on their social media outlets. For Walker, this all counts.
"I really wanted to make that play. I tripped a little, but thought I recovered well with the somersault to make it look good so it wouldn't be too bad on YouTube," Walker said with a chuckle. "But I think that's what it needs to be. I think every play needs to be full effort in these games so we can actually get something out of it."
• Notes: Bautista likely won't need surgery
Walker has pitched just one inning in a regular season game at any level since undergoing Tommy John surgery in 2018, making the final start of '19 for the D-backs with a scoreless frame. But the D-backs let Walker go to free agency rather than go to salary arbitration, and he signed a one-year, $2 million deal with the Mariners just after Spring Training began on Feb. 12. Walker made just one start, a strong one, in Cactus League play before the shutdown on March 12.
Back with the club that drafted and gave him his start in the Majors, Walker seems relaxed and at home. And he's throwing the ball well -- his fastball sitting at 93 mph in his two-inning outing Monday -- while feeling strong and healthy again.
For Walker, MLB's three-and-a-half-month shutdown only served to further fuel his return.
"It gave my arm a chance to heal," Walker said. "Anytime you can do that, you should feel good and strong. And that's what I feel like right now. I feel really strong. I like where I'm at. Now it's just about building the innings and getting comfortable with the ups and downs. We're getting there."
Walker will likely get two more intrasquad outings to continue building on Monday's effort, when he allowed just the infield single and a walk, with three strikeouts.
The California native wanted to back up the clubhouse trash talking this week, asking Mariners manager Scott Servais to let him face several of the club's fast-rising young prospects, such as outfielders Kyle Lewis and Jarred Kelenic.
Lewis had gone 3-for-3 with three homers and two walks in his two prior games, but Walker became the first pitcher to get him out, doing so on a first-inning grounder, as part of Lewis going 0-for-4 on his 25th birthday.
Walker also retired the 20-year-old Kelenic on a flyout to left, though the Mariners' No. 1 prospect followed up with home runs off reliever Nestor Cortes Jr. in the fourth and Carl Edwards Jr. in the sixth.
Walker walked away satisfied with his trash-talking victories, at least.
"K-Lew didn't hit a home run off me," Walker said. "I wanted to strike him out, but I'll take the ground-ball out. He's been lights-out, which is good. I know during the quarantine he busted his butt to get where he is right now and he's only getting better, which is really scary. But it's fun facing guys who are hot like that to see where your stuff is, so it was good for me, and I think he got something out of it, too.
"With Kelenic, I left a changeup up. He's not going to miss that often, so I think I got away with one there."
If Walker stays healthy, the Mariners might have got away with one as well when they gave him a chance to return to his old stomping grounds in Seattle.
"He's just matured so much," Servais said. "That's what sticks out to me, from where he was a few years ago, as a person, as a teammate, on the field, talking to young players off the field. The whole package has really come together.
"I really hope we can keep him healthy, keep him going and get his innings built up as quick as possible and look back and he really takes advantage of the 10 starts he has with us."