Roark gets work in -- and watches the windows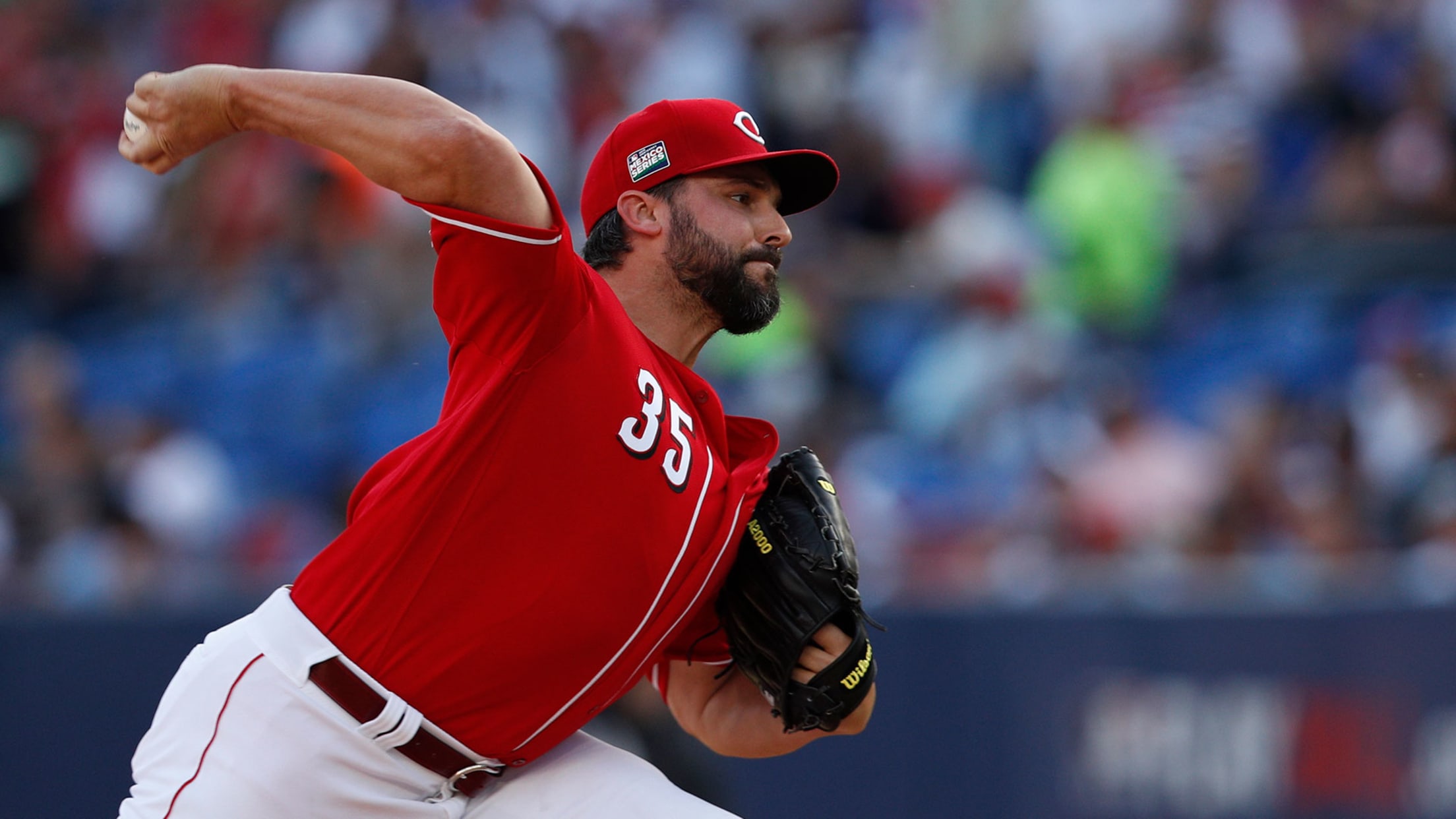 MONTERREY, Mexico -- When the Reds had an off-day to enjoy on Friday in Monterrey, their Saturday starting pitcher vs. the Cardinals had one fundamental work-related issue. Tanner Roark needed to throw -- his usual ritual the day before a start -- but the team was not going to Estadio
MONTERREY, Mexico -- When the Reds had an off-day to enjoy on Friday in Monterrey, their Saturday starting pitcher vs. the Cardinals had one fundamental work-related issue. Tanner Roark needed to throw -- his usual ritual the day before a start -- but the team was not going to Estadio de Beisbol Monterrey until game day.
No problem. Roark found a spot at the team hotel. The right-hander and Sean Marohn, the club's strength and conditioning director, long-tossed inside a courtyard.
"You've got to do what you've got to do," Roark said. "I always feel like I have to -- if I have a start and there's a day off, I have to throw just to get moving around. It was a week since I threw. You got to keep things loose."
Tanner Roark decided that the hotel courtyard was much more scenic than a bullpen. #MéxicoSeries pic.twitter.com/nFh1Ul0EBV

— Cincinnati Reds (@Reds) April 12, 2019
Roark and Marohn were not unlike kids playing catch in a neighborhood. Unlike a bullpen or outfield, there were plenty of windows that could get smashed around the courtyard if they weren't careful.
"That was the lucky spot, and I was able to throw," Roark said. "I told Marohn not to miss the ball, and I made sure he was by a wall, so no glass was broken. The first couple of throws are always iffy. You don't know where they're going sometimes."
During Saturday's 5-2 victory over St. Louis, Roark got a no-decision but delivered 5 1/3 innings with one earned run, six hits, one walk and five strikeouts. But he had to grind through a couple of early jams, including a missed popup from Matt Carpenter that bounced in short left field on the artificial turf. It went for a leadoff triple in the top of the first inning. Roark retired the next three batters to escape.
"It feels really good, especially after a leadoff triple with nobody out and a runner on third," Roark said. "That lineup is top-to-bottom very good. I just took a big breath, focused on where I wanted to throw the ball and execute the pitches and hope for the best."
Senzel update
Center fielder and top Reds prospect Nick Senzel, who is working his way back from a right ankle sprain suffered at the end of Spring Training, has advanced his rehab process to running the bases. Senzel has also been taking live batting practice and is nearly ready for extended camp games.
"He should get into games by midweek," Reds president of baseball operations Dick Williams said.
Bell feeling shifty against Carpenter
During the lefty-hitting Carpenter's at-bats, the Reds went with a four-man outfield and a right-side shift on defense. That included in the ninth inning on Saturday, when he batted with Harrison Bader on first base with one out. Second base was wide open, and Bader was already running when Carpenter hit a single to left-center field and beat the shift.
"What really matters in that situation is the hitter," Reds manager David Bell said on Sunday. "They can't come back and tie that game without the hitter reaching base. The runners on ahead of him don't matter. The one thing you're weighing is, 'Do we play for the double play?' But in the end in most cases, we're doing everything we can to worry about that hitter and keep him off base."
Representing the tying run, Paul Goldschmidt flied out and Paul DeJong popped out to end the game. The Reds have used the four-man outfield alignment often against left-handed hitters like Carpenter already this season. It usually has the second baseman stationed in left field.
"We try not to make too big of a deal out of it," Bell said. "We just say, 'Hey, we think this is the best chance to get that guy out,' and we do it. We're going to get burned on it. It's not going to work 100 percent of the time. But over the course of the season, we believe we're going to benefit not being afraid to do things like that, that may look a little different."
Hughes' highlights in Mexico
The best part of Reds reliever Jared Hughes' time in Monterrey happened away from the ballpark. Hughes, reliever Zach Duke and broadcaster Danny Graves visited with children housed by Back2Back Ministries.
A Cincinnati-based international nonprofit organization, Back2Back is dedicated to helping and housing at-risk children and orphans around the world.
"It was fun to see some smiles on everybody's faces, go out there and play baseball," Hughes said. "We got to teach a little bit, a little baseball. We played some Wiffle ball. Zach Duke got a home run off of me. That wasn't great, but everything else was a blast. It was the highlight of our journey here.
"When I heard the Reds were going over there, I knew I wanted to join up."
Jared Hughes and Zach Duke visited orphaned youth at Cincinnati-based Back2Back Ministries in Monterrey today to play games, answer questions and share their faith. @b2bministries | #MéxicoSeries pic.twitter.com/UhyKz2OMYl

— Cincinnati Reds (@Reds) April 13, 2019
On the field, Hughes also had a nice moment when he was called in from the bullpen Saturday to replace Amir Garrett in the seventh inning. He did his usual sprint to the mound, which caught fans off-guard. That occasionally happens when the Reds are visiting a different ballpark.
"There was definitely an element of surprise where I don't think everybody understood, 'Oh, the Reds have a guy who sprints into the game.' So it was a little different, for sure," Hughes said.
Mark Sheldon has covered the Reds for MLB.com since 2006, and previously covered the Twins from 2001-05. Follow him on Twitter @m_sheldon and Facebook.