As Cozart deals with stiff wrist, Ward called up
Third baseman out of lineup but should avoid injured list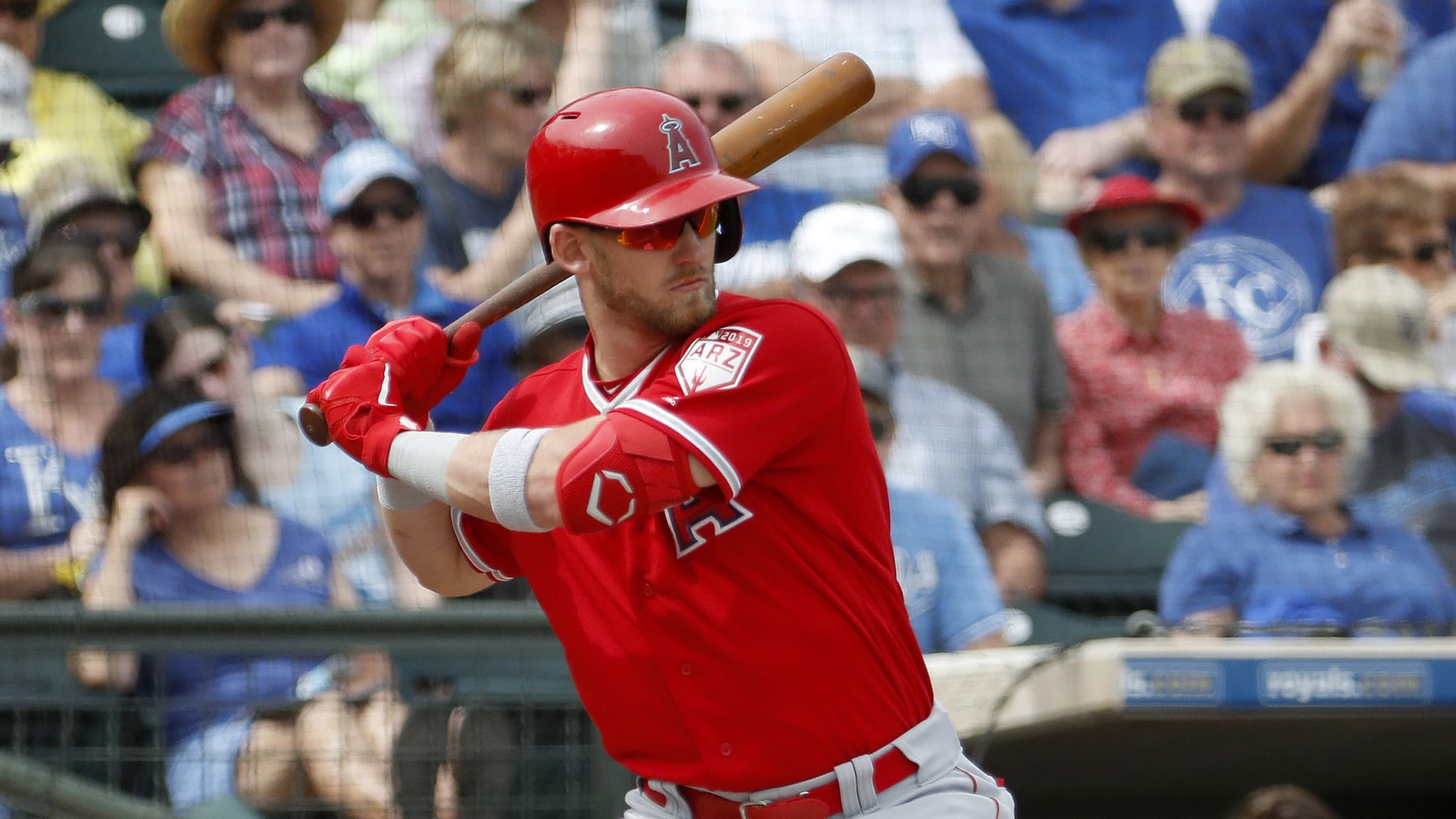 ANAHEIM -- Angels third baseman Zack Cozart will avoid the injured list after being hit on his left forearm by a 94.2-mph fastball from Shelby Miller on Sunday, but the club called up fellow third baseman Taylor Ward from Triple-A Salt Lake on Monday as insurance with Cozart out of
ANAHEIM -- Angels third baseman Zack Cozart will avoid the injured list after being hit on his left forearm by a 94.2-mph fastball from Shelby Miller on Sunday, but the club called up fellow third baseman Taylor Ward from Triple-A Salt Lake on Monday as insurance with Cozart out of the lineup.
Right-hander Justin Anderson, who is one of only three relievers on the club with Minor League options, was optioned to Triple-A to make room for Ward. Anderson is 2-0 with a 0.00 ERA in 5 2/3 innings this year, including getting out of a bases-loaded jam with nobody out on Sunday, but wasn't available to pitch on Monday, so he was the roster causality. The only other relievers on the roster with options are Luke Bard and Ty Buttrey. The move gets the Angels down to 12 pitchers and they head to Chicago this weekend for an Interleague series against the Cubs.
"We're a little banged up on the position-player side, we're already short one position player, we're going into an NL city, we're probably going to need one more position player," Angels manager Brad Ausmus said. "It's certainly not reflective of Justin Anderson's performance going in the other direction. He did outstanding for us, but we're in a position-player crunch right now."
Cozart said it was relief to avoid the IL, as he was fearful it was something worse when the stiffness radiated down to his wrist. But X-rays came back negative and he regained his range of motion in his wrist and arm on Monday.
"I feel way better," Cozart said. "I'm not swinging today. Just to keep letting it calm down. But like, my motion is like night and day from yesterday. Hopefully, I think I'd be swinging, ready to go tomorrow."
Ward, meanwhile, was playing well in four games with Salt Lake, hitting .375 (6-for-16) with four walks and five RBIs in four games. The converted catcher's defense at third base remains a work in progress, but he gives the Angels a four-man bench for the first time this season.
Ward got his first taste of the Majors last year, hitting .178/.245/.333 with six homers and 15 RBIs in 40 games. He's likely to stay on the roster through the series at Wrigley Field this weekend, but could stay longer based on his production.
"Definitely going through everything, I'm a lot more comfortable now," Ward said. "Going back down, I was able to focus on what I needed to do. I feel a lot better right now. Hopefully, I can stay."
Cole optioned
After making two rehab appearances at Class A Advanced Inland Empire, reliever Taylor Cole was optioned to Triple-A on Monday. Cole, who was out with a right shoulder strain, threw two scoreless innings on Sunday after allowing three runs while recording two outs on Friday. Cole, who posted a 2.75 ERA with 39 strikeouts in 36 innings as a rookie last year, gives the Angels bullpen depth at Triple-A.
Ohtani to stay back
Two-way star Shohei Ohtani, who is rehabbing after undergoing Tommy John surgery on Oct. 1, will not accompany the Angels on their road trip to Chicago and Texas. He's continuing to take batting practice on the field at Angel Stadium and is also throwing three times a week.
His next step will be facing live pitching, but there's no timetable for when that'll happen. He remains on track for a return as a designated hitter in May, although Ohtani said last week he believes he could be ready to return by the end of April.
"Live BP would be next, but I can't tell you when that will be," Ausmus said. "He's not going with us on the road. He's out throwing to 80 feet. Going through regular, standard Tommy John rehab. Because he won't pitch this year, it does give you a little padding, for sure, a little cushion at the end."