#TBT: Deion's days on the diamond
Former teammates recall Prime Time's baseball buzz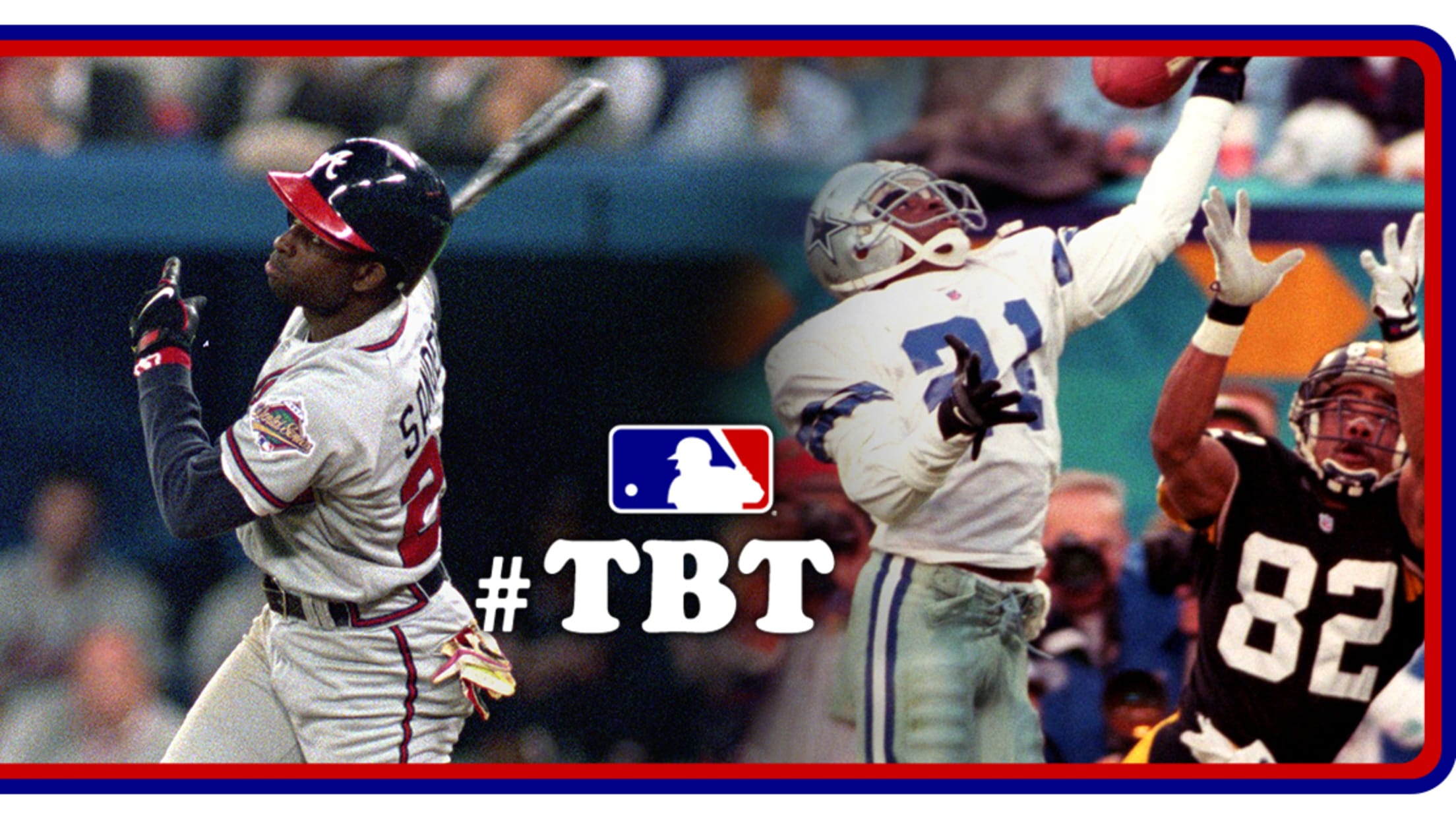 He was "Neon Deion." He was "Prime Time." He was the flashy star of the National Football League who picked off passes, blazed downfield and sometimes strutted with the flair of a movie star.But when Hall of Famer John Smoltz recalls his former Braves teammate Deion Sanders' foray in the
He was "Neon Deion." He was "Prime Time." He was the flashy star of the National Football League who picked off passes, blazed downfield and sometimes strutted with the flair of a movie star.
But when Hall of Famer John Smoltz recalls his former Braves teammate Deion Sanders' foray in the world of baseball, he pictures a much different guy.
"I had a blast being around Deion," Smoltz said. "He was a great teammate, and ultimately he was able to help us and put a dynamic skill set to use and help us win."
Sanders also became the only man to play in a Super Bowl and a World Series, which is why he's on our minds this Throwback Thursday as we look ahead to Denver vs. Carolina in Super Bowl 50 on Sunday while looking back at one of the most talented all-around athletes to play in the big leagues.
Sanders was already a well-known cornerback at Florida State when the Yankees took a flier on him, drafting him after his junior year of college. He had dabbled in baseball during his freshman year, but that was the extent, until he surprisingly signed and finished his first professional season at the Triple-A level.
Sanders made his Major League debut for the Bronx Bombers in 1989 at the age of 21.
By the time Sanders got to the Braves, he was a burgeoning NFL icon for the hometown Falcons, he was the reason Braves fans adopted the Tomahawk Chop chant that originated at Florida State, and he was a constant multimedia presence, literally helicoptering from one stadium to the other to play games.
Make no mistake: Sanders loved all the attention that went along with it, too.
"There was quite a buzz in the clubhouse, waiting for him to get there," said former Braves outfielder and teammate Ron Gant. "But once he came in, it was like he had been playing there his entire career. It was almost like he was on the team already.
"One thing about Deion was that despite all the flash from football, when he got in the locker room, he wanted to do whatever he could to fit in. But he also would not let anyone show him up or make him feel awkward."
It didn't hurt that Sanders was the real deal on a baseball field.
Sanders posted a .304/.346/.495 slash line with eight home runs, 14 triples and 26 stolen bases in 303 at-bats in 1992, then hit .533 and stole five bags in that year's Fall Classic loss to the Blue Jays. He would go on to play for the Reds and Giants, and in total stole 186 bases (56 for Cincinnati in 1997) and scored 308 runs, all while focusing most of his energy on what would become a Hall of Fame football career.
Sanders won a Super Bowl with the Cowboys, another with the 49ers, and recorded 53 interceptions on his way to gridiron immortality in Canton, Ohio, in 2011.
"Baseball was truly a hobby and a part-time situation for one of the greatest athletes I've been around," Smoltz said.
"Let's just say he did away with football. I think he could have been one of the greatest leadoff hitters, along with Rickey Henderson, with what he possessed. He was raw and hadn't put in enough time to really get the most out of his ability."
Smoltz recalls the brilliant tools on the field but also the qualities away from the game that made Sanders so likeable. The two played one-on-one basketball (Smoltz won), they played a lot of Tetris on their Game Boys, and they partook in Sanders' other favorite sport: fishing.
"One thing I remember about Deion is how he and Otis Nixon were deathly afraid of dogs," Smoltz said with a laugh.
"We'd meet at Kent Mercker's [Spring Training] apartment to go fishing, and Kent had this chocolate lab. As soon as Kent came to the door, the dog would bark, and Deion and Otis would be back over the car hood as fast as you could imagine."
It was that world-class speed that set Sanders apart in both sports, and it's what most remembered in addition to the "Prime Time" persona.
"You know when you go down the street so fast riding your bicycle, and you get too close to a mailbox, and the mailbox goes by your ear?" said Barry Larkin, a baseball Hall of Famer and former Reds teammate of Sanders.
"I remember having the same sensation when Deion was running. ... I had conversations with him about trying to get better as a hitter. Those conversations ended after the baseball season did. When it was the offseason for most of us, he was talking about picking off Jeff George and taking it to the house."
Sanders has said he slightly regrets never pursuing his full potential in baseball. He spoke about it on MLB Network's "Intentional Talk" program in 2012 upon hearing that his old buddy Larkin was being enshrined in Cooperstown.
"I felt like I did give [baseball] my all, but I felt like football ... was my true wife and baseball was a lover, someone I was seeing," Sanders said.
"You always think [about] what you could have done, what you would have done and what you should have done, but honestly I think football turned out pretty darn good."