USA falls in Super Round opener, 2 back of Mexico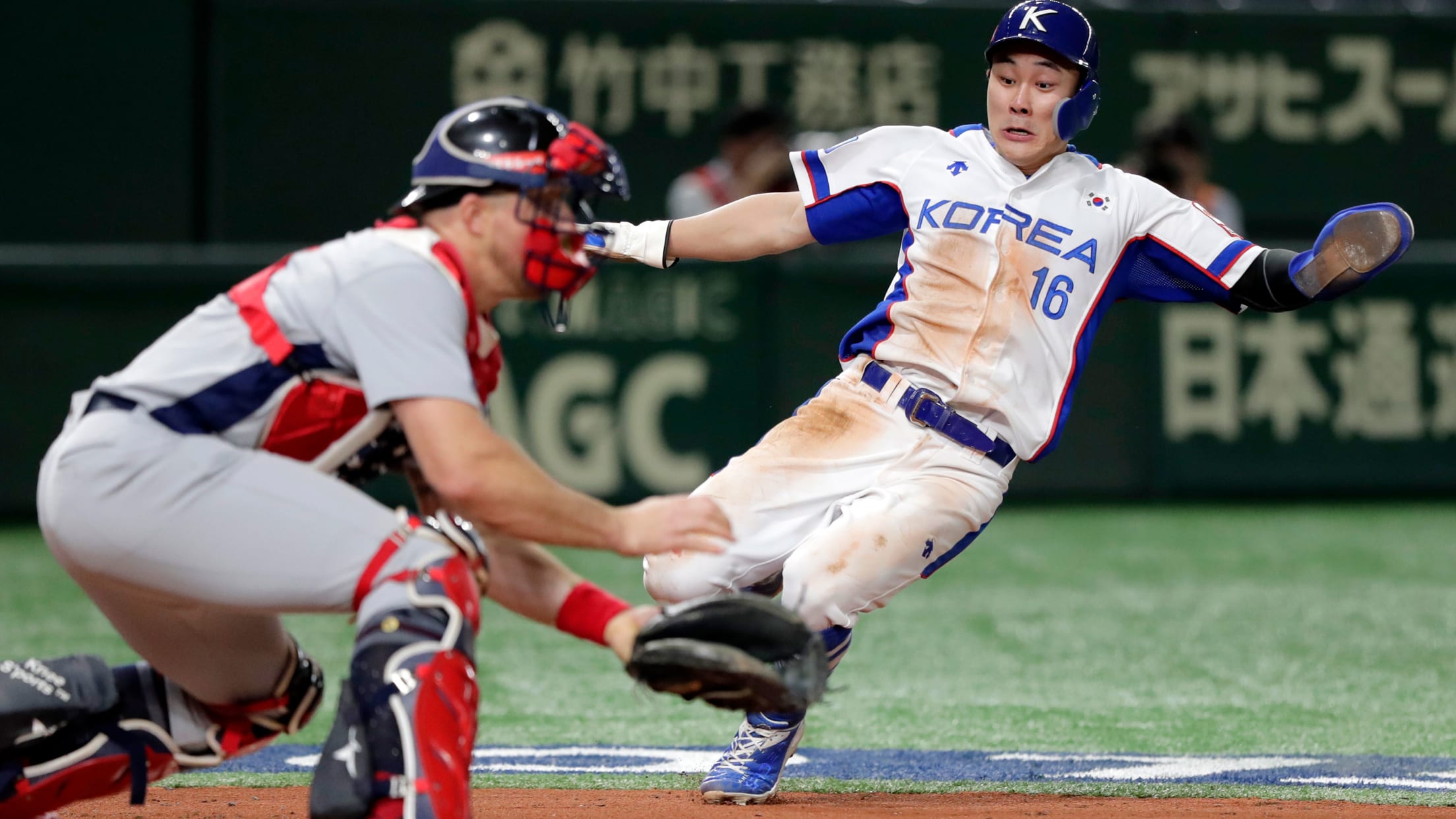 Team USA lost its first game of the Super Round at the World Baseball Softball Confederation (WBSC) Premier12 tournament to Korea, 5-1, on Monday in Tokyo. Team Mexico beat Chinese Taipei, 2-0, which means Team USA is now two games behind Mexico because it lost to Mexico in the earlier
Team USA lost its first game of the Super Round at the World Baseball Softball Confederation (WBSC) Premier12 tournament to Korea, 5-1, on Monday in Tokyo.
Team Mexico beat Chinese Taipei, 2-0, which means Team USA is now two games behind Mexico because it lost to Mexico in the earlier round. In Premier12, the opening-round games played between teams in Group A, B and C play count in the Super Round standings. Japan, Korea and Mexico are tied at the top at 2-0 each, while USA, Australia and Chinese Taipei are 0-2.
Super Round Standings

(includes opening round TPE v JPN; AUS v KOR; and MEX v USA -- all head-to-head games between Super teams)#Premier12 #プレミア12 #프리미어12 #世界12強 #AUSp12 #NovenaMéxico #KBO #相信中華 #侍ジャパン #ForGlory pic.twitter.com/o4Dw4z8718

— WBSC ⚾ #Premier12 (@Premier12) November 11, 2019
The top finisher in the Super Round group from both the Asia/Oceania territory (Australia, Chinese Taipei and Korea), excluding Japan, which gets an automatic berth as the host, and the Americas territory (Mexico, United States) will automatically qualify for the Tokyo 2020 Summer Olympic Games in the six-team tournament. The team from the Americas territory that does not qualify via the Premier12 tournament will still have another chance to earn an Olympic berth this spring.
Cody Ponce allowed a three-run homer to Jaehwan Kim in the bottom of the first inning and Team USA never mounted a comeback, with the lone run coming on a Brent Rooker solo homer in the sixth inning.
🇺🇸🇺🇸🇺🇸 U S A! U S A!

Brent Rooker HOME RUN! 💪 💪 💪

🇰🇷 3-1 🇺🇸#ForGlory #Premier12 pic.twitter.com/PcRZJQRChL

— WBSC ⚾ #Premier12 (@Premier12) November 11, 2019
Angels prospect Jo Adell, the fifth-ranked overall prospect, according to MLB Pipeline, went 3-for-5, and Andrew Vaughn, whom the White Sox took third overall in the 2019 MLB Draft, went 3-for-4.
HIGHLIGHTS: 🇰🇷 Korea v USA 🇺🇸#KBO #Premier12 #프리미어12 pic.twitter.com/vIXGLZyKgJ

— WBSC ⚾ #Premier12 (@Premier12) November 11, 2019
D-backs fifth-ranked prospect Daulton Varsho doubled as a pinch-hitter, but had to be helped off the field in the eighth inning after injuring his ankle while sliding into second base.
Team USA faces Japan at 5 a.m. ET on Tuesday. Tanner Houck, the Red Sox's fifth-ranked prospect, according to MLB Pipeline, will be on the mound for the U.S. opposite Rei Takahashi.