Tropicana Field turns to gridiron for bowl game
Temple defeats FIU in Bad Boy Mowers Gasparilla Bowl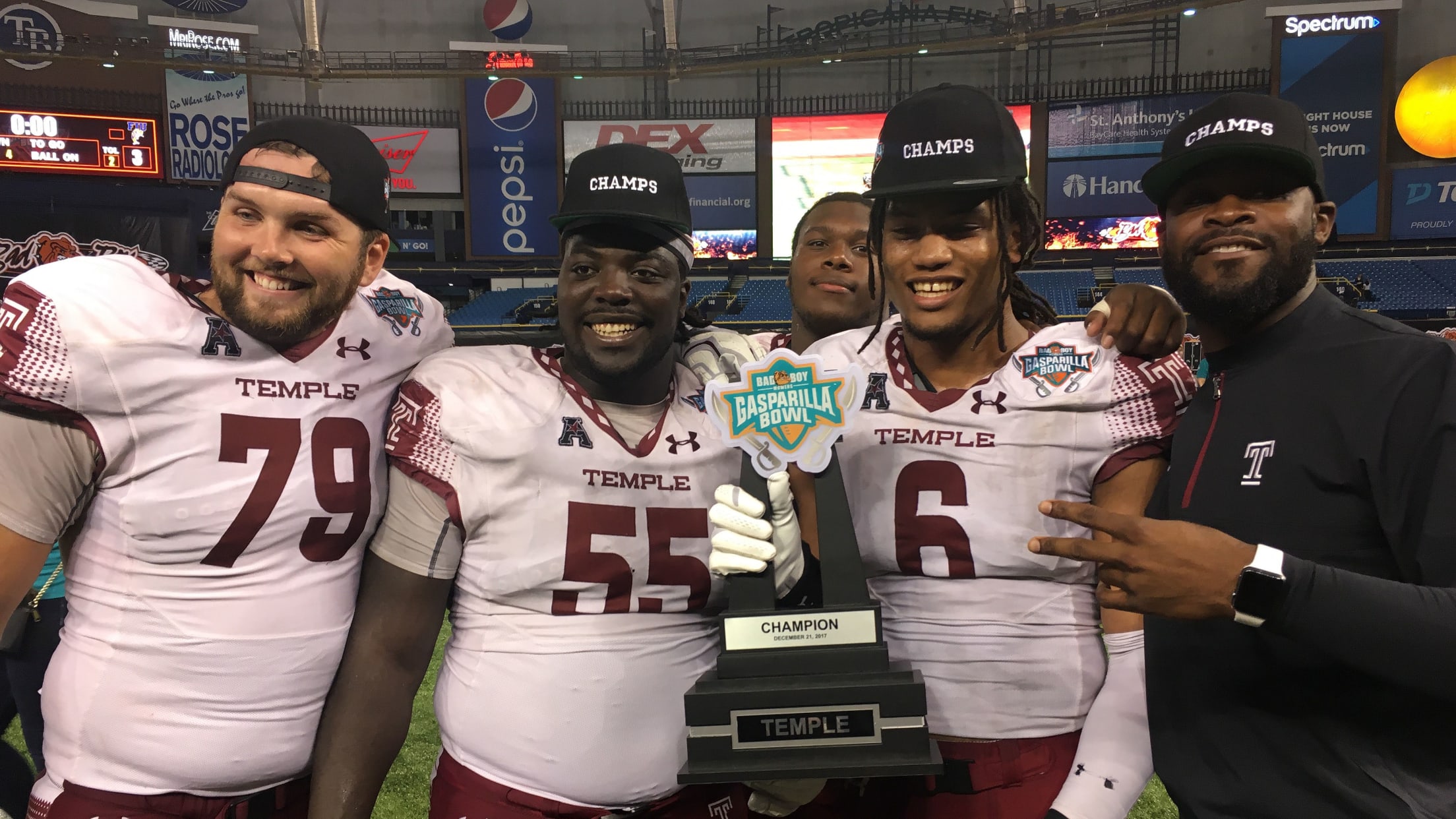 Temple players pose with the trophy after beating FIU at Tropicana Field on Thursday. (J. Scott Butherus)
ST. PETERSBURG -- Temple quarterback Frank Nutile dropped back from second base into shallow center field and lofted a soft liner toward home. With a Florida International defender on his back, a sliding Adonis Jennings hauled it in just into foul ground on the third-base line. Running back David Hood
ST. PETERSBURG -- Temple quarterback Frank Nutile dropped back from second base into shallow center field and lofted a soft liner toward home. With a Florida International defender on his back, a sliding Adonis Jennings hauled it in just into foul ground on the third-base line. Running back David Hood capped off the drive with a leap through the third-base coach's box and into the end zone.
It was college football with a distinct baseball feel to it, as Temple battered FIU, 28-3, in the Bad Boy Mowers Gasparilla Bowl on Thursday at Tropicana Field. The home of the Tampa Bay Rays was transformed from diamond to gridiron, with extra seats placed in left field, sounds of marching bands echoing through the cavernous dome and both teams storming the field through the dugouts.
"This trophy is really special to me because of who it represents," Temple head coach Geoff Collins said. "It represents this group of seniors. It represents the guys in that locker room, and all they have put into it."
Nutile was named the game's Most Valuable Player after throwing for 254 yards and a touchdown, while also scoring a rushing touchdown.
"We've been through a lot," Nutile said. "Our team's mindset was to go out there and leave it all on the field."
FIU quarterback Alex McGough, a graduate of Gaither High in Tampa, left the game on the Panthers' opening drive with a broken left collarbone and did not return. Without their senior captain, the Panthers' offense struggled behind replacement quarterback Maurice Alexander. Alexander completed just four passes, threw two interceptions and got sacked three times in his first half of relief. The Panthers managed just 96 total yards in the first half -- 24 of which were from McGough on the opening drive.
"It was very difficult when you lose Alex, your starting QB that's obviously been a four-year starter," Panthers head coach Butch Davis said. "It was an awful lot of a load for Maurice Alexander to just come in and get into a rhythm."
On the first drive of the second quarter, a pair of FIU penalties -- a pass-interference call in the end zone and a targeting penalty -- gave Temple a first-and-10 on its own 4-yard line. Nutile finished the drive with a 4-yard touchdown run on a quarterback keeper with 11:45 to go in the quarter. On the Panthers' next possession, Alexander was picked off for the second time, deep in his own team's territory, this time by Shaun Bradley.
Even with a considerable advantage in crowd support -- the Panthers' roster featured 12 players hailing from the greater Tampa Bay area -- FIU (8-5) never able finished extended drives. FIU's first points didn't come until a 27-yard field goal by Jose Borregales with 3:12 to go in the third.
Nutile quickly took back the momentum from FIU, leading a 12-play, 62-yard drive that included a 39-yard completion to Jennings and was capped by a 1-yard touchdown run by Hood. Hood finished with a game-high 76 rushing yards for Temple (7-6).
Nutile padded Temple's lead with a 45-yard touchdown pass to Isaiah Wright with 7:26 left in the fourth. Ryquell Armstead finished off the rout with a 5-yard run with just under four minutes to play.
The Owls' defense did the rest, totaling seven sacks, two forced fumbles and 10 tackles for a loss. The two-interception performance by the secondary was the first time Temple had multiple picks in a game this season.
"Our defense nearly pitched a shutout tonight," Nutile said. "That makes it so much easier to be a quarterback out there."
Alexander went 16-for-33 with 162 passing yards. Napoleon Maxwell led the Panthers with 52 rushing yards.
The game capped off a week of unique Florida events for players and fans that included a lawnmower race in the shadow of a roller coaster and surrounded by elephants and zebras at Busch Gardens Tampa on Monday. FIU freshman center Shane McGough, brother of Alex, took home first place in the mower race. There was also a mid-December beach party in Clearwater, Fla., as well as a charity food drive.
"What a phenomenal job they did. Our kids had a great time at every single venue," Davis said. "The game was great, and we would've loved to have played better, but I tell you what, for any team, this is a great place to come."
It was the ninth year that Tropicana Field has hosted the game, which has gone through several names and title sponsors, including the magicJack Bowl (2008), the Beef O'Brady's Bowl (2009-13), the Bitcoin Bowl (2014) and the St. Petersburg Bowl (2015-16). The Trop is one of just three Major League Stadiums -- along with Chase Field in Phoenix and Yankee Stadium in New York -- to currently host a college football postseason game.
Some notable NFL players that have appeared in the game in the past include Indianapolis Colts QB Jacoby Brissett (N.C. State, 2014), Jacksonville Jaguars QB Blake Bortles (UCF, 2012) and Atlanta Falcons WR Mohamed Sanu (Rutgers, 2009). It was the second time the Panthers played the bowl game in St. Petersburg, having appeared in the 2011 Beef O'Brady's Bowl, which they lost to Marshall, 20-10.
J. Scott Butherus is a contributor to MLB.com.