Raise the roof: Rangers' new ballpark approved
Climate-controlled stadium on target to open in 2020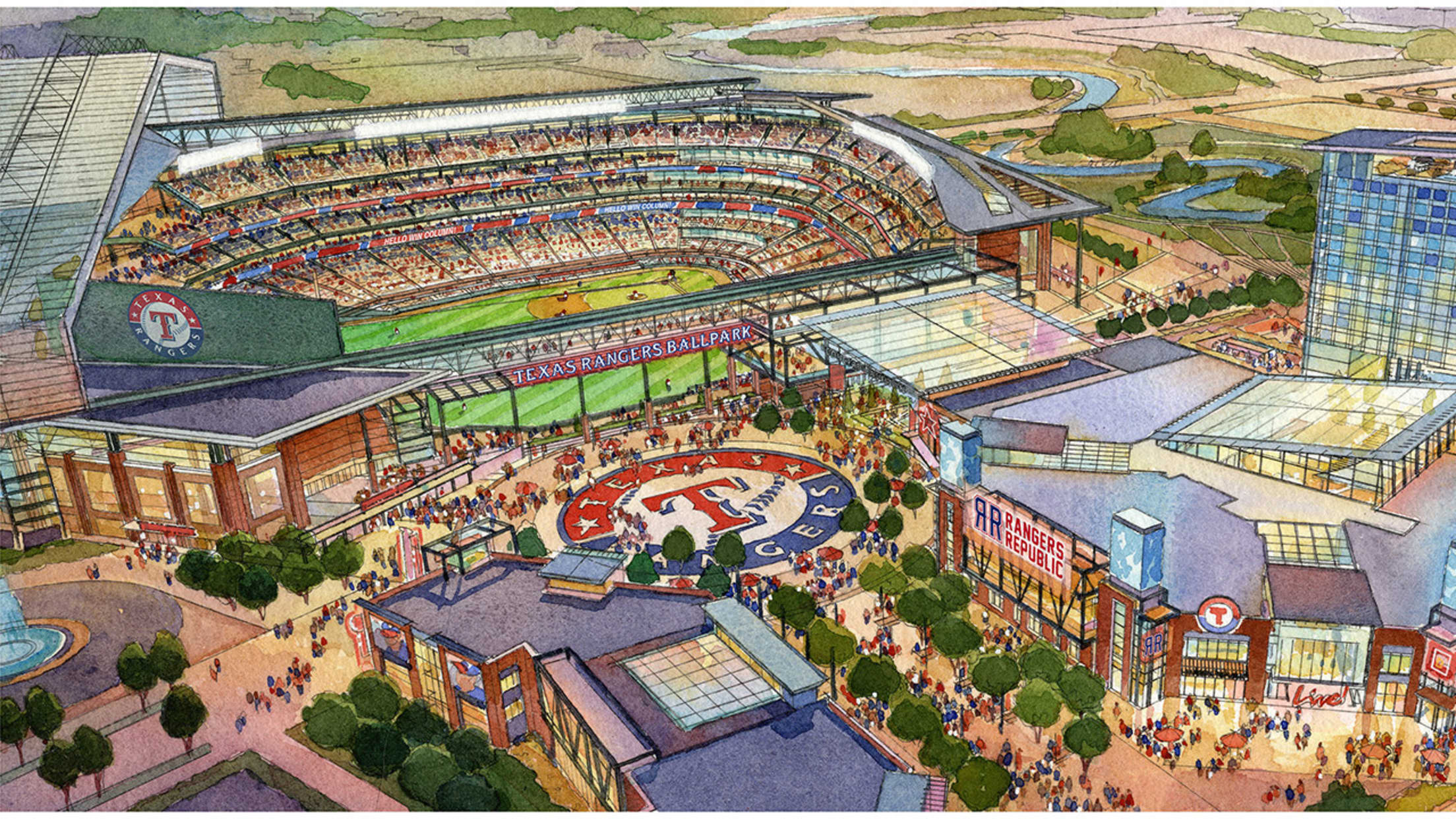 A rendering shows the new ballpark with the retractable roof open. (Texas Rangers)
ARLINGTON -- The Texas Rangers are getting a new ballpark, and the goal is to have it open by 2020.Arlington voters overwhelmingly approved on Tuesday the continuation of a half-cent sales and hotel/motel tax that will fund the city's share of a $1 billion ballpark. That sales tax was used
ARLINGTON -- The Texas Rangers are getting a new ballpark, and the goal is to have it open by 2020.
Arlington voters overwhelmingly approved on Tuesday the continuation of a half-cent sales and hotel/motel tax that will fund the city's share of a $1 billion ballpark. That sales tax was used to build the Dallas Cowboys' stadium and will fund the city's $500 million share of the Rangers' new ballpark.
The final results have not been posted, but the Fort Worth Star-Telegram reported the new ballpark was getting about 60 percent of the vote, and opponents had already conceded the election.
"This is a great day for Arlington and a great day for Tarrant County," Arlington Mayor Jeff Williams said. "We are very excited about the future of Arlington and the Texas Rangers. This will make a difference for all of our citizens."
The Rangers will pay $500 million toward the new facility through a tax on tickets and parking. The new ballpark will feature a retractable roof that will allow air conditioning, and it will be built just to the south of Globe Life Park across Randol Mill Road.
"This means a lot for our fans," Rangers co-chairman Ray Davis said. "Long term, it means our fans can enjoy climate control without getting burned up and we can recruit more free agents. Our fan base has changed as millennials have come along and we compete with people watching on television. This will create an environment they can enjoy every day."
The new facility will be built along with Texas Live!, the new entertainment complex that began construction immediately after the season. The Rangers' plan is to incorporate Globe Life Park into Texas Live! without completely demolishing it.
"It's incredible," Rangers manager Jeff Banister said. "A lot of hard work has been done by a lot of people who believe in the Texas Rangers and want to keep baseball in Arlington. I'm happy for all of those people, their hard work has paid off."
Rob Matwick, the Rangers' vice president for ballpark operations, said the next step will be to select an architect and then a general contractor to oversee the construction.
Thank you to all the volunteers that worked tirelessly on the Prop 1 vote & all Arlington voters that cast their ballot for a new ballpark.

— Texas Rangers (@Rangers) November 9, 2016
The plan would be to spend 2017 designing the new ballpark, and then construction would proceed in 2018-19. Two years is the normal allotted time for the construction of a new ballpark, which puts the Rangers on target for moving into their new facility by Opening Day in 2020.
"We've got to get to work but that's the goal," Matwick said.
Matwick said the Rangers still intend to maintain their current facility, which opened in 1994 as the Ballpark in Arlington. The Rangers have spent more than $50 million the past six years in upgrades and renovations to Globe Life Park.
"We still have to play baseball," Matwick said. "We may not do any big projects, but we will still maintain the ballpark."