The toughest guy to strike out on every team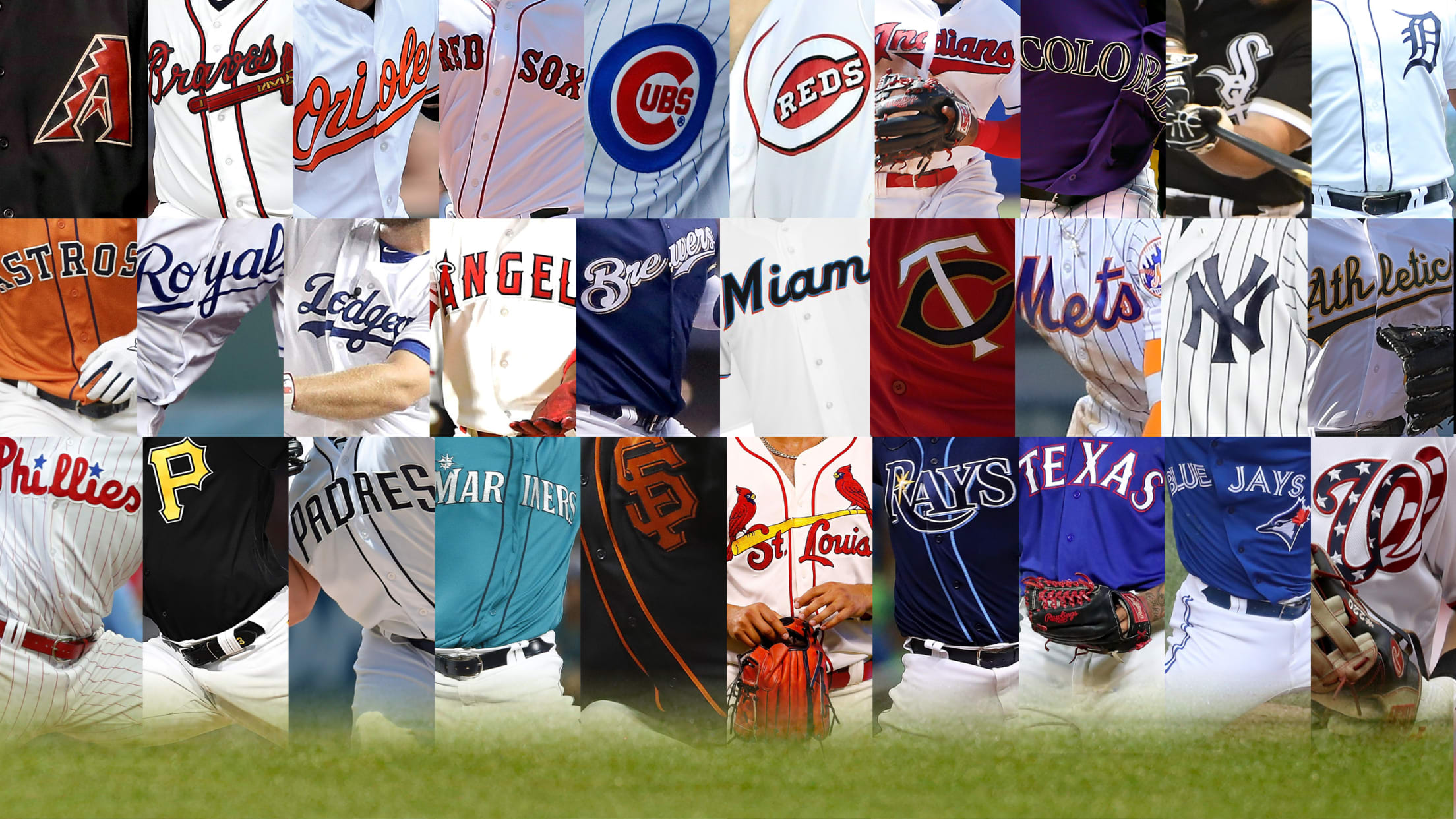 The world of baseball has embraced the strikeout in a way that is sometimes obsessive: For the second consecutive year, we're on pace for more strikeouts than hits. Even the best hitters in baseball don't sweat the strikeouts anymore. It's all part of the game. This ends up making those
The world of baseball has embraced the strikeout in a way that is sometimes obsessive: For the second consecutive year, we're on pace for more strikeouts than hits. Even the best hitters in baseball don't sweat the strikeouts anymore. It's all part of the game. This ends up making those hitters who specialize in contact all the more rare and all the more valuable. In this day and age, there is extra value in putting the ball in play.
So, today, we look at the player on each team who is the most difficult to strike out. Some of them are power hitters, some of them are defensive specialists, but all of them, no matter what, are players who, when batting, fielders need to be on their toes for.
Every hitter's strikeout rate is listed in parentheses. And just to set some context, the league average strikeout rate is 23.1%. The qualified hitter with the highest K-rate is Wil Myers of the Padres (37.8%), and the lowest is David Fletcher of the Angels (5.7%).
AMERICAN LEAGUE EAST
Blue Jays -- Eric Sogard, 2B (9.5%): Sogard has always been a contact hitter, but he has dropped his K-rate to a dramatic low this season. It's clearly paying off: He's having by far the best season of his career at the plate and is the only Blue Jay striking out in less than 10 percent of his plate appearances.
Orioles -- Dwight Smith Jr., OF (19.6%): The Orioles took a bit of a flier on the legacy player, and while you wish maybe he walked a little more, moderate power with a low-ish K-rate is something you can work with. And on a team with a lot of high-strikeout players, his sub-20 percent rate stands out.
Rays -- Tommy Pham, OF (17.7%): Pham continues to progress a little bit more each season: He's still hitting and walking pretty much like he always has, but he has cut his strikeout percentage by more than half since 2016, when it was almost 40 percent.
Red Sox -- Mookie Betts, OF (14.6%): Betts' ability to make contact has always been a part of his game, but, sort of amazingly, the lowest strikeout percentage among Red Sox regulars this season actually belongs to J.D. Martinez, who is just a hair below Betts, though in past seasons he's been a bit higher.
Yankees -- Brett Gardner, OF (12.8%): Gardner's bat control skill is one of the reasons he's been able to have such a long career in New York. In fact, he's gotten better at avoiding strikeouts, keeping his rate below 20 percent in each of the past four seasons, after exceeding that mark in the three years before that.
AMERICAN LEAGUE CENTRAL
Indians -- Jose Ramirez, 3B (14.9%): Ramirez's strikeout percentage is the highest it has been in his whole career … and it's still the lowest on the Indians by a wide margin. He's one of just six qualified hitters with a strikeout rate under 15 percent in each of the last four seasons.
Royals -- Alex Gordon, OF (13.5%): Looking for a main reason Gordon is off to the best start of his career? His strikeout percentage is almost half of what it was last season -- a near-10-percentage-point drop that's the third-biggest among MLB hitters from 2018-19.
Tigers -- Josh Harrison, 2B (19.5%): Harrison is the only Tigers regular with a strikeout rate under the league average.
Twins -- Willians Astudillo, C/INF (2.6%): He has struck out only five times in his entire career. That seems impossible, right?
White Sox -- Tim Anderson, SS (19.0%): The White Sox have a team of free swingers, but a large part of Anderson's improvement this year has been because he has dropped his strikeout rate by nearly a quarter and is under 20 percent for the first time in his career.
AMERICAN LEAGUE WEST
Angels -- Tommy La Stella, 2B (6.9%): La Stella currently has more home runs than strikeouts, which in this day and age will probably get you in the Hall of Fame. More walks, too (11 homers, 13 walks, 10 K's). Really, though, the 2019 Angels' entry might as well be for "Team," because Andrelton Simmons, David Fletcher, Albert Pujols and, of course, Mike Trout have all been tough to strike out.
Astros -- Michael Brantley, OF (10.3%): Making contact has always been key to Brantley's success, and this, his best season so far, is no different. His contact rate is an insane 93 percent, second-highest in baseball.
Athletics -- Matt Chapman, 3B (15.8%): Chapman has lowered his strikeouts and raised his walks every year he has been in the league -- and he's now walking almost as often as he's striking out (12 percent walk rate, 16 percent strikeout rate) -- which is a great way to win a Most Valuable Player Award someday.
Mariners -- Dee Gordon, 2B (14.3%): When you're Dee Gordon, you better not strike out often. And he isn't, with a sub-15-percent K-rate that's right in line with his career average.
Rangers -- Elvis Andrus, SS (16.6%): Sure, he's on the injured list right now, but putting bat to ball has been what separates Andrus from many of his Rangers teammates for many years now. His strikeout rate is the lowest of any Rangers regular by several percent.
NATIONAL LEAGUE EAST
Braves -- Nick Markakis, OF (11.2%): It is fitting that the underrated skill of not striking out is a possession of one of the most underrated players in baseball for more than a decade now. He's got 28 walks to 22 strikeouts, and he's on pace for well under 100 K's for a second straight year.
Marlins -- Martin Prado, INF (14.5%): You can't count on much in this world, but you can always count on Martin Prado going out there and not striking out for 14 years now. His career high for strikeouts is 86 -- and that was all the way back in 2010.
Mets -- Jeff McNeil, INF/OF (10.6%): One of the many things that makes McNeil so handy is that distinct ability to keep the line moving and put the ball in play. He's striking out in barely one in 10 plate appearances, a top-10 mark in the Majors.
Nationals -- Anthony Rendon, 3B (17.5%): Yes, he's quietly good at this too. After two straight seasons with just 82 strikeouts, this season he's on pace for an almost identical 85.
Phillies -- Maikel Franco, 3B (11.7%): On a team that racks up a lot of strikeouts, Franco stands out as a guy who has dropped his K-rate every year of his career. This year it's under 12 percent, best on the Phillies and just outside the top 10 in baseball.
NATIONAL LEAGUE CENTRAL
Brewers -- Lorenzo Cain, OF (15.8%): No one in the NL has put more balls in play than Cain this year. He and Christian Yelich have the lowest strikeout rates of any Brewers regulars. It's possible the Brewers might know what they're doing.
Cardinals -- Yadier Molina, C (7.7%): This has always been one of the most underappreciated parts of this potential future Hall of Famer's game. Molina's strikeout rate leads the NL this season; it's under eight percent, his lowest mark since 2009.
Cubs -- Anthony Rizzo, 1B (14.2%): As Rizzo has gotten older, this has become the part of his game that has become more and more refined. Over the last three seasons, he has 183 walks to 196 strikeouts, nearly even.
Pirates -- Melky Cabrera, OF (10.9%): How's Melky still hanging around deep into his 30s? His ability to make contact provides a big clue. He's got the third-lowest strikeout rate in the NL, just under 11 percent.
Reds -- Jose Iglesias, SS (13.7%): Iglesias has never struck out more than 65 times in a season, and he's got a career strikeout rate of just 12 percent. Not much has changed in his first year in Cincinnati after coming over the Tigers. Now, don't forget about Joey Votto, whose strikeout rate has spiked this season but who also walked 58 times more than he struck out over the previous two years.
NATIONAL LEAGUE WEST
D-backs -- Adam Jones, OF (13.9%): Jones had a 29 percent strikeout percentage his rookie year in Seattle in 2006. It's now less than half that. That's how you stay in the Majors this long.
Dodgers -- Alex Verdugo, OF (10.4%): It's rare for a young player to be this difficult to strike out, but that's one of the reason's he has been one of baseball's top rookies so far (10 percent K rate). But a hat tip to Cody Bellinger -- as if he hasn't done enough else, he's also cut his strikeout rate by a full 10 percentage points, the largest drop of any hitter.
Giants -- Joe Panik, 2B (12.1%): There's no player in baseball less surprising to see on this list than Joe Panik, who has a career strikeout rate under 10 percent.
Padres -- Ian Kinsler, 2B (17.3%: Have you noticed (generally) a motif of veterans on this list? It makes you worry that contact is going out of style. Kinsler's contact rate has been over 80 percent in every season of his career.
Rockies -- Nolan Arenado, 3B (11.1%): Yeah, one more thing that Nolan Arenado is great at. Arenado's 11 percent K-rate is the lowest of his career and a top-five mark in the NL.