Epstein makes 1st Fenway trip as Cubs boss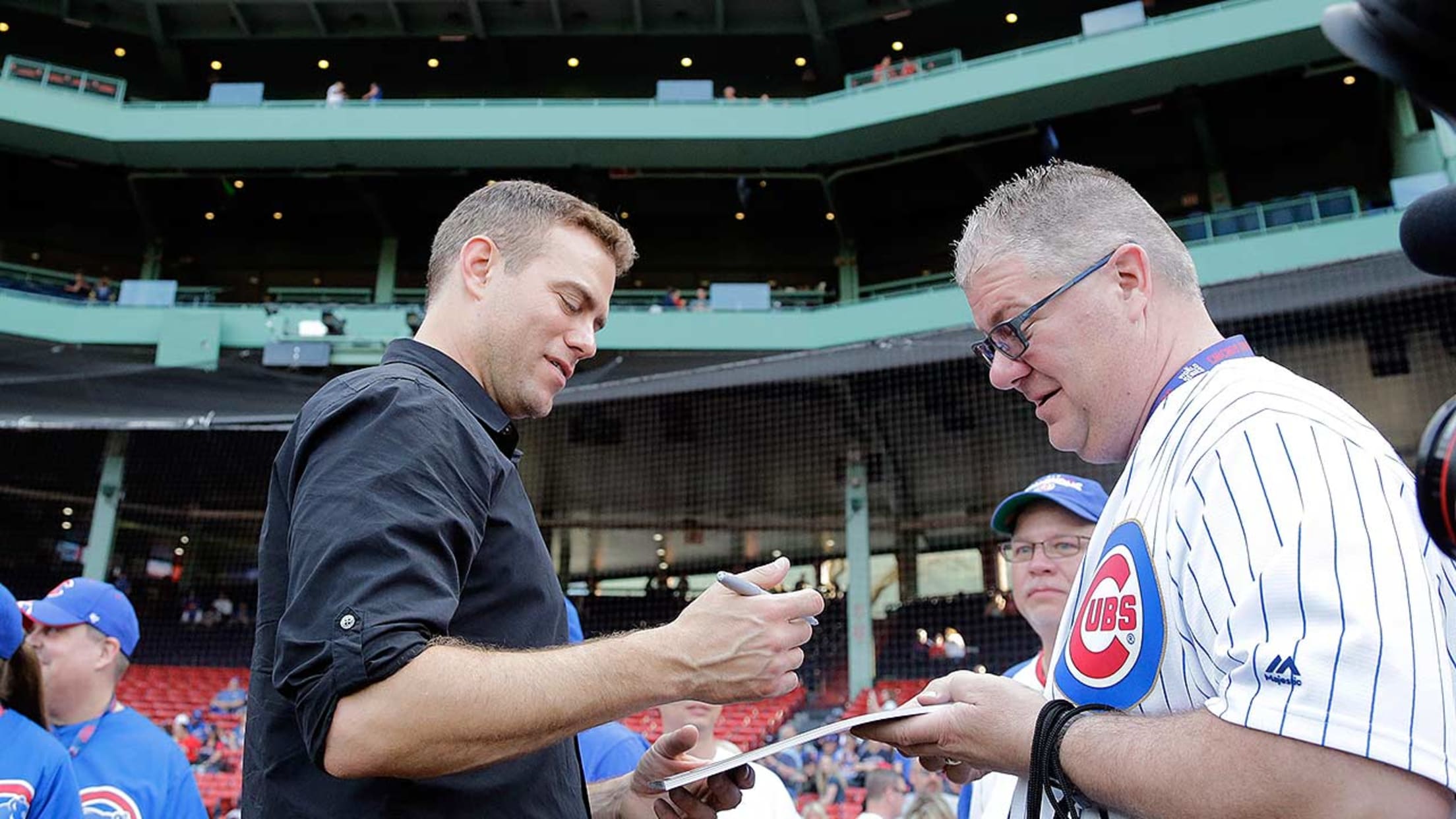 Former Red Sox GM Theo Epstein signs an autograph for a Cubs fan at Fenway Park on Friday. (AP)
BOSTON -- He walked into a utility closet trying to get to the field from the visitor's clubhouse at Fenway Park, but Theo Epstein did eventually find his way. One could say the same about the path he's taken from the Red Sox to the Cubs, which Epstein, now president
BOSTON -- He walked into a utility closet trying to get to the field from the visitor's clubhouse at Fenway Park, but Theo Epstein did eventually find his way. One could say the same about the path he's taken from the Red Sox to the Cubs, which Epstein, now president of baseball operations in Chicago, is reliving this weekend.
The Cubs and Red Sox are meeting in a three-game Interleague series at Fenway Park, their first games in Boston since 2014. However, Epstein missed that series because he was in Chicago to be with his wife for the birth of their second son.
And Epstein not only can show off photos of his family, but also a sparkly World Series championship ring, which the Cubs earned last year.
"It's really gratifying to be back, seeing family, friends, familiar faces," Epstein said Friday. "All the people I used to work with are like family to me. It's special. I've been looking forward to this weekend for a long time. I'm kind of on cloud nine."
He may have a house in Chicago, but Boston is his home. Epstein grew up about two miles from Fenway Park, and has family here.
"I'm definitely a Bostonian," Epstein said. "You only have one hometown. This is my hometown. It's more than that to me too. I fell in love with baseball here, my parents and brother still live here. I spent 10 years working in this ballpark every day, My first son was born here, I met my wife here. I'll always have a real affection for the Red Sox."
Epstein was wearing his wedding ring, but not his 2016 championship ring. He did bring it to Boston.
"I gave my '04 ring to my dad, so he's got it in a safe at home," Epstein said. "I at least brought it, so he could put them both on and we could take a picture."
Epstein does have two World Series rings with the Red Sox from the 2004 and '07 seasons. He took over the Cubs' baseball operations prior to the 2012 season, and rebuilt the organization. Chicago lost 101 games in his first season at the helm in '12, and won 103 games last season.
"To me, the '16 championship in terms of baseball operations was more reminiscent of the '07 championship in Boston, when we had 12 homegrown players instead of just the one in '04," Epstein said. "Obviously, in Chicago, we won with a lot of homegrown guys and young players."
Winning the World Series last year "obviously feels good and it's nice to the extent that it validates my decision to try a new challenge," he said.
There are a lot of similarities between fans of the Red Sox and Cubs.
"People care more, the wins and losses matter more," Epstein said of the two fan bases. "You know people are talking about what happened in the eighth inning at the dinner table along with, 'How was your day at school? How was your day at work?'
"Red Sox baseball is ingrained in the fabric of this whole region, so when you're part of it, you feel a greater obligation. To have that exact same level of passion and same experience in Chicago, I feel fortunate. I don't know if I could go anywhere else and work, because it would feel like work. In Boston and Chicago, it doesn't feel like work, it feels like a privilege and you're part of the family."