There might be something to the Kirby curse
Notes on Jankowski, Villanueva, Hosmer, Lopez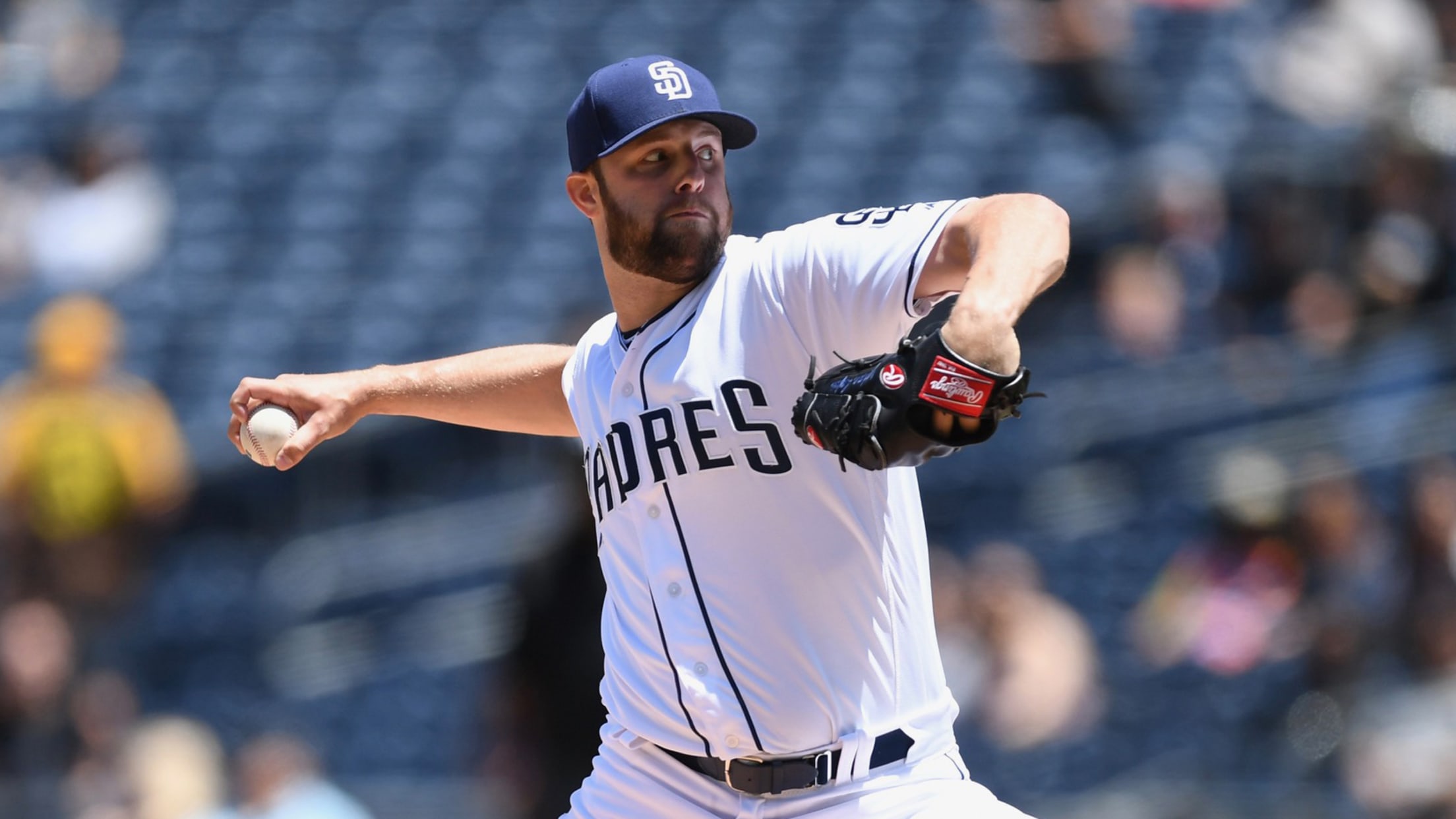 Bill Center, longtime sportswriter for U-T San Diego, is an employee of the Padres.I have never been a believer in jinxes, hexes and curses until now. But I now believe in the curse of Clay Kirby.Tuesday pushed me over the edge. I've seldom seen a Padres pitcher more dominant than right-hander
Bill Center, longtime sportswriter for U-T San Diego, is an employee of the Padres.
I have never been a believer in jinxes, hexes and curses until now.
But I now believe in the curse of Clay Kirby.
Tuesday pushed me over the edge. I've seldom seen a Padres pitcher more dominant than right-hander Jordan Lyles was against the Colorado Rockies.
The Padres didn't even need to make a great defensive play behind him as he was perfect for 7 1/3 innings. He retired 22 straight Rockies, including 10 via the strikeout.
He was perfect.
Then he wasn't. Trevor Story singled with one out in the eighth. The second-longest perfect-game bid ever by a Padre was over. Only Christopher Young were perfect as a Padre for longer. He was perfect for 7 2/3 innings at Milwaukee on Sept. 7, 2008.
Of course, the no-hitter was also gone. The Padres have played 7,858 games and never had a no-hitter. Every other team in the Major Leagues has a no-hitter.
The Padres have 30 one-hitters ... but no no-hitter. How can it be? Statistically, one of those one-hitters should have been played through to a no-hitter.
So I'm blaming Preston Gomez.
On July 21, 1970, Clay "The Kid" Kirby walked off the mound in the eighth inning at San Diego Stadium working on a no-hitter, but an error and walks had the Mets ahead. Kirby's spot in the batting order came up third in the bottom of the eighth -- and the first two Padres made outs.
It was then that Gomez made one of the most controversial decisions in Padres history. He pinch-hit for Kirby. Gomez said the decision was predicated on playing to win games. But those 1970 Padres would lose 99 games in their second season in the National League. They would finish 39 games off the pace. They were already far out of contention on July 21 when reliever Jack Baldschun took the mound to open the ninth with Kirby gnawing at his fingernails in the dugout.
The first hitter Baldschun faced was Mets shortstop Bud Harrelson, who, of course, immediately singled.
Cursed.
Need more proof? July 19, 1972. Steve Arlin is one out away from that first no-hitter. Denny Doyle is up for the Phillies. Because Doyle is a threat to bunt, third baseman Dave Roberts is playing in. Arlin gets two quick strikes on Doyle - but no one signals Roberts to move back to regular third-base depth.
Okay, you can almost see this one coming. Doyle bounces a high chopper over the head of Roberts, who would have had an easy play had he been playing in his regular position.
I could go on. Thirty one-hitters. No no-hitters.
NOTEBOOK
• OF Travis Jankowski was 2-for-3 with a walk and a stolen base Tuesday. He opened the game with a single from the lead-off slot and immediately scored on Eric Hosmer's home run. He is now hitting .395 (15-for-38) from the lead-off spot with seven walks for a .489 on-base percentage. Jankowski has five of the Padres' six game-opening hits this season. Jankowski has reached base in 10 straight games with a .512 on-base percentage during the run. He had his fifth multi-hit game of the season. All five have come in his last eight starts.
• 1B Eric Hosmer is 6-for-19 (.318) in a five-game hitting streak with two doubles, Tuesday's homer, four RBIs and two runs scored. Hosmer has 13 doubles and has swiped a base in each of his last two games.
• 3B Christian Villanueva is 3-for-6 with his 10th homer of the season since his franchise-record 0-for-37 drought ended with a fourth-inning single Tuesday night.
• C Raffy Lopez was 1-for-3 Tuesday to reach base in a career-high eighth straight game. He is 6-for-25 during the streak with four walks, two homers, three RBIs and five runs scored.