These contenders could become sellers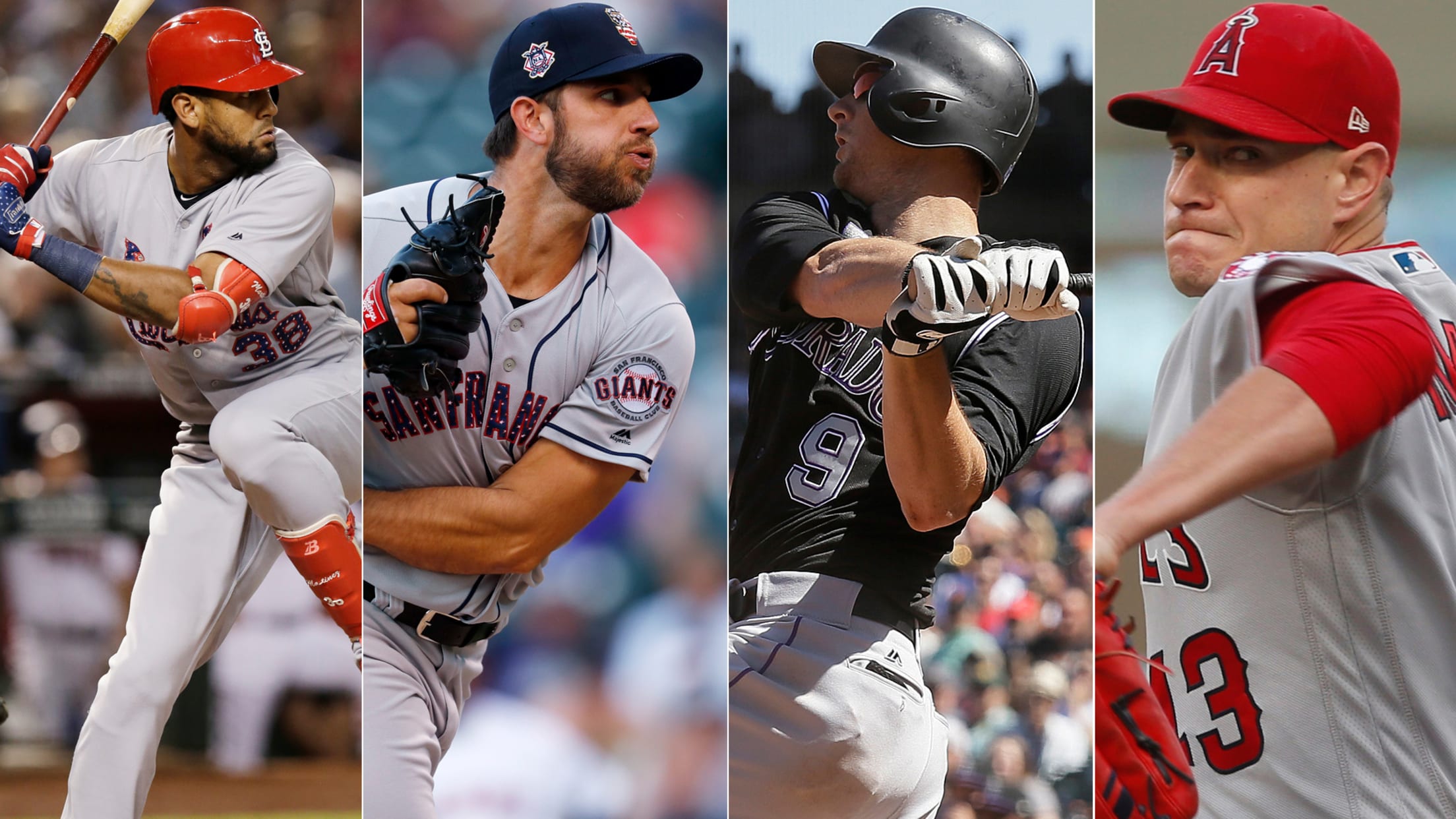 It has been nearly 21 years since the White Sox's infamous "White Flag Trade," in which the South Siders, only 3 1/2 games behind the Indians on July 31, 1997, traded Wilson Alvarez, Danny Darwin and Roberto Hernandez to the Giants for six Minor Leaguers.It was a perplexing deal when
It has been nearly 21 years since the White Sox's infamous "White Flag Trade," in which the South Siders, only 3 1/2 games behind the Indians on July 31, 1997, traded Wilson Alvarez, Danny Darwin and Roberto Hernandez to the Giants for six Minor Leaguers.
It was a perplexing deal when it happened, and the players were as shocked as anyone, with third baseman Robin Ventura saying, "We didn't realize Aug. 1 was the end of the season." The trade was so notorious that it still has its own Wikipedia page, 21 years later.
One wonders if there would be such a backlash today. We are much more logical, less emotional, about these sort of trades today. Sure, 3 1/2 games doesn't sound like that much, but if we'd had, say, Fangraphs Playoff Odds back then, that 3 1/2 games might have looked more like "21-percent playoff odds." The players the White Sox traded were all impending free agents, and the players the White Sox got back -- who, today, we'd all have MLB Pipeline rankings for and thus know exactly how valued they were -- included Bobby Howry and Keith Foulke, both of which were large parts of a White Sox team that won the American League Central three years later. The Giants won their division that year but lost in the National League Division Series, and two of the three pitchers departed as free agents that offseason. (The one who didn't, Darwin, had a 5.51 ERA in 1998 and retired shortly thereafter, at the age of 42.)
The White Sox, by any definition, won the trade. And more to the point: They did what every team does today. Teams are much more honest with themselves today.
Which brings us to the 2018 season. The general consensus is that the AL is mostly settled while the NL is chaos, and thus there is a clear delineation at the approaching Trade Deadline between teams that should be buying and teams that should be selling. But the NL belies this notion. There are 10 teams in the league vying for five spots, and there's a difference of 9 1/2 games between the team with the best record of those (Milwaukee) and the worst (Washington). Which means the odds are dramatically different for some of those teams than they are for others. Not all contenders are created equal.
So it makes you ask: What playoff-chance percentage is high enough that a team should not only go for it, but be buyers? Conversely, what percentage is low enough that a team should should sell? When does a team stop kidding itself? I was reminded of this conundrum when I saw a Tweet from MLB.com's Mike Petriello, who indulged himself the fanciful notion that the Nationals, in the midst of a five-game losing streak and somehow under .500, might be sellers.
This won't happen for a billion reasons, but it'd be really enjoyable if the Nats (losers of 16 of their last 22, and 6.5 out in the East) decided to blow up the trade deadline and dealt Harper somewhere later this month.

— Mike Petriello (@mike_petriello) July 3, 2018
As Petriello pointed out, the Nats have plenty to sell, from Bryce Harper to Daniel Murphy to Giovany Gonzalez to recent addition Kelvin Herrera, and they'd still have tons of talent next year in Juan Soto, Trea Turner, Anthony Rendon, Adam Eaton, and of course all their starting pitchers. Now, obviously, Washington is probably not going to do that, and for what it's worth, despite the losing streak, FanGraphs still, somehow, has the Nationals as the favorites in the NL East. (Baseball Prospectus' odds are far more skeptical.) But what would happen if one of these supposed contenders switched courses, and, a la the 1997 White Sox, raised a white flag?
Here's a look at teams still in contention and therefore not considered sellers ... but who could be, if things go wrong, and honestly maybe should at least be thinking about it. And what they might have to offer this trade market. (All playoff odds via FanGraphs.)
CARDINALS
Playoff odds: 29.7 percent
The Cardinals' inconsistency this year has been maddening, and now some of their internal discord is starting to bubble to the surface. They're 6 1/2 games behind the Brewers and 5 1/2 behind the Cubs, 3 1/2 out of the Wild Card, and they have seven games with Chicago before the Deadline. If those go poorly, or if this team can't figure itself out, could the Cards be sellers, something they haven't been in roughly 20 years? If St. Louis collapsed in the next fortnight, Jose Martinez would be a terrific DH bat for an AL team, and Bud Norris and Greg Holland, both on one-year contracts, would be helpful bullpen pieces.
But if the Cardinals were feeling really ambitious and wanted to maximize return, they could maybe look at moving Matt Carpenter, Jedd Gyorko or even Michael Wacha when he returns from the disabled list. All have contracts that expire after next season (and all have some positional redundancies next year). The Cards probably aren't going to be sellers. But they could fall out of the race faster than you think.
GIANTS
Playoff odds: 12 percent
Again, it's difficult to imagine the Giants selling, considering how much trouble they went through to put this team together. But they're four games out of the Wild Card and you can't help but think, now that the Dodgers are starting to get it together, that the Wild Card might be their only playoff option. Twelve-percent playoff odds is a lot to hang your whole future on, particularly when you've been holding off a full rebuild to the actual breaking point. The Giants and Cardinals have a four-game series starting tonight; it could be clarifying for whoever comes out on the wrong end. If it's San Francisco, it has some pieces contenders might want, including free-agent-to-be Andrew McCutchen, and there could be some value in Johnny Cueto and Jeff Samardzija, who have some cost control as well. But the real question is this: Are the Giants willing to really start over by trading either Brandon Belt or Madison Bumgarner? Because if they're not going to make the playoffs with this team that they built to contend in this specific season ... when are they going to make the playoffs?
ROCKIES
Playoff odds: 7.2 percent
You are forgiven if you forgot the Rockies made the playoffs last season, but the Rockies surely didn't. They constructed their team to be even better this year. It hasn't quite worked out that way, though the problem with Colorrado is less that it is a bad team and more that the NL is a lot deeper than it was last year; 87 wins probably isn't winning you the second Wild Card spot this time around. The Rockies' playoff odds are currently lower than the A's, a perfectly respectable team that is hardly making the Mariners sweat over in the AL. Is Colorado going to just let 7.2-percent playoff odds ride? If the Rockies don't, DJ LeMahieu, a potential free agent after this year, would have considerable value, as would fellow impending free agent Adam Ottavino. The fact that Carlos Gonzalez's name has been floated in trade talks shows that Colorado is at least thinking about it.
ANGELS
Playoff odds: 2.7 percent
So this is where it gets tricky. Even with the Angels' win over the Mariners on Wednesday, they're a whopping 11 games behind Seattle, and even if the underlying metrics argue that the teams aren't nearly that different, 11 games is 11 games. But are the Halos really going to sell off during one of Michael Trout's remaining three years under contract, particularly when he's having perhaps the best season of his legendary career? The Angels are still talking like buyers, but that seems optimistic. Their main trade chip is a healthy Garrett Richards, a impending free agent, and he looked excellent on Wednesday. But of course the Halos need him to have any chance of contending at all this year. He might be the referendum: keep him, they're in; trade him, they're out. But the Angels, even though they have the worse playoff odds of anyone on this list, seem the ones least likely to face reality at the Deadline. Having Trout means always thinking you have a chance.
Will Leitch is a columnist for MLB.com.