Tigers prospect report from alternate site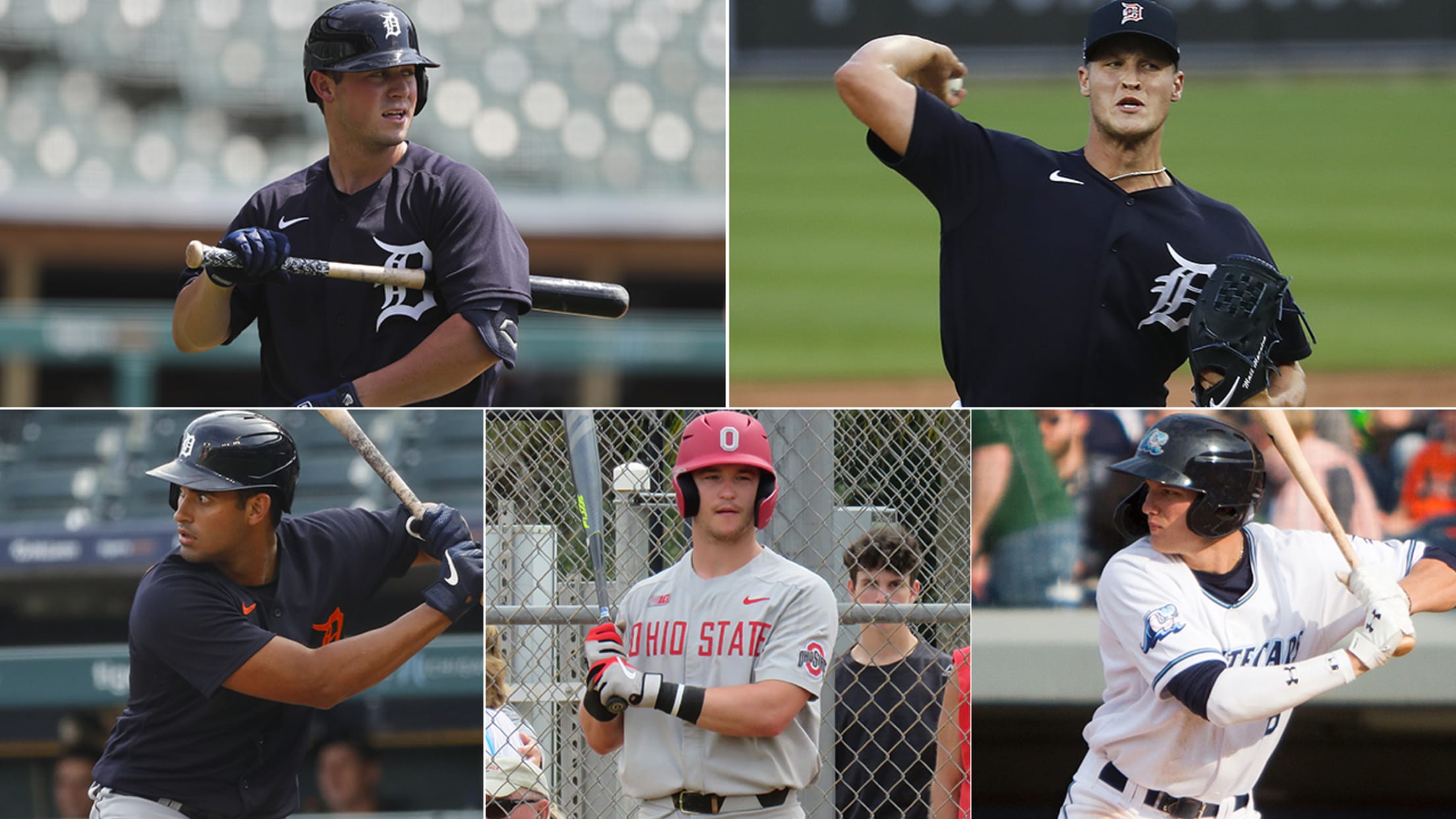 With alternate camps coming to an end, MLB Pipeline is recapping the development highlights for the prospects involved for each organization. Top position prospect: Spencer Torkelson, 3B/1B (No. 1 on Tigers Top 30/MLB No. 4) A last-place finish during the 2019 regular season set up the Tigers to get Torkelson
With alternate camps coming to an end, MLB Pipeline is recapping the development highlights for the prospects involved for each organization.
Top position prospect: Spencer Torkelson, 3B/1B (No. 1 on Tigers Top 30/MLB No. 4)
A last-place finish during the 2019 regular season set up the Tigers to get Torkelson with the top pick in '20. After shattering multiple Arizona State freshman records and posting a .337/.463/.729 batting line with 54 home runs in 129 college games, the 21-year-old infielder became the first No. 1 pick in the bonus-pool era (since 2012) to sign for more than slot value ($8,416,300). The Tigers immediately assigned Torkelson to their Summer Camp after the deal was complete, and he continued to impress club officials, including many who were seeing him for the first time, at the team's alternate training site in Toledo, Ohio.
"We knew we were getting a very advanced hitter and he came as advertised," Tigers vice president of player development Dave Littlefield said. "He's a very intelligent hitter who has a great approach and swing and the ability to impact the ball."
Torkelson's future defensive home, however, is still up in the air, especially after the Tigers announced the former ASU first baseman as a third baseman, a position he hadn't played regularly since high school, during the Draft. The decision was all about maximizing Torkelson's future value for the Tigers, who saw no harm in seeing what the 6-foot-1, 220-pounder could offer at the hot corner.
"We all have liked what we've seen from him there so far," noted Littlefield. "He's a big, strong guy but also is agile and athletic and moves well. He worked hard with Alan Trammell and the rest of our staff during Summer Camp and continued to do so in Toledo."
Top pitching prospect: Matt Manning, RHP (No. 3/MLB No. 20)
The strength of Detroit's recent Drafts began to show this year with the arrivals of guys like Casey Mize, the 2018 Draft's No. 1 pick, and ninth-rounder Tarik Skubal. The next wave of young Tiger arms to reach the Majors could be just as impressive, with Matt Manning, the organization's first-round pick in '17 (No. 9 overall), headlining the group.
Manning garnered Eastern League Pitcher of the Year honors as a 21-year-old in 2019, finishing second in the circuit in WHIP (0.98) and strikeouts (148) and third in ERA (2.56). He opened eyes during the spring in big league camp, bumping triple digits with his fastball, but didn't show the same level of feel when he returned for Summer Camp. Out of an abundance of caution, the Tigers decided to shut down the 6-foot-6 right-hander for the remainder of the year in late August.
"He got out there and competed," Littlefield said. "Like every guy moving into the upper levels, he's very talented but needs to make some adjustments to improve. We're very high on Matt and feel like he's going to be part of our future as a real high-end starter down the road."
But while Manning's 2020 campaign didn't play out as the Tigers hoped it would, he still gained valuable experience in the eyes of club officials.
"With Matt and our other top Minor League guys, just being in a big league stadium and competing against other big leaguers for those three weeks that we were there for Summer Camp was an experience they're not used to," Littlefield said. "It was something they had never had before, and I think it'll be very valuable for them over time."
Youngest prospect: Riley Greene, OF (No. 4/MLB No. 25)
While there were some younger players assigned to Detroit's alternate training site late in the summer, Greene, whom the Tigers selected with the No. 5 overall pick in 2019, was the youngest mainstay in Toledo. After hitting his way up three levels to Class A West Michigan in his pro debut, the 19-year-old outfielder was perhaps the biggest standout among Tigers prospects in big league camp this spring, slashing .417/.611/.917 with two homers and six walks in seven games. Greene picked up right where he had left off when the season resumed in July, showcasing a combination of loud tools and advanced skills on both sides of the ball.
"He looks like he's going to be a future above-average Major League player, if not better," said Littlefield. "He's got the bat and is going to have some power -- he's gotten much stronger -- and I think for that reason people tend to overlook some of his other attributes.
"He's got great instincts, gives a good effort, is a smart guy ... and I think he really showed defensively that he can handle things, making some spectacular catches".
2020 Draft picks
After targeting potential top-flight arms in the Draft in recent years, the Tigers focused on adding quality hitters in 2020, selecting college hitters with each of their first five picks and then adding a high school hitter in the final round. Torkelson came with the most fanfare (with good reason) as the top player in the country, but the organization also believes it landed an impact player in Ohio State catcher Dillon Dingler, whom the Tigers signed for $1,952,300 after drafting him in the second round. Both players were fixtures at Detroit's alternate training site this summer and, in the eyes of club officials, benefitted from their time in the uniquely competitive environment.
"The scenario of how they came in, as recent Draft picks, was clearly challenging since it was a higher level than they were used to seeing," said Littlefield. "So it took a little bit of time for them to get up to speed and get in baseball shape -- not just conditioning-wise, but also just swinging the bat, defensively ... that type of stuff.
"Once they got settled in, it was very clear why both guys were drafted where they were. They're both very talented athletes and look like they'll be good Major League players down the road."
Dingler flew under the radar because he spent most of his freshman year patrolling center field for the Buckeyes and missed time early the next year due to a broken hamate bone. When he did see time behind the plate in college, Dingler, a plus athlete and runner, looked the part of a future plus defender, albeit one in need of more reps and experience. Needless to say, the 22-year-old backstop received plenty of reps this summer in Toledo.
"I thought it was a great experience for him," said Littlefield. "The opportunity to be around a big league catcher like Austin Romine, who has a lot of experience, and be one of the 60 players chosen by the team was just an awesome experience in itself.
"And then to get more game action like he did, catching bullpens for a lot of our veteran players, before going to Toledo and getting a lot more action, catching guys like Mize, Skubal and some of the rehab guys like Jordan Zimmermann and Iván Nova … it was just a really good experience for him."
Pleasant developments
After stocking their farm system via strong Drafts, shrewd trading and some quality international signings over the past several years, the Tigers started to reap the rewards of their rebuilding effort this season by promoting many of their top prospects to the Major Leagues. In addition to Mize and Skubal, the organization also gave players such as Isaac Paredes, Daz Cameron, Beau Burrows and Anthony Castro their first crack at the big leagues. The corresponding player-pool space created with each of those promotions was just as important, as it allowed the Tigers to get some of their younger players much-needed reps after a lengthy hiatus.
"That was initially part of our thoughts when putting the roster together with [general manager] Al Avila and his staff," said Littlefield. "We wanted to get better at the big leagues and give some of those guys an opportunity, while also getting some of our more high-end prospects in the camps as well. As time went on and roster adjustments were taking place, we were able to get some other prospect-type players in there to get some action."
Among those late-summer additions at the alternate training site was Parker Meadows, the younger brother of Rays outfielder Austin Meadows and Detroit's second-round pick from the 2018 Draft. Spending his entire first full season at Class A West Michigan, Meadows, a 6-foot-5, 205-pound outfielder, produced mixed results, batting .221/.296/.312 with seven homers and 14 steals in 126 games. However, the 20-year-old's athleticism and five-tool potential were on full display from start to finish, and the Tigers jumped at the chance to add him to their alternate training site roster when a spot opened up early in September.
"He got in there late but made the most of his time in Toledo," said Littlefield. "He's a high-end talent ... a great athlete with a lot of ability. He's one of many young guys we have that gives us a lot of hope for the future."
Zack Hess was one of the top bullpen prospects in the '19 Draft but fell to Detroit in the seventh round. The Tigers were thrilled to add the former Louisiana State closer to their system -- even more so after he recorded 10 saves in his pro debut while climbing three levels up to West Michigan -- and have been continually impressed with the right-hander's present ability and future potential during his brief time in the organization.
"Zack has been a really good Draft pick for us," Littlefield said. "He's a nice-looking reliever -- a guy who's going to help our club soon."