Mechanical tweak proving beneficial for Sanchez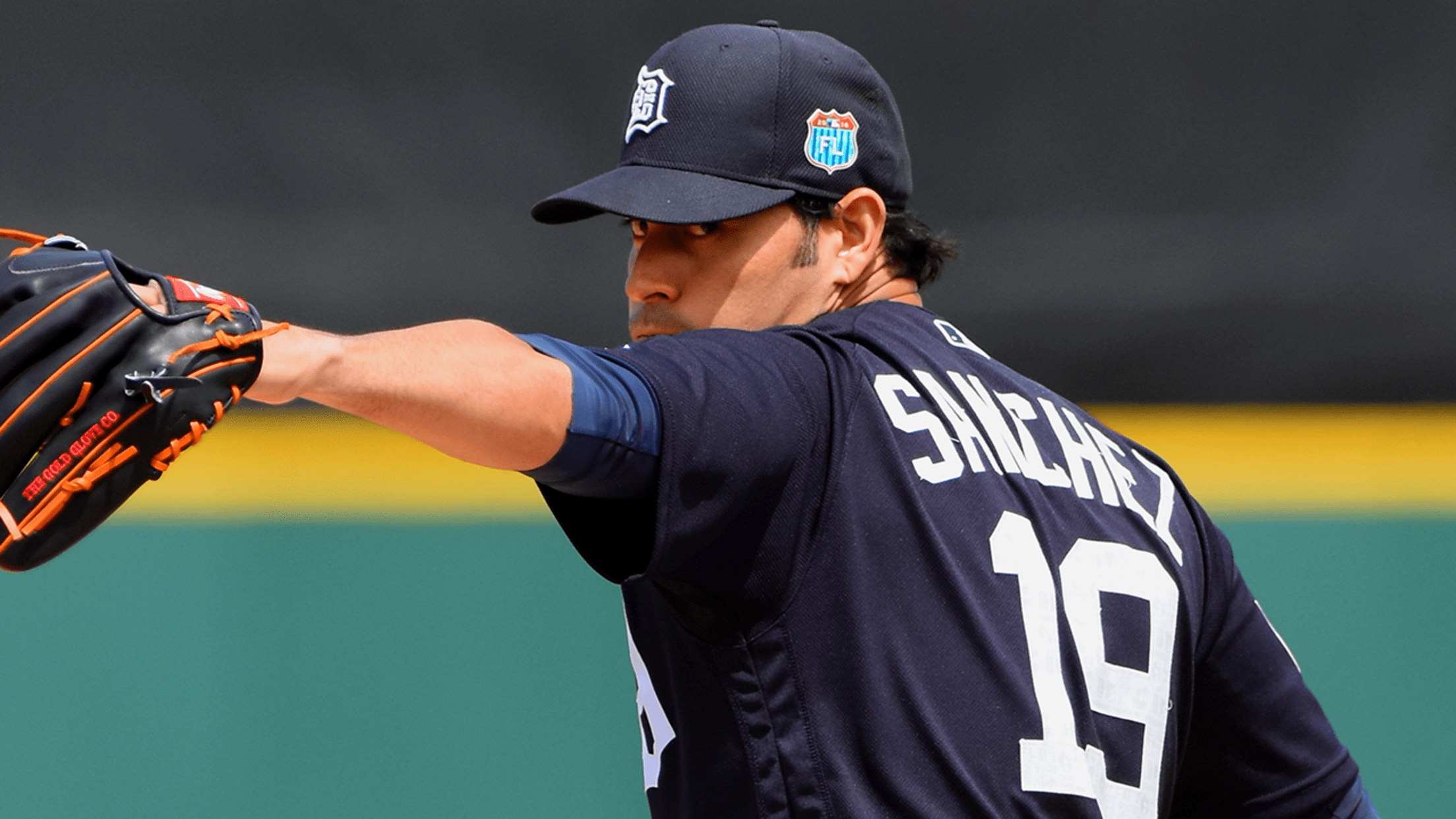 Anibal Sanchez threw four hitless innings while striking out three in his spring debut vs. the Phillies. (Tigers)
LAKELAND, Fla. -- The saga of Anibal Sanchez's return to the mound Monday from triceps inflammation had several twists and turns along the way. His actual pitching did not.As Sanchez went to work over four hitless innings against the Phillies in a 4-3 Tigers loss at Joker Marchant Stadium, his
LAKELAND, Fla. -- The saga of Anibal Sanchez's return to the mound Monday from triceps inflammation had several twists and turns along the way. His actual pitching did not.
As Sanchez went to work over four hitless innings against the Phillies in a 4-3 Tigers loss at Joker Marchant Stadium, his results looked more like the Sanchez of old rather than the older-looking Sanchez of last year. His lone baserunner was his first batter -- a leadoff walk to David Lough -- before he retired Philadelphia's next 11 batters with eight groundouts and three strikeouts. He not only didn't allow a ball to the outfield, he didn't allow a ball up in the air.
Tigers Spring Training information
Sanchez's pitches ranged from 86 to 93 mph, usually around 90, according to a Major League scout in attendance. Maybe more importantly, nearly all of those pitches moved.
"Everything came out looking the same," catcher James McCann said, "and he's a guy that's got 17 million pitches, and all of them were working. Everything looked very, very good."
That's the sign of an effective Sanchez in the regular season. What it means in Spring Training is a matter of opinion, but for a first outing from a pitcher who gave up a league-high 29 home runs last year, it was a sign that he's not simply at the start of the long Spring Training process.
"I threw all my pitches," Sanchez said. "I focused on putting my ball down in the zone. That's what I want to work on right now, working on my mechanics. I didn't turn at all this time. I tried to keep it simple and straight. That's the way that I used to pitch before I started to turn."
No more twisting and turning in his delivery. Gone was the lateral rotation that had become part of his mechanics years ago. The change was intended to relieve some stress on his body, but it also gives him a better chance for repeating his delivery.
"He's getting more of the downhill, north-to-south action instead of east to west," McCann said, "and that's what you want. It's going to be better on his arm and it's going to be easier for him to make adjustments from pitch to pitch."
Manager Brad Ausmus called the rotation "sort of a wasted movement" that created more problems than it solved. Sanchez said he felt a difference without it.
Sanchez had a pitch count of 50-55, which was expected to last him about three innings. He ended up throwing four, the final one requiring nine pitches to induce three groundouts.
"I felt good, especially in the last inning," he said. "I just threw nine pitches. That's major. Even if you throw 100 pitches and you don't have a limit on your pitches, if you throw one inning with nine pitches, that makes you comfortable and makes you strong for the next inning."
Getting stronger for the regular season is the next step. Sanchez has enough time left this spring to get in two starts before the Tigers break camp. He could stay back a few more days and throw in a Minor League game while the Tigers open the season in Miami, then slot into the back end of the rotation when the team returns to Detroit.