Journeyman Leon could be inching closer to Majors
Ausmus says Minors reliever 'has pitched as well as anybody in camp'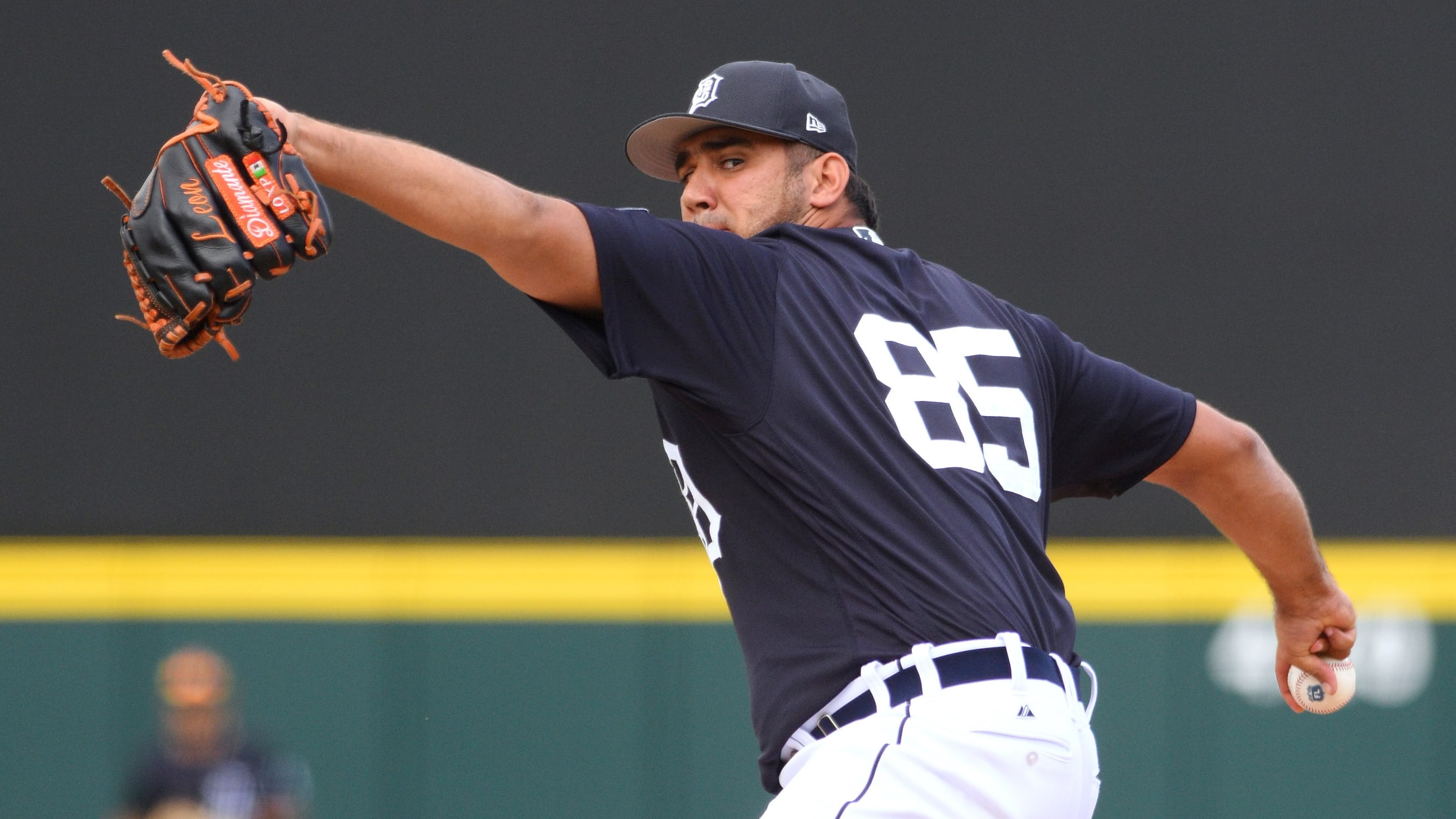 "Every time they give me my chance," Arcenio Leon said, "I get my opportunity and show them what I've got." (Detroit Tigers)
LAKELAND, Fla. -- Tigers manager Brad Ausmus summed up Arcenio Leon's Spring Training succinctly."He has pitched as well as anybody in camp," Ausmus said after Leon's latest scoreless outing Saturday, "and he's not even in camp."Technically, this is correct. When the Tigers signed Leon this winter, it was to a
LAKELAND, Fla. -- Tigers manager Brad Ausmus summed up Arcenio Leon's Spring Training succinctly.
"He has pitched as well as anybody in camp," Ausmus said after Leon's latest scoreless outing Saturday, "and he's not even in camp."
Technically, this is correct. When the Tigers signed Leon this winter, it was to a Minor League contract that didn't include an invite to big league camp. Every time he has pitched for the Tigers this spring, he has been an extra pitcher called over to help cover innings.
Every time, Leon has retired the batters he has faced. With 3 1/3 perfect innings and four strikeouts this spring, combining a 94-97 mph fastball with a sharp slider, Leon has opened eyes within the organization.
"He's looked good," Ausmus said. "That's why we keep bringing him back."
To many, he has been the surprise of camp. To those who scouted him before, they saw a chance for him to make an impact, just maybe not to this extent. Of all the Minor League free agents the Tigers signed this offseason, general manager Al Avila said, Leon is the one they believe could do something significant for them at the Major League level.
The Tigers have had past success signing pitchers out of winter ball, none moreso in recent years than Al Alburquerque before the 2011 season, and they've chased talented winter arms ever since. Alburquerque had enough competition based on his Dominican League dominance that the Tigers had to offer him a Major League contract. By comparison, Leon went almost unnoticed.
Leon, a native Venezuelan, has never pitched in the Majors. The former Astros signing stalled out at Double-A there, and he didn't stick in Triple-A ball until 2014, when he was a 27-year-old in the Brewers' organization. He had a good power arm, but his walk rate was high.
Signed by the Brewers in 2014, Leon struggled at Nashville, then had surgery that limited him to nine games at Triple-A Charlotte in the White Sox system in 2015. With little interest out there despite a strong winter of 2014-15 in Venezuela, he looked outside the states.
"I think what helped me a lot was pitching in Mexico," Leon said, "throwing my fastball for a strike with my sinker and controlling my slider. I learned how to pitch in Mexico. Everybody says the Mexican League's not really hard, but I think it's a good league to learn something, like perfecting your breaking ball."
Leon posted a 3.30 ERA in Mexico, then went back to Venezuela. The numbers were good, but the stuff was better. A month into the season, the Tigers -- who had shown interest in him a couple of years earlier -- sent a scout to watch him.
"They give me a chance to pitch," Leon said. "That's what I do. Every time they give me my chance, I get my opportunity and show them what I've got."
There are no plans to call Leon up to big league camp full-time. Whenever he's ready to pitch, though, the Tigers are calling him over. It might not lead to an Opening Day roster spot, but he's catching enough attention to get him to the doorstep.
"Throw strikes and make outs," he said. "That's what they want. That's what I do."