Rain washes away Tigers-Braves game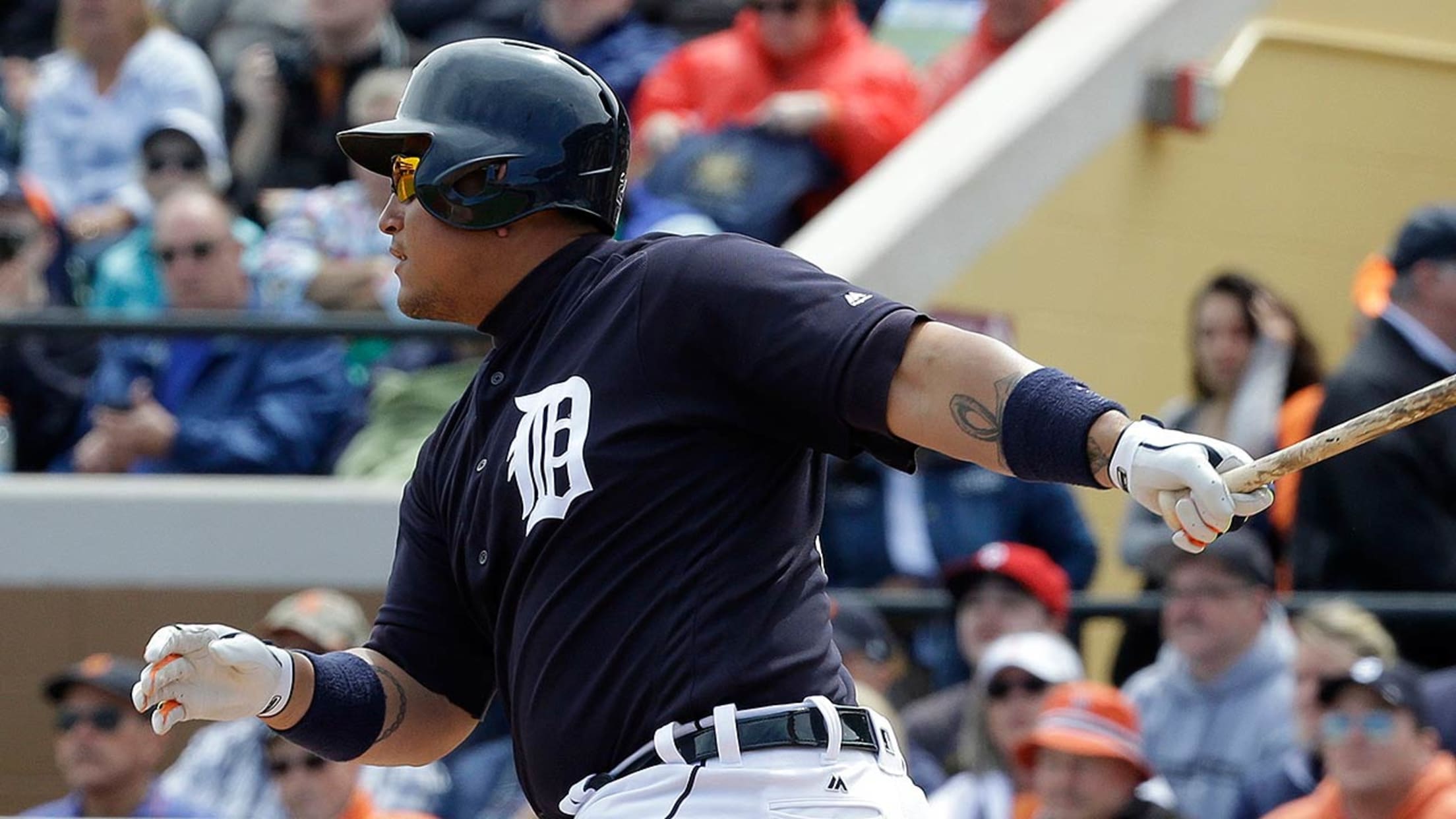 In 34 at-bats this spring, Miguel Cabrera is batting .324 with three homers and eight RBIs. (AP)
LAKELAND, Fla. -- A Tigers-Braves Spring Training game that featured a triple play but no Tigers hits will not count. Heavy rains washed out Friday's Grapefruit League matchup at Joker Marchant Stadium after four innings, with Atlanta's split squad holding a 3-1 lead.Though a large storm system rolling in from
LAKELAND, Fla. -- A Tigers-Braves Spring Training game that featured a triple play but no Tigers hits will not count. Heavy rains washed out Friday's Grapefruit League matchup at Joker Marchant Stadium after four innings, with Atlanta's split squad holding a 3-1 lead.
Though a large storm system rolling in from the Gulf Coast loomed all day, forecasts differed on when it would pass over Polk County. With both starting pitchers in competition for Opening Day roster spots, the teams decided to play for as long as they can, allowing Shane Greene and John Gant to get four innings apiece.
Greene gave up a bizarre first-inning run on his first batter, after Ender Inciarte tripled on a ball that stayed just inside the first-base line and rolled into the right-field corner. Inciarte was speeding into third base when Ian Kinsler's relay throw skipped past third baseman Nick Castellanos and rolled to the tarp behind the Tigers' dugout. Greene, who normally would've been backing up the play, wasn't in a position, and Inciarte scored.
The Braves loaded the bases on Greene with nobody out in the second on back-to-back walks and an infield single, but Greene escaped with a triple play when shortstop Jose Iglesias knocked down a low liner and flipped it to Kinsler, who tagged out the lead runner, got the force out at second and fired to first.
Greene, competing with Matt Boyd and Buck Farmer for the fifth spot in the Tigers' rotation, gave up three runs on five hits with two walks and three strikeouts. The lone hard-hit ball he allowed was Hector Olivera's two-run home run in the fourth.
Gant, who could serve as a long reliever on Atlanta's Opening Day roster or insurance in the rotation in case of injury, answered with four hitless innings despite three walks. Kinsler turned a leadoff walk in the first inning into a run by stealing second and coming around on back-to-back groundouts from Iglesias and Miguel Cabrera.
Up next for the Braves:Freddie Freeman is expected to be in the lineup when the Braves host Jacob deGrom and the Mets on Saturday in a 1:05 p.m. ET game that will air on MLB.TV. While Freeman and some of Atlanta's other regulars will get a look at deGrom, Bud Norris will attempt to bounce back from his past two outings, which were both against the Tigers.
Up next for the Tigers: Opening Day starter Justin Verlander makes his penultimate spring start and first tune-up at the plate when the Tigers visit the Phillies at Bright House Networks Field on Saturday in a 1:05 p.m. ET game that will air on MLB.TV. Since the Tigers open the regular season with Interleague Play, they'll eschew the designated hitter option and have Verlander bat, ostensibly to bunt. Regular hitters scheduled on the trip include Justin Upton, Nick Castellanos and Iglesias.