Tigers turn page after 'pen's rough day vs. A's
Saupold, Wilson combine to allow nine runs in two innings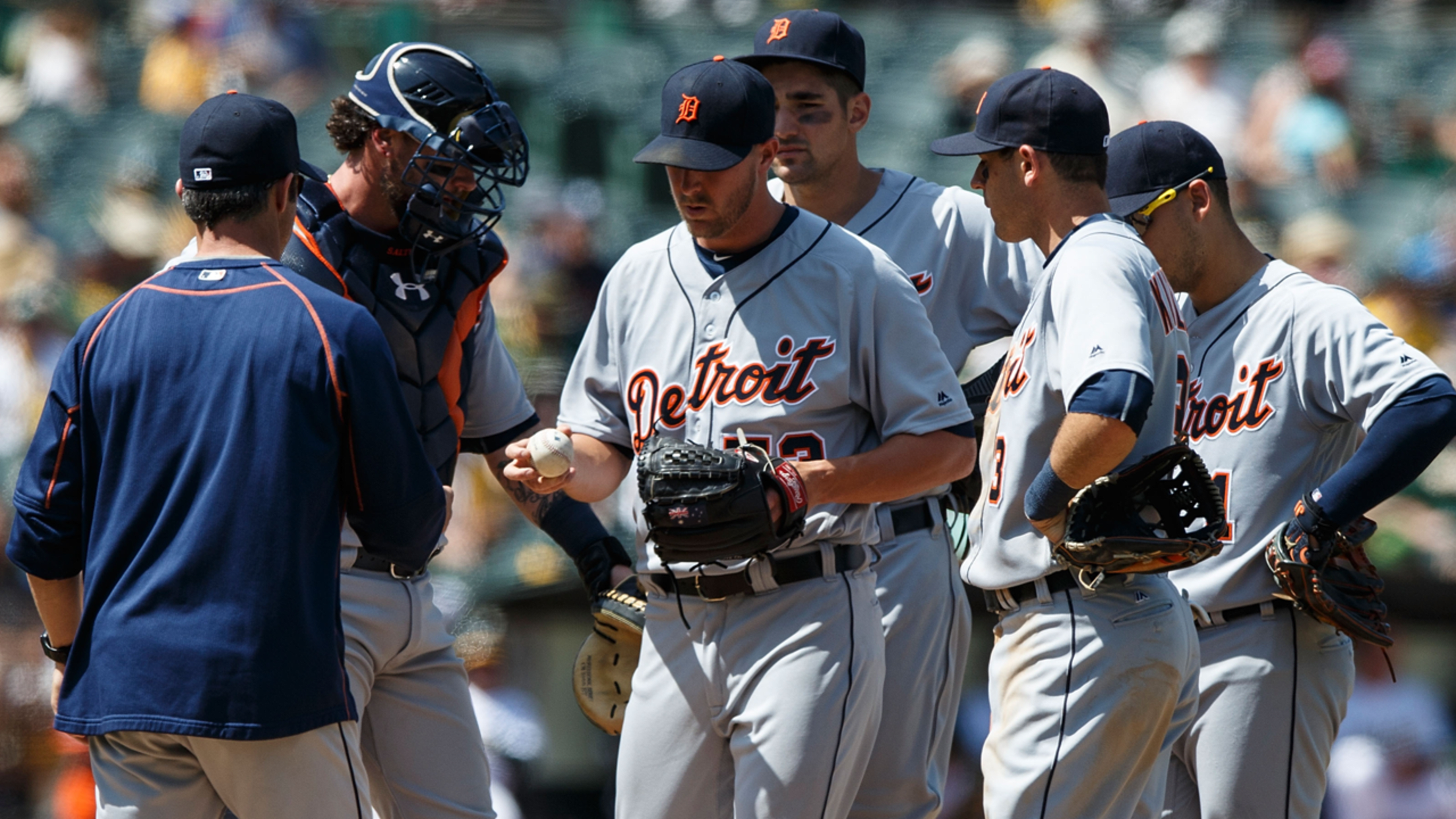 Warwick Saupold retired just one batter during the A's five-run sixth on Saturday. (AP) (AP)
OAKLAND -- The Tigers' bullpen played a key role in the team's run of nine wins in 11 games heading into the weekend. On Saturday it was the catalyst for Detroit's first loss on its seven-game road trip to the West Coast.Rookie Warwick Saupold gave up five runs and retired
OAKLAND -- The Tigers' bullpen played a key role in the team's run of nine wins in 11 games heading into the weekend. On Saturday it was the catalyst for Detroit's first loss on its seven-game road trip to the West Coast.
Rookie Warwick Saupold gave up five runs and retired just one batter in the sixth, while Alex Wilson surrendered four runs in the seventh, allowing the A's to break open a tight game and pull away for a 12-3 win.
"Rough day for the 'pen today," Tigers manager Brad Ausmus said. "You're going to have those days. File it and come back tomorrow."
This one might be a little tougher to forget after allowing the last-place A's to pound out a season-high for hits and runs.
Detroit had tied the score at 3-3 on Victor Martinez's two-run home run in the top of the sixth and Ausmus felt good about turning the game over to his bullpen after starter Matt Boyd struck out seven over five innings.
That's when things got out of hand in a hurry.
Saupold, the rookie right-hander who had not allowed a run in 4 1/3 innings spanning three appearances, gave up hits to the first five Oakland batters in the bottom of the sixth. All five scored.
Billy Butler, who earlier homered off Boyd, had a two-run single and Marcus Semien added a two-run double.
"It didn't matter at that point who we brought in, it seemed like," Ausmus said. "It just wasn't our day."
Kyle Ryan replaced Saupold after Jake Smolinski's sacrifice fly, but things turned sour again for the Tigers in the seventh.
Wilson relieved Ryan and gave up three consecutive hits, including Khris Davis' three-run homer. Smolinksi added a one-out RBI double to chase Wilson.
"He's struggling a little bit right now," Ausmus said of Wilson. "His slider's coming out of his hand a little flat … and they're getting some better swings on him. Just an off day."
Acquired in a trade from the New York Yankees during the offseason, Wilson did not allow a run over his first 12 appearances (11 innings). He's given up six in his last 4 1/3.
"It's never easy, especially against big league hitters," Wilson said. "At the same time, to get better I'm going to have to find a way to make that happen. The biggest thing for me is executing good pitches and I have not done that lately.
"It's frustrating because there's no one that can fix it. You can look at video, you can listen to everybody else, but ultimately it comes down to you and how you execute. Until I find that rhythm, find that feel, it's going to be a tough go."
Michael Wagaman is a contributor to MLB.com who covered the Tigers on Saturday.